Ill-gotten Gains?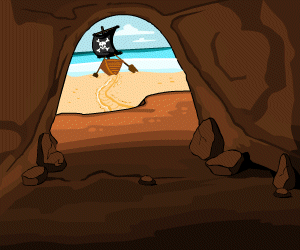 Rare items from all over Neopia can be found here, at a price!
Make sure you have your dubloons handy..
or you will get kicked out!
How does Smugglers Cove work?
It IS totally different from the rest of the main shops.
It DOES restock RANDOMLY..Although it is rumored that the Cove
restocks once an hour..it is only a RUMOR..
Sometimes it restocks more or less than once an hour..It's completely RANDOM..
You are only allowed to visit the cove
a certain amount of tries..the more you go,the higher the chances of getting
banned for about 1/2 hour..
Waiting for Certain Weapons..No Show..Why?
Another Smuggler Cove Rule is:Only 120(or LESS) can exist
of EVERY weapon.Once they reach a certain limit,they STOP restocking.
You can consider them as "retired".
Not officially retired,as they are NOT on the Reired Weapons List.
Items in the Smugglers Cove can ONLY be bought with Dubloons.
And Now...The Ill-Gotten Gains!!!!

Alien Aisha Scrambler..Multi Use

Alien Aisha Ray Gun..Multi Use

Candy Club..Rarity 101..Multiple Use

Cake Bomb..Rarity 101..One Time Use

Banana Sword..Rarity 101..Multiple-Use

Ancient Hourglass..Rarity 101..Semi-Fragile

Cursed Ink Pot..Rarity 101

Meepapault..Rarity 101

Sad Spell..Rarity 101

Artichoke Bomb..100 Dubloons

Attack Meatball..100 Dubloons

Metal Wand..Rarity 101

Hammer of Death..250 Dubloons

Toxic Sock of Doom..Rarity 101

Mystic Jelly Bean Necklace..Rarity 101..Multi Use..

Chia Leaping Boots..Rarity 101..Multi Use..(Scarab Ring IS stonger)

Earwax Chia..Rarity 0..Multi Use..

Umbrella Shield..Rarity 101..Multi Use..

Mystical Fish Lobber..Rarity 101..Multi Use..

Fierce Wooden Leg..Rarity 101..Multi Use..

Sponge Shield..Rarity 101..Multi Use..

Grapes of Wrath...Rarity 101..Multi Use..
~~~~~~~~~~~~~~~~~~~~~~~~~~~~~~~~~~~~~~~~~~~~~~~~~~~~~~~
Little handy bit of info..Best Weapon in Neopia currently..

Wand of the Dark Faerie..Only ONE in existence(known)..
Cost:80 mill-120 mill..
If you ask any battledomer they will tell you that the actual value is around 1 billion.Info from jamson_92
All Information from: In-Depth Battlepedia..