The Radiance Academy
Laystone's "Ultimate Genius" Directory
CURRENTLY NOT ACCEPTING ANY APPLICANTS. SORRY FOR THE INCONVENIENCE.
Hello, guest! Laystone here, providing you with a topnotch directory that'll help you find only the most brilliant of neopets in Neopia. Feel free to take a look around and see Neopia's most prestigious scholars, ranging from the most majestic Faerie Aisha to the sharp-witted Mutant Zafara. Remember: don't judge a book by it's cover!
Think your pet has what it takes to get in? Fill in an application and contact me!
This site is best viewed in Internet Explorer or Firefox.
UPDATES
August 8th, 2009 - TRA is now listed as one of
Spotlight's
featured sites! I'm truly honored. Check it out!
August 6th, 2009 - TRA will be in the running to be the site of the month for Priscilla's SOTM site, Spotlight! This is just a heads up, though. Voting hasn't begun yet.
July 15th, 2009 - An FAQ Section has been created and set up! More will be added to it soon.
July 6th, 2009 - TRA officially opens; counter is set up.
Why an "Ultimate Genius" Directory?
Take a look around. Everywhere you go, you'll find yourself face to face with one heck of an impressive pet. Imagine: an unconverted Plushie Draik. Just the thought of one makes your heart twinge with desire. Or maybe you'll catch sight of a valiant, vigorous Lupe who has the battledome stats of a Neopian Gladiator. Impressed? You must be, in some shape or form. After all, those characteristics were achieved by a lot of time and determination.
But let's face it: a pretty Draik or a strapping young Lupe is nothing without a proper education.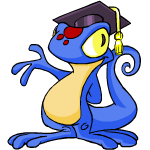 If there's one thing that'll get you places in Neopia, it's intelligence. After all, a dull, slow-witted Neopet just won't charm the pants off of Queen Fyora or King Altador, now will he? Pets that have reached the status of ULTIMATE GENIUS are rarely appreciated (directory-wise) when they have every reason to be. Owners have worked hard to buy book after book, and as a result, they have suffered through chants and cries of "That is like, such a boring book!" or "I have read that book already!" Every book and every complaint is worth it, though. Knowing that one's pet can get into any prestigious academy in Neopia is pretty nifty, and it's definitely something to flaunt!
The Fascination of Education
Frequently Asked Questions
In need of some answers? See if you can find any here!
How exactly are pets ranked by intelligence?
Pets are ranked by a number system. With every series of numbers, the pet's intelligence status title changes. Here are all the possible status titles and the number of intelligence points that correspond.
Dim Witted (0 - 3 points)
Dull (4 - 6 points)
Average (7 - 10 points)
Above Average (11 - 14 points)
Bright (15 - 18 points)
Clever (19 - 22 points)
Very Clever (23 - 26 points)
Brilliant (27 - 29 points)
Genius (30 - 33 points)
Super Genius (34 - 49 points)
Mega Genius (50 - 54 points)
Total Genius (55 - 59 points)
Master Genius (61 - 94 points)
Ultimate Genius (95+ points)
Are there any other ways to increase a pet's intelligence besides having them read books?
It's Neopets! Of course there are multiple ways to increase your pet's intelligence. Here's a list of ways to increase a pet's intelligence.
Coltzan's Shrine - The spirit of the deceased King can make your pet sturdier, can provide you with a bit of food that has seen too much sand, and can even make your hands glow blue. Yet here's another thing: he can increase your pet's intelligence. You can always count on King Coltzan III.
Neggs - An ever tasty and luxurious treat, the negg is more than a superior dessert. Neggs have magical powers that can alter a pet in many ways, some good, and some bad.
Neggs that can increase a pet's intelligence include the Genius Negg (raises intelligence and gives you 1 of 6 books) and two other exceptional neggs. The Kaleideonegg can be another way to increase your pet's intelligence, but that would be pretty risky for it will randomly alter one of these features of your pet: either color, species, gender, or stats, positively or negatively, meaning it can even lower intelligence. The chances would be pretty low, though! The Witchy Negg may increase intelligence by 5 points, but it does not always happen.
Definitely avoid the following neggs listed:
Staring Negg - decreases intelligence by 10 points
Glamour Negg - decreases intelligence
My pet is a picky reader! Is there any solution to this?
One way to solve this is to change the language setting. I won't go into an explanation of why this method works, but if you scroll down to the bottom of the page and change the language in the "Select Language" drop down menu and then try to read it to your pet, there's a chance that your pet will accept it. If it still doesn't work, try another language setting. Out of the 11 settings available, one of them is bound to work.
If, for any reason, you do not want to use the method mentioned, then you can either sell the book or read it to a different pet. There are plenty of books in Neopia; certainly your picky reader will find one he or she can enjoy. (;
Is there a species that is just naturally intelligent?
I don't believe so. There are naturally dim-witted pets, though! Grundos, Krawks and newly hatched Draiks start off as dim-witted, whereas other species start off as average or above average.
This FAQ is
still under construction
.
Do you have any questions that you feel should be added to the FAQ?
Contact
me!
The Rewards of Being Knowledgeable
Although reading and learning should be done for the sake of reading and learning, the pets who do the absolute best aren't left unrewarded. Yes, there is a prize for those who can top their fellow peers. Undoubtedly, the Neopian Book Award is a prestigious honor that's definitely worth reading hundreds of books for.
The Neopian Book Award isn't the only award out there, though. If you visit the
Booktastic Book Shop
on Kreludor, you'll find that all the books there are in a totally different league! Any pet who reads enough of these Booktastic Books will receive the Booktastic Book Award, which is a cute little badge. Now those knowledgeable pets can flaunt their wit on their school blazer lapels!
Book Shops in Neopia!
Influential Scholars of Neopia

King Hagan
The King of Brightvale is renowned for his wisdom and knowledge. Try to outsmart him, if you can!


The Brain Tree
He can't get enough of knowledge. Complete a quest of his... if you dare. Check out those who did!

The Water Faerie
Did the Water Faerie drop by unexpectedly and ask you for a book? Yeah, she does that.


The Library Faerie
She runs the Faerieland Bookshop as well as the Faerie Crossword. Obviously, this faerie can do it all.
Farewell
Did you enjoy roaming the halls of the Radiance Academy? Well, I sure hope you did! I know all of the students enjoyed it; they like nothing more than being gazed at in admiration and respect. Who wouldn't ? (; Of course, feel free to visit again and again! With Neopia's population increasing by the minute, pets are sure to be rolling in with their books in tow, ready to take Neopia by storm. The Radiance Academy is always changing, one pet at a time.
I'd like to thank my owner, wanderlustre, for taking the time to help me out with this directory! It's been a long, painful journey, but--
You're darn right this has been long and painful! You had me work on this for three days straight with no sleep. Laystone Lustre, just because I'm a pushover, it does not mean you have the right to exploit that and--
Mom! Shush! Ahaha... she's only kidding. Anyway, if you have enrolled your pet at TRA, or if you're ready to lend a hand, make sure to pick a little button to link back to us with! Spread the fascination of education!
Thank you, guest, for viewing this site. My owner and I truly appreciate your interest!
Enroll Your Pet!
Want to enroll your genius into the Radiance Academy? If your pet meets the following guidelines, feel free to apply.

1.
Your pet must have an intelligence status of Ultimate Genius (95 and up)
2.
Your pet must not be UFA or UFT
Application Form
CURRENTLY NOT ACCEPTING ANY APPLICANTS.
ATTN:
Please read ALL of the following and abide by my requests. I know it can be tedious, but it's terribly hard to organize this site if applications aren't sent in an organized manner. If you fail to follow these guidelines, I will neomail you to inform you that you must send in your application again in the proper manner I require.
Do you have more than one pet that you want to enroll? Please send them in separate neomails. Also, please do not submit neopets that are not your own!
The Application



Please fill out the application exactly the way it is presented and neomail me!
I will contact you with a message once your pet is registered and listed!
*Partial, meaning roleplay is generally closed but exceptions can be made
Important!
If any changes occur, please contact me!
You should inform me about any species changes, frozen accounts, or if your pet (yours specifically) wins a Book Award. If such things happen, contact me so that I can alter the information in order to accommodate those changes. After all, I'm just a tiny little Shoyru! I can't keep up with all these changes by myself.
Also, if you want something changed, such as your pet's description or your roleplay status, NM about that as well. Please be reasonable, though. My owner likes to keep me busy, so I don't have a whole lot of time for this directory! I try, though. (;


Neomail me for content change!