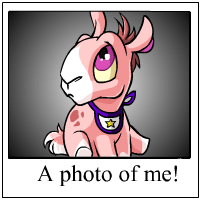 Hello guest! Welcome to my petpage! My owner ikissedorlandobloom has worked hard to bring you this great Meepit Juice Break Guide, and she asked me to put it up here on my page. Of course I was happy to oblige...so on to the guide!

MEEPIT JUICE BREAK GUIDE!!!


by Shaylin

Well we have all seen it and we all want it - that creepy little pink meepit avatar with its little blinking eyes. But 3500 sure is a big score for Meepit Juice Break!! Hopefully this guide will help you to reach the mark and get that avatar.

Extra Life Code: The first thing you want to do when you start the game is type this code - "meepits". This will give you an extra life so you will have 4 to work with instead of 3. Lives are indicated by the number of meepits sitting on the branch in the tree on the right side of the screen. Since you have 60 seconds to feed the first meepit, take 5 seconds or so to type in this code and make sure your extra life shows up (at least one person seemed to be having problems typing in the code before she actually lost a life).

Point Setup: Once you have your fourth life added, it's time to get down to the heart of the game: feeding the meepits. The basic point setup is that you will get one point for each pipe section that juice flows through when the meepit gets fed. However, if you feed a meepit juice of the same color as the meepit is, you will get one extra point per pipe section. So if you have 3 meepits that are red and you feed them all red juice at the same time, you will get 6 points per pipe section. This can really add up and getting extra points for color is the key to getting that high score. At higher levels when your timers are running down fast, it's more important to feed the meepits as quickly as you can, but at the lower levels you have more time and should feed each meepit its own color juice if you can.

Another good source of points is the "super bonus". You get the super bonus, which is worth 50 points, when you clear every pipe section from the board. Make sure you get the super bonus on the first round, when you have an entire minute to figure out the right configuration to get every pipe filled with juice. When you get to the higher levels of the game, that extra fifty points can go a long way (I was only 23 points over the 3500 requirement, so it goes to show how important this can be). If you don't get the super bonus on the first round, cancel the game and restart. It's a good idea to only go on to the second round if you get the super bonus first!

Making sure all the pipes have juice....

Gets you this!

Feeding Meepits: Feeding the meepits can be a little bit tricky, especially because you don't want to juice getting to the meepit before you are ready. The best strategy is to work your way through the pipes from the meepit to the juice rather than the other way around. First look at the pipe piece that will be going directly to the meepit (we'll call this piece number 1), and figure out which pipe will connect to it to supply juice (piece number 2). When you know how they will connect, flip piece number 1 so that it's NOT CONNECTED to piece 2. This will allow you to fill up the game board with juice without feeding the meepit until you really want to, leading to extra points and hopefully super bonuses! Here are some diagrams to help illustrate what I mean:
In the first few rounds, filling up lots of pipes is important and will get you extra points. In later rounds, once you have 2 or 3 meepits to feed, it's essential to feed all of them at once. The first thing to do in higher levels is to connect all of the meepits together, and then connect them to the juice. Here are some screenshots:
When you are feeding more than one meepit, don't worry about getting a super bonus so much - if you can that's great, but it is definitely not worth taking up so much time that you lose a life. Avoid losing a life at all costs, even if you end up feeding meepits the wrong color juice and only get a few pipes filled up.
Fruits: At higher levels, you'll also start to see fruits on some of the pipe sections. Rotten apples will subtract ten points from your total, red and green fruits will add ten, and blue fruits will add twenty-five. Avoid filling the pipes that have rotten apples on them and get as many good fruits as you can - they can be a great source of points! Let's say you get 6 red/green fruits in one level - that's an extra 60 points, which is even more than a super bonus.
Timer Reset Code: Once you get to level 8 or so, things start getting pretty hectic. You will have very little time to feed the meepits and you will have 3 to feed at a time. Remember that the most important thing is simply feeding them before their timers run out - at this point you probably want to feed them whatever color juice you can get fastest, and don't worry about the number of pipes unless you have extra time (which you probably won't). Yet once in awhile you will get a really bad setup where it's hard (or impossible) to connect all 3 meepits together and feed them before their timers run out. In this case you want to use the timer reset code. PLEASE NOTE YOU CAN ONLY USE THIS ONCE PER GAME, so only use it when you have to. Type in "juice-o-matic" (make sure to include the hyphens) and the timers for all meepits will be reset, allowing you a last attempt to get them fed!!!
Well, that's the end of the guide...hopefully there are enough tips here for you to get the avatar! If you have any questions, suggestions, hate mail etc. please neomail ikissedorlandobloom.
Happy Juicing!