This page is currently under construction, please be patient and check often for updates!
The Snow Follower
The time lugged by as I lay in my cave, waiting ever so impatiently for the first flakes to fall. I could feel it coming; my fur was nearly on end with anticipation as I stared at the sky from the mouth of the cave. I saw nothing yet, just the regular gray of the overcast sky, mocking me for being ground-borne. I heaved a heavy sigh, and turned into the cave, padding a short distance from the mouth and settling down by the cave wall. I rested my tail on my front paws, and my head on my tail, staring outside the cave forlornly, wishing that the snows would fall soon.
It must have been three hours that I stared out the mouth of that cave, hoping for even a single speck of snow to fall into my field of vision. Soon, though, my eyes began to droop. I tried my hardest to keep them open, determined to watch the outside world until I saw the falling gift, but before I knew it, I had fallen asleep. I awoke curled up, my head on the floor, front paws in the air and tail curled around me. I sat up, shook myself a little, and quickly tried to lick myself clean. It was in that time that I noticed the white outside the cave.
A blizzard must have come by in my sleep. How long I slept, I had no way of knowing, but as I ran out to the mouth of the cave gleefully, I was rather surprised to see the snow was piled up to the height of my nose. No matter, I've been through worse than this in past... I thought to myself, rearing up on my hind legs and crashing down on as much snow as possible. I received the desired result, finding that the snow was soft and loosely packed, giving way easily under the weight of my paws. I waded into the snow, my head at a slightly upward angle to ensure that I still had some air, and onward I pushed, happily shoving my way through the sea of white. Appearance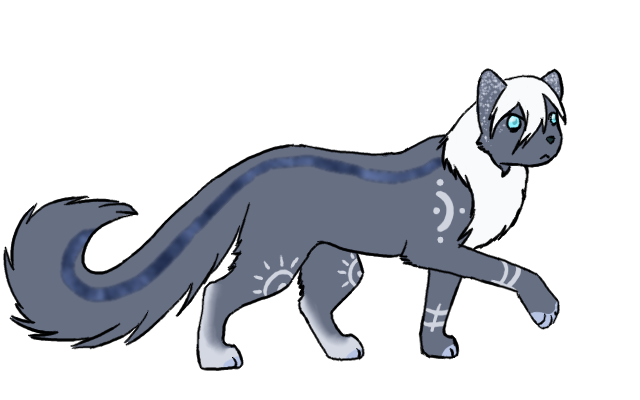 Do not use any art you see on this page in any way, unless given permission. That includes tracing, copying, etc., and unless it is a fanart, do not use my characters without permission. These are all examples of art theft, which is against the law. A History
Into the Snows
Kushai was taken from his parents at a young age, forced as the first born son of the family into slavery by the ruler of his homeland. He has no memory of his family, only of his slave owners and the forge in which he was forced to work, constantly heating the fires in order to keep everything hot and prepared to melt anything that came within their flames.
At age twelve, Kushai had managed to store up a hidden stash of enough scrap metal to form his own weapon in the night, a large ball at the end of a rod. He used this to beat down his owners until they were unconscious, at which point he ran off and escaped into the mountains. He ran as far as he could, but, as he was not accustomed to this sort of effort, he passed out halfway up the mountain.
The Bitter Cold
When Kushai awoke, he was surrounded by a sweet cold sensation, one that filled his body, pushing out the horrible sensation of the burning heat from the forge. When he opened his eyes, he saw that the mountain had been covered in a thin layer of snow. He sat up and shook his head slightly, amazed when small clumps of snow fell from his ears and face. He looked back at himself, only to see that his entire body was covered in a layer of the cold white substance. Kushai stood up, feeling some of the snow fall from his body, amd shook the rest from his fur vigorously, followed by each of his legs in quick succession, and finally his tail recieved a proper shaking of its own. Quickly, he gave himself a good licking over, ridding himself of the last of the snow.
A chill wind blew suddenly, surprising Kushai, but while he was unused to and rather uncomfortable with the lower temperatures, deep within them he found some sort of relief. It was not the heat of the forge; this was something new and far more pleasant. Even so, he felt the need to get some form of warmth, and he looked down the mountain to see that there was more in the way of trees and shrubs. Desperate to get out of the wind, he started his way down the mountain and into the safety of the pines.
Something Unbearable
The wind still managed to chase him through the pines, always right on his heels, and after much searching, Kushai finally managed to find a small abandoned shelter beneath some rocks that had been pushed up together. He touched one, slowly putting force on it to ensure that they were sturdy, and crawled inside once he felt it was safe. It was a tight squeeze, but when he was safely curled up inside, he was freed from the cold of the raging winds. He closed his eyes, and waited as his body slowly began to produce heat that was reflected back upon him. At first the warmth was comforting, keeping him from the pain that had been caused previously by the winds. Soon, however, the warmth started to fill him with awful thoughts of the forge, his memory going back to the time pumping air into the fires to keep them hot, and getting hot air blown back in his face in return. It was too much alike that. He had to get away from the feeling; and so he fled the crevice in the rocks, and ran higher up the mountain once more.
Adaptations
As his time in the mountains went on, Kushai gradually began to grow accustomed to the bitter weather, after having discovered just how much of an intolerance to heat he had. It was obvious that he needed to find himself some warmth from time to time, but the only thing that he warmed himself up for was preventing frostbite from setting in. His eyesight eventually adjusted to seeing in heavy snowfall, and his fur gradually seemed to thicken, aiding him in avoiding the onset of frostbite. By the time he reached the age of fourteen, his body had changed enough to give him proper protection when in even the harshest of mountain blizzards.
The Markings
After much time learning to survive in the mountains, Kushai noticed a change in his fur. What had once been a gray-brown color was beginning to change into a musty blue-gray instead. He ran to look for a smooth source of water, ice, something that would reflect his face back to him. Days later, he finally found a small puddle on a relatively flat stone. Kushai looked at his face in the reflection, and saw that it had also changed to the same blue-gray color as what he had seen of the rest of his body; his ears, which had grown extra fur on the inside, were speckled with several lighter shades of blue-gray, along with the sides of his face. The stripes from his head to his tail were now an iridescent dark blue. What surprised Kushai the most however, was that his mane had become a brilliant white-- and he was growing hair. He wasn't even sure he wanted to look at the rest of his body; the only thing about his face that had stayed the same were his bright ice-blue eyes. Who knew what may have become of his body. Reluctantly, Kushai turned his head and looked back at the rest of him. He now had some strange markings on the fronts of his shoulders, his knees, and towards the bottom of his front legs. His toes ad all turned to a pale sky blue, and the backs of his back legs were now the same pale blue color as his markings.
Kushai couldn't believe what had happened to him. He knew of Xweetoks with different markings, but he didn't know they just showed up out of the blue. He stumbled backwards a little, and ran, finding the largest pile of snow he could and jumping in, attempting to hide himself from the changes that were suddenly bombarding him. Stats
Name:
Kushai
Gender:
Male
Clan:
None; he is a wanderer, one who belongs to no specific clan, but is welcome in all
Age:
34
Personality:
Laid-back, but always keeping some form of guard up; wary when meeting new creatures
Status:
Single, not looking
Family:
Unknown
Element:
Snow
Color:
Musty blue, sky blue, pale blue, white; dark iridescent blue stripe
Other:
Abnormally large amounts of thick fur in his ears to protect them from the cold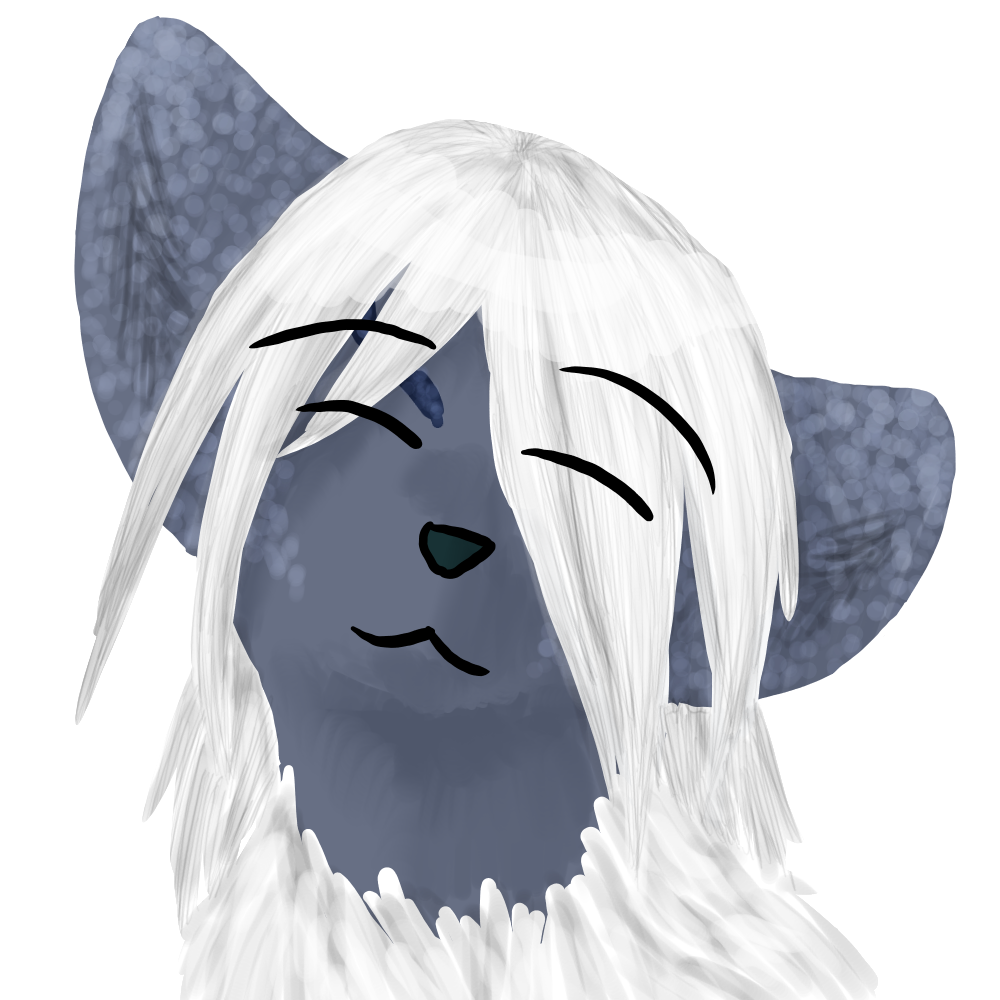 Likes
Solitude
Nature
Stone
Ice
Wind
Watching snow fall
Dislikes
Warmth
Shady characters
Metal
Society
Prolonged contact with others



A Longing

I knew they existed even before escaping my enslavement as a young Xwee. My master's lover had them, as did one poor soul that I worked with early on. Every now and again, I would see my master speaking to a client that had them. Even now, as I follow the snows across this region, I still find others that have them from time to time.

Wings.

I have wanted them since I was young. During my time in enslavement, I wanted them to fly away from the horrible place, not that it necessarily would have worked. The one Xweetok I worked with early on had his wings beaten to tatters; poor guy ended up worked to death. When my fur changed, I sincerely hoped that wings would come with it; it would have made about as much sense as anything else that was happening to me at the time. I was rather dismayed when nothing happened. But, I figured that was me, no use cursing the universe for something that couldn't be changed. Even so, I would look to the sky, wondering what it would feel like to fly through the air, up where the snows fall from. I still do the same thing to this day, to be perfectly honest. I'll look to the skies and daydream of flying, high above the mountains that I mostly call my home. While I have no real experience with flight, my imagination shows me views of great majesty and beauty; of my longing. Art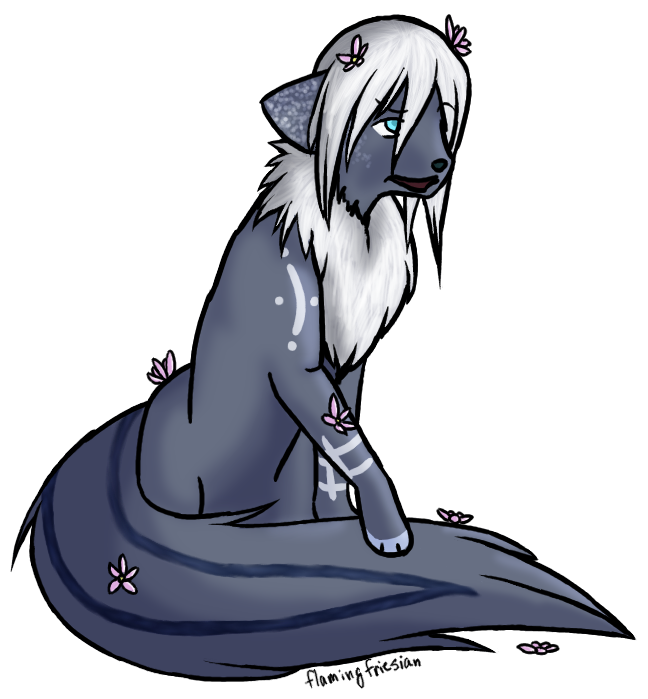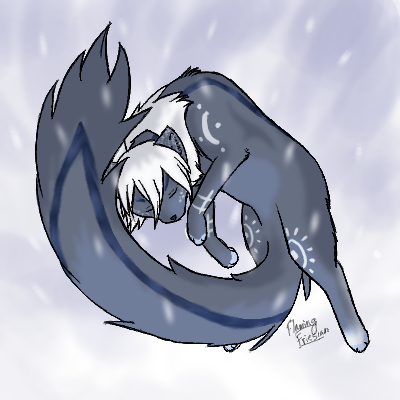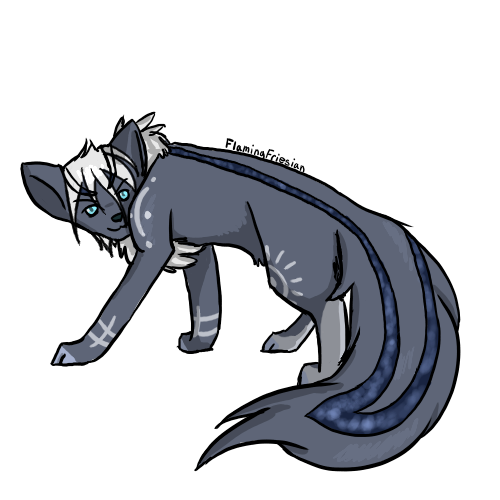 Art by others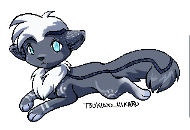 Big thanks to tsukino_hikaru for the beautiful free adoptable lines used above!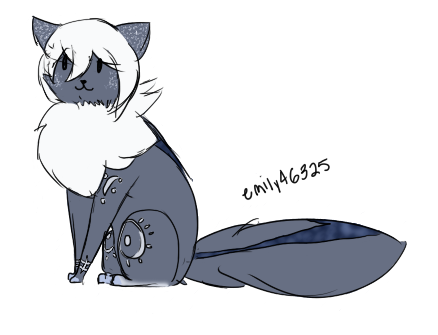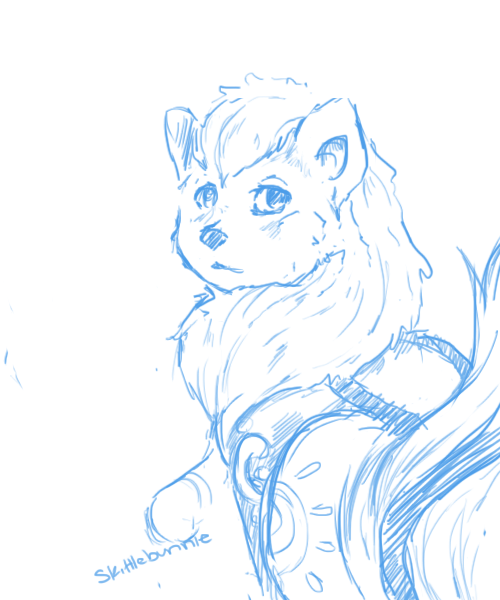 Line Back?






Inspirational pages









Plus pages of all kinds...





Check back often to see if the page has been updated~