Deep within the Altadorian Woods, far from the busy capital, there is a small castle. While the castle itself was only built in the last 20 years or so, it looks as though it could be hundreds of years old; it is a beautiful, architectural work of medieval art. Surrounded by a breathtaking garden, filled with exotic flora and the native fauna, it seems like an all too storybook place to live.
The door to one of the many servant's entrances opens, and a young kyrii girl steps out carrying a tray of tea and scones. She is no servant. In fact, there are no servants at this castle, simply the residents who live here. She pushes open the door with her back and lets the midmorning sun grace her face. Altalena bows her head slightly as she adjusts to the light. Behind her, a younger aisha girl steps out into the light as well, carrying a small basket with a table cloth and other various utensils. She need not shield her eyes, there isn't much to be seen by the blind. "It's far too beautiful to have tea inside today, Reni," Alta beamed.
Altalena heads towards one of the many viewing areas of their vast garden. Here, there are ornate stone benches and a small outdoor chess table. She sets down the tray and beings prepping brunch while Reni sits down on the grass.
But they are not alone.
A slight mist begins to form around their ankles, so thin that neither of them notice it at first. But then a small, and slightly more noticeable fog rolls in from the forest. Altalena continues to prepare her food, oddly composed despite the strange phenomenon. She calls out to the mist cheerfully, "Kessa, love, have you come to join us for brunch?"
Before a moment could pass for a response, a puff of mist bursts out on the opposite end of the small table, causing Alta to gasp and nearly fall back in surprise. "KESSA, how many times have I told you not to pop in like that!" Altalena reaches out to the ixi girl who immediately grabs the biggest scone from off of the table and begins to run towards the forest.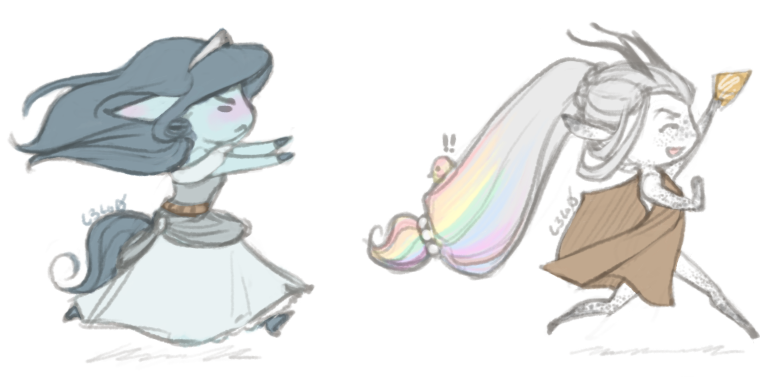 Alta gave chase! "MAH SCONNEEEE," she shrieked with dismay.
Kessa looked back behind her, prancing just ahead of Altalena and giggled, "You're too slow, old friend!" She lead Altalena just a little further into the forest a little before lifting up a hand and grabbing a tree branch, that seemed to just appear for her, and swinging right up into the trees.
Alta halted immediately, and leaned against the tree branch, giggling and gasping for breath. "Oh god, I'm getting too old for this," she panted, "I assume there's a reason for you bringing me he-" she stopped. Kessa had tilted her head up, and looked out into the clearing they stopped in. Alta gasped in amazement.
The small clearing, was slightly darker than the rest of Kessa's forest, but for good reason. The stones that littered the ground glowed and seemed to move. Within the grass, the wings of hundreds of iridescent turquoise butterflies flitted softly; the entire forest was humming from the beat of their slumber. It was the most magnificent and magical sight that Alta had ever seen. "Thank you," she whispered, "for this," Alta watched the blue field in awe.
Kessa hopped down from the branch and kissed Altalena softly on the cheek, "You're welcome, my friend." A gentle mist formed once again, and she was gone. And Alta was left alone in the clearing, entranced by the gift from the forest spirit.
I tried to keep this just short and fun. It's really meant to be more of a character reference than a history. Short stories are the most fun to write and read, imo. c: Obviously more to come if I can continue my character with her.