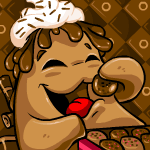 Hello! Welcome to
Kryonus' Chocotopia
, the sweetest petpage in all of Neopia! (Hey, no drooling!) Let me introduce myself, I'm
Kryonus
the coolest
Chocolate Chia
to ever walk this planet. Why am I so cool, you ask? Well, Chocolate happens to be one of the rarest colours in the world, but we'll go into more depth later!
My owner is
Icesmith
, an absolute chocoholic! He's cool and all, I guess, but let's not dawdle on the unimportant issues here and instead focus on the more special things in life - aka, me! I'm Icesmith's first chocolate pet and, of course, his personal favorite
(Says who? Says me of course!)
.
Right now, sit back, relax, and make sure to follow all the rules
(I don't want to be kicking you out, you hear?!)
Hands off of all of the chocolate
No drooling in the Chocotopia (You nasty...)
Chocolate is not for sale
(Although bribes will be considered at the end of the tour)
Absolutely no Lupe's allowed in the premises
Anyone who fails to comply to the rules will be subject to a pelting of chocolate gumdrops. You have been warned.
*snicker*
---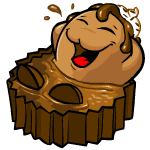 What? Oh no, stop...you're making me blush...ok then! What better a way to start the tour than to tell you a little bit more about myself! As I said earlier, my name is Kryonus, my owners first ever Chocolate pet! I'm currently over 2,500 days old, making me the oldest
(and obviously the most wise)
out of the whole family!
Despite being irresistibly beautiful, I'm also the strongest in the gang!
Level: 81
Hit Points: 183
Strength: 159
Defence: 158
Speed: 159
Yeah, I'm pretty tough. Nothing to brag about or anything.
(Although, I heard my brother, Fondeux, is currently straining away at the Training School trying to overtake me! Hah! Good luck with that!)

Oh right! Let me introduce you to my best friend, Caramel the
Chocolate Babaa
. Caramel has been with me since I was first adopted by Icesmith and originally started off as an icky Spyder
(but don't tell anyone, he gets embarrassed!)
, but after a few lucky lab zaps, his chocolatey self began to form!
Over the years, I've prided myself in the fantastic house training I have given to Caramel. Never once will you see him getting up to mischief, trouble, and absolutely never ever will you see him leave my si--
Wait...Caramel? Where'd you go?
Hmm...must be off playing somewhere...
Huh? What's that? You want to see the rest of the family? Really?
*Sigh*
, fine, I might as well show you the rest of the gang. They're not as special as me, however, so don't be getting your hopes up!

Choccio


Hazielle


Ilquea


Yaxinta


Ziekiau


Jubotica


Jyrad


Biscottai


Fondeux


Melts


Rizalah
---
I can tell you're absolutely bursting to gaze upon the marvelous chocolatey delicacies we have to offer here at the Chocotopia, and you're wait is over, my friend! Me and my owner have worked tiresomely over the years to create a gallery worthy enough to represent all of the chocolate in Neopia, and I'm so proud to introduce you to our personal Chocolatey Haven!

Below you will find all of your chocolate desires, ranging from mint to dark, milk to orange, and all the wonders in between! Did you know there are nearly 1000 chocolate items in Neopia? Me and my owner are trying to collect them all! If you're ever looking for a treat for your pet, make sure to stop by the place -- I'm certain you won't be disappointed!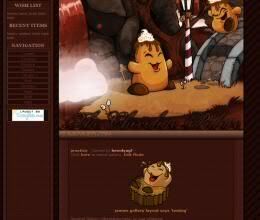 Pretty impressive, right? After all, we did win Gallery Spotlight on Chocolate Chia Day, 20th February 2008! (And no-one can argue with TNT's tastes!) Obviously I'd like to spend time saying thank you to everyone who has contributed to the gallery over the years, but that would mean there would be less time to talk about myself--I mean, the Chocotopia. Heh.



A rather tasty gallery created by icesmith has won this week's Gallery Spotlight award.
---
I can see you're itching to get your hands on a Chocolate pet of your own, but how, oh mighty one, I hear you call. Don't fear! Kryonus, the supreme, will answer your questions!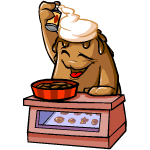 Like I said before, Chocolate is one of the rarest colours in the land, and let me tell you why! Unlike most of the other colours in Neopia, there is no Chocolate Paint Brush you can simply buy over the counter (please, don't be so insulting!) Instead the sweet color is only available through lucky lab ray zaps (with the same applying to Chocolate Petpets) or through a dip in the Fountain Faerie's magical pool!
This makes the task of obtaining a Chocolate pet quite tricky! After all, the Fountain Faerie doesn't come around too often, and who wants to spend all the money on buying a lab ray (or the constant morphing potions when your species is changed!) Bleh! Much too hard work!
It's hard being beautiful, I know...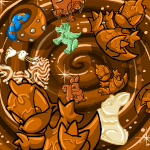 However, a sneaky rumor is going around Neopia...I shouldn't really tell you, but you can keep a secret, right? Ok, ok! Apparently if you feed your Chia enough chocolate, there is a very small probability that it will actually
turn
chocolate! I guess you really are what you eat! However, I've personally never seen it happen, so don't go telling people I told you, ok?!
However, if the thought of constant labzapping scares you off, not to fear!
Biscuit
also comes in a colour, and a lot of pets are studded with chocolate chips all over their bodies! Obviously, it's not as cool as being entirely chocolate, like me, but Biscuit can be painted through the Biscuit Paint Brush (which is roughly 30,000 neopoints) when you take a visit to the rainbow pool! Much more convenient, eh?
If you do decide to take the risk, however, there are a bundle of pets that can be painted
Chocolate
, with more and more becoming available every month! Each pet has their own unique look, so it's definitely worth having a look at every one!
Oh Kryonus, the rainbow pool is so far away, my legs can't carry me that far!
Not to fear, below I have listed all of the pets that can be coloured chocolate. Feel free to peruse! (But stop drooling!)
| | | | | |
| --- | --- | --- | --- | --- |
| Chocolate Aisha | Chocolate Blumaroo | Chocolate Bori | Chocolate Bruce | Chocolate Chia |
| Chocolate Chomby | Chocolate Cybunny | Chocolate Draik | Chocolate Elephante | Chocolate Flotsam |
| Chocolate Gnorbu | Chocolate Jetsam | Chocolate Jubjub | Chocolate Kacheek | Chocolate Kiko |
| Chocolate Korbat | Chocolate Kougra | Chocolate Kyrii | Chocolate Lutari | Chocolate Meerca |
| Chocolate Mynci | Chocolate Ogrin | Chocolate Peophin | Chocolate Pteri | Chocolate Ruki |
| Chocolate Scorchio | Chocolate Shoyru | Chocolate Skeith | Chocolate Tonu | Chocolate Uni |
| Chocolate Usul | Chocolate Wocky | Chocolate Xweetok | Chocolate Yurble | Chocolate Zafara |


And what Chocolate pet is complete without a Chocolate petpet?!

Chocolate Acko


Chocolate Baabaa


Chocolate Babyca


Chocolate Bartamus


Chocolate Bearog


Chocolate Blobikins


Chocolate Blurgah


Chocolate Candychan


Chocolate Doglefox


Chocolate Grackle Bug


Chocolate Harris


Chocolate Intesteen


Chocolate Kookith


Chocolate Magmut


Chocolate Mazzew


Chocolate Meepit


Chocolate Momba


Chocolate Mortog


Chocolate Pile of Soot


Chocolate Powtry


Chocolate Quilin


Chocolate Rock


Chocolate Skylde


Chocolate Slorg


Chocolate Snowbunny


Chocolate Spardel


Chocolate Symol


Chocolate Turmac
---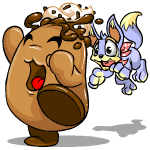 What? You
still
haven't had enough chocolate? Wow! You're more obsessed than my owner. Well, lucky for you, there are a number of other chocolatey secrets just lurking around Neopia waiting to be discovered, whether it's through amazing graphics, on-site achievements, or through chatting away on the neoboards! TNT's appreciation of Chocolate is increasing every day, so there's always new discoveries to be made. However, being a part of the
Supreme Kryonus Chocolatey Alliance of Chocolatey Conundrums
, I couldn't possibly tell you any of them...Ok, but don't tell anyone, ok?!

First of all is probably the most exciting! The most necessary thing in everyone's life -- the
Chocolate Avatar
! It's beautiful isn't it? Definitely the best in Neopia -- and such beauty comes at a price! Getting your greedy little chocolate-munching hands on this jewel is no easy feat! To obtain it, you must buy an item with a rarity of 90 or higher from the
Chocolate Factory
! Nowadays, everyone in Neopia is trying their hands at the art of restocking, which makes this quite a tricky feat -- but not to fear. The glorious Kryonus has a trick or two up his sleeve. Did you know that all items over 5,000 neopoints are rarity 90+? Just keep your eyes open for the higher priced chocolates and you'll get the avatar in no time!
There's also a whole bunch of chocolate icons for you chocaholics, I mean, chat-a-holics out there! Simply click here to have a gaze for yourself! Someone said that a certain Chocolate Chia features on quite a few...*ahem*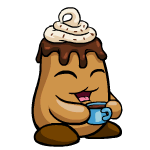 There are also a huge amount of chocolate
Fun Images
on the site, all of which are animated! They're made to an exceptionally high standard, and are always one of my personal highlights when the New Features updates. They're absolutely brilliant for decorating a petpage, gallery or lookup! And who doesn't love a cheeky bit of animation?!
Just make sure you choose the ones featuring yours truly or I won't be happy...
Finally, what's the point of having so much chocolatey goodness if you can't chat about it? Decorate your neoboard signature with a couple of these excellent sugary smilies! The codes for which can be found here






---
Well, I do believe that ends our fabulous little tour of my Chocotopia, I hope you enjoyed yourself! As you can see there is so much us Chocolate pets can offer, so why not try to obtain one yourself? I'm usually pretty busy making myself look fabulous, but if you do have any other chocolatey queries, why not neomail my owner? I'm sure he'll be more than happy to help you out!

Please feel free to link back to me with this special link my owner created!

50x50 Patch


So long! And remember, if I catch you stealing any of the chocolate, there will be serious consequences...let's just put it this way...My cute little Baabaa has some pretty sharp teeth!

Byeeeeeeeeeeeeeeeeeeee!