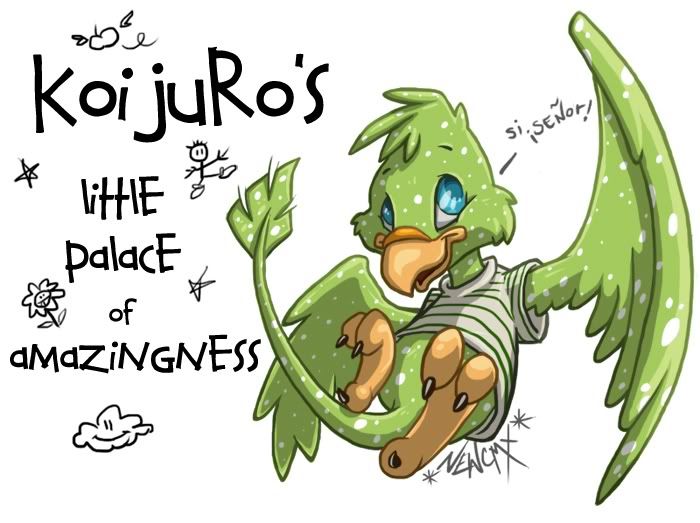 Koijuro (Ko-juu-row) was born three years ago as a red Kougra. Newcomix didnt have a lot of neopoints then and didnt know how to get rich quick but she slowly got him into training at the Mystery Island Training school. In those days Tyrannia was just discovered and Maraqua was still intact. Meridell and Krawk Island were still undiscovered. One day a friend of Newcomix accidently created Sa1ome a blue Elephante. Koijuro was very happy with his new sister and they were always playing together. She played with a Magical Meerca Plushie, easily won in Meerca Chase (because the extra hard and reverse mode were still in the game) and Sa1ome had changed into a Meerca and a couple of days later she played with a Magical Chomby Plushie (won at the game Chomby and the Fungusballs).

In those days you could just sign up for some sponsors and paint your pet any color and species at the rainbowpool so Newcomix took Sa1ome there and gave her a Kougra Skunk look and made Koijuro Spotted. Koijuro loved being spotted and his sister liked her new Kougra look. But one day hackers came and took her away. They dropped her off at Dr. Death but she found a good home. The only thing the hackers left was Koijuro but he was the most precious thing on her account so she was still happy! Koijuro got loads of new friends during the years and he got really strong by training. He went to Coltzan's Shrine everyday and spend a lot of time on Mystery Island occassionaly going to Krawk Island for some extra workout.
One day Newcomix got a Labray. The labray was meant for Darkvex, who was keen on getting stronger than Koijuro. But since Darkvex was so mean, Newcomix wanted to give him a new home and we all said goodbye to him. Koijuro volunteered as labray experiment. He really wanted to be a Baby Kougra so he went to the mad scientist everyday (not knowing you can't get Baby for that).... he got a lot stronger but he got a lot of change too....

Koijuro got a lot of strength and movement by labray. He got so strong he could beat up Meuka and the Black Pteri and even got Newcomix a couple of trophies for Defenders of Neopia. The first species change he got was into a Jetsam. He didnt like being a Jetsam much and got really grumpy. After a few colorchanges and specieschanges he turned into a Ruki. But there was a big war between Hannah and the Thieves, so Koijuro morphed to a Pteri this way he could eat worms and heal himself from the dreaded sickness. After being bored of beign a Bruce, Koi got morphed into a Uni and is walking around as a Hissa nowadays!!

Koijuros Species/Colors Changes





Koijuro's first petpet was a Warf named Tikay. Newcomix bought it for him when he was just born. She found him a Ghostkerchief later and he called him Tiodal. Then Newcomix won a Mongmong/Flishy at the fruitmachine and he named it Pilioy but he only had that one for a short while. He got himself a Chezzoom and named Chezzums. He had Chezzums for a year almost when Newcomix bought him a white Ona called Ursus. Within a week he wanted a Polarchuck so she got him one named Ursar.
But then he said he really, really wanted a Buzzer 0_o so he named the Buzzer Toi. Then the Mazzew av came out so Toi was put in the Petpet Gallery and Koijuro got a Mazzew Newcomix had bought for 4000 np. He called it Comix.
After having Comix for 221 days he decided it was time he got a Gallion (Newcomix favorite petpet). Koijuro doesn't like normal Gallions but a foreign nephew of Teax arrived one day, it was a Pirate Gallion. He told his name was Terrox and Koijuro and he became best friends! Terrox got a little Zytch on 24/12/04!

Koijuro has been mates with an Ukali, which he called Shyro, for couple of years now. Terrox has moved to the Gallion Gallery at Newcomix!




Rushixi(R.I.P.) was born right after Sa1ome was lost. He wasnt much of a fighter but loves to play. You could always find him in the green fields of Meridell laying in the sun. Rushixi had an old Snowbunny called Buckey, that was staying at Newcomix PetpetGallery for a while. Rushixi visited the mad scientist a few times till he got white. Rushixi had a special affection for the Phantom-Orange-Shirt-Guy and dedicated his page to him. Rushixi got frozen cause of someone else..

Uncommon_Ground was adopted by Newcomix from a neofriend of hers. He is a friendly mutant scorchio tho he doesnt look like it at all. He spends most of his time scaring everyone in the Haunted Woods for fun and occasionally visits the Brain Tree to hear his stories. Uncommon_ground has found a Snicklebeast in the snowy mountain tops of Terror Mountain. He took him home and called him Grawp (thats the noise he makes when he's happy). Uncommon_ground loves to scare pets together with Grawp and Centurixi.

Koijuro found Djynx while he was visiting the Virtupets Space Station. Djynx has used the Potion Coleskilla gave Newcomix. It was a funny looking potion which was suppose to make her look like an Ixi but i think the date was expired..She likes her new look tho ;)
Djynx used to be a Grundo and couldn't talk neopian at all. Teax her Gallion is teaching her bit by bit what he knows. She likes to look at the stars and loves puzzlegames. Djynx also keeps track of Newcomix Avatars and Screenies

Valemond was found in the pound one day and the other Ixi's found him quite peculiar. He has the same hobbies as Centurixi. He found a friendly buddy Lucifer the Polarchuck.

Johalla was adopted from a friendly guild. She has trained a lot and protects Rushixi now. Johalla has a cute little Babaa called Jadey and they both like to graze in the fields of Meridell while watching Rushixi. Johalla fought in the Maraquan war for the Pirates and got 183 points! Johalla is helping out Mallow_fields now.

Centurixi was created by Newcomix and at his first labray got turned into a Ghost. As a ghost he helps out Uncommon_ground scaring pets. He fell in love with the Spardel from Newcomix Petpet Gallery he called it Bookie. Centurixi is really good in Deckswabber and has his own Deckswabber Guide.

Kreakfey was born on Yurble day. He was being labrayed for a little while which turned him/her from red to starry (with intentions to getting grey) He has the cute little Buzzer named Toi.

Swixixi is the brother of Centurixi and he used to know everything about Avatars. Swixixi also got labrayed till he got brown. He has a shy deaver called Munch.






Here are some things which make Koijuro the most happy. Occasionally Koi tells me what things he likes and dislikes. He really doesn't like to play the same game after and after cause then he tells me he's too bored.. As for the games Koi is good in a lot of them. His favorite games are: Black Pawkeet Slots, Deckswabber, Neoquest 2, Ice Cream Machine and Hasee Bounce. He hates games like Castle Battles and Zurroball. Every first of each month Comix and Koi try for trophies which is a timeconsuming hobby.

Koijuro's favorite part of Neopia is Krawk Island. Fighting as a Pirate Koijuro fought against Maraquan soldiers... which was probably the dumbest war ever.. After years of training he only got a measly 47 points with weapons thats cost millions together. It was too unfair..

Whenever Koi goes out shopping he always restocks at the Bakery. Baked foods is the best thing he can think off. Muffins, Cakes and Breads hmmmm... his favorite cake is a Nova Sponge Cake.

Koijuro also loves Gallions like Newcomix does. As Terrox is his favorite he takes the other Gallions on trips around the world. He also admires the King Terask from Nq2. His favorite plushie is the king Terask Plushie.

Whenever he finds the time tho he visits random shops to see if he can find a nice addition to theEverything-That-Looks-Cool!-Gallery. Here are some examples:



Koijuro loves to get Trophies! You can say he's an Trophy-Addict.. He tries for most games to get a trophy and also for each contest on the site. There are individual trophies that Koijuro won himself and the ones Newcomix got on her lookup. The easiest trophies on Newcomix lookup are probably Cheat!, Snow Wars, Pyramids Bonus, Sakhmet Bonus, GoGoGo, Cellblock and Beating Punchbag Bob. Those are games you only need to keep on playing and eventually you always end up with a trophy. The harder trophies are Math's Nightmare, Petpetsitter, Raiders of Maraqua, Magax and Black Pawkeet Slots Losers. Newcomix put a lot of effort in getting these trophies. Every first day of the month when scores are reset the scores are at their lowest point which is somewhat easier to get a trophy.

Then there are the contest trophies like Picture Gallery, Mystery Pic, Lenny Conundrum, Better than You and Random Contest. You can see all art Comix submitted on Art Gallery Petpage. Newcomix also won the Site Spotlight and Lookup Spotlight and then she is also working on the Neopian Times Avatar and she has already submitted 8 comics! Just search the Neopian Times to read about Koijuro and the Meepits.

Koijuro got some nice trophies for Comix on her lookup by fighting for her. He beat up Meerca Henchmen for the Defenders Trophy and got her nine shields for fighting in wars and contests. Even Terrox his Gallion got a fine Petpetspotlight Trophy which he is very proud of. Koijuro also enters Beautycontests and won already three of them! He also is trying to get a Gourmet Club Card by eating lots of Gourmet Foods (well not really but we still like to think we will get this)








Terrox is Koijuro's little friend. Koi loves him dearly and they have known eachother for years now. Because Terrox is a Pirate Gallion and really, really stubborn, he only listens to people who talk a pirate talk to him.

Like if you ask: "What's your name?" he won't reply... but if you ask: "Aye ye scurvy dog, whats yer name!", he will happily reply "Yarrr Terrox is my name yer landlubber!" Which could bring funny situations as you can imagine. Koijuro also entered Terrox for the Petpetspotlight

As you read above Terrox is a nephew of Teax, Djynx's Gallion. All the Gallions Newcomix owns are somehow related to eachother. They all wanted to be part of Gallion Beyond Terror Army. Ofcourse they don't really fight but each Gallion has his own special talents and powers. Terrox for example is a great fighter with a small heart. He fought along with Koi in the war vs maraqua. Teax can speak multi-languages and has a fire breathweapon as for Amok the Black Gallion spits acid and is known with all sorts of poisons.

-Gallions Beyond Terror Gallery-
Newcomix created her own special Gallion Haven called: Gallions Beyond Terror. All the Gallion she owns are in this Gallery except for Teax whose with Djynx. In this gallery you can find info about Gallions and some Gallion Avatars Comix created herself. Thank you everybody who donated to the Gallery!!!


At some point Newcomix traded 6 Gallions for a Flippy I traded 6 gallions for a Flippy which i lost later...
There's also been stolen a couple of pets from this gallery (Cyodrake and Pirate Faellie)


Newcomix (Jacky) is a 29 year old girl from Holland. She loves collecting avatars and trophies and her favorite petpets are Gallions and Ukali's. She has not much neopoints. At this moment around 500k.
Koijuro is the first pet she created on neo. All the books she encounters are read by him, she buys him Gourmet foods and only fights with him. The art for the Beautycontests are all drawn by me but if you ask me, it doesnt matter how good your drawing is, just the votes you can get within a week time..

Please read my FAQ before neomailing!

Newcomix has different spare accounts which can be found here:
newcomixmaniac - beyond_terror
These accounts are for safekeeping of my pets and websites.
Dont copy artwork please!



NEOPETS, characters, logos, names and all related indicia
are trademarks of Neopets, Inc., © 1999-2013.
® denotes Reg. US Pat. & TM Office. All rights reserved.
PRIVACY POLICY | Safety Tips | Contact Us | About Us | Press Kit
Use of this site signifies your acceptance of the Terms and Conditions