Now Playing: "Lilium" from Elfen Lied


Before you lies a dark and mysterious castle on top of a barren rocky hill, that almost could be considered a small mountain. This castle is in a place beyond the Haunted Woods where everything is much more sinister and deadly. The castle itself is crumbling and seems to lack life, but if you listen closely you can here some music coming from it. It's the depressing sound of classical renaissance music.
Rumors say an Ixi lives in that castle; a very evil Ixi without a heart. Some say she is disfigured and has mechanical parts replacing the anatomy she is missing.
The rumors are true, and the Ixi's name is Kijoyagi.
There was only one person who has seen the inside of her castle and returned to tell the tale. The Neopian asked her questions, and she replied. He wrote this down carefully, remembering her every word and kept it in his journal. If you ever find it, this is what it would read:
I used to be a normal Ixi, just like all the others. I was rather good-looking, or so others say. I was satisfied with myself, content even. I used to have friends and also many suitors. However, that was before I became what I am now.
I am now half mechanical, or a cyborg. Whatever you wish to call me. I was searching for the one thing that could have returned me to my true form, the Darigan paintbrush. However, I was attacked, but I could not win. I was quickly defeated by the monster and left for dead. I was prepared to die, and welcomed death. However, a scientist found me and the mad man took me in and saved my life, turning me into something I would come to despise.
After getting my revenge against him, I retired to my home and now live in solitude. My past haunts me and my future is bleak. I have nothing left, save my rare collections and my old gramophone. Leave me be. Leave me to my solitude.... Away with you I say, let me suffer my final days in peace.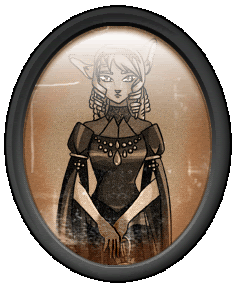 A very long time ago, there was a noble family of Ixi's. They were very wealthy and had a beautiful daughter whom had many wealthy suitors asking for her hand. The parents were pleased, and told their daughter that she would be allowed to choose her husband to be.
The daughter however, wanted nothing to do with the family that was obsessed with society and their own self-image. She knew there was something more for her out there. Something more than anyone could ever imagine.
One day, as she was sitting at her dressing table, she caught a glimpse of that future. She saw her reflection as it was meant to be. It dark and powerful. She had always been a dark Ixi to begin with and her parent forced her to hide this from every day society, but this only made the darkness grow even darker.
One faithful day, she met someone that she fell in love with. This man seemed to return her love and they lived happily for a little while. But one day, he disappeared leaving a letter explaining that he had fell in love with another, more wealthier woman. She had given her heart to him, and he destroyed it.
Rejection is always a turning point in someone's life, and it was the same for Kijoyagi. It was then that she knew her heart would be reborn as a cold icy organ to pump her cold blood through her veins. It was chained and locked away, surrounded by painful thorns that could never be ripped away. It was then that she decided to leave and seek her other, rightful self. The one she saw in the mirror that one faithful day.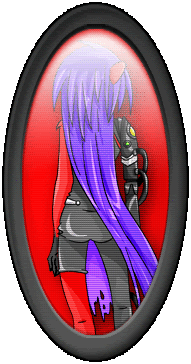 Name: Kijoyagi
Owner: darknightmarequeen
Species: Ixi
Eye color: Silver
Hair color: Blueish purple
Fur Color: Red
Age: Unknown (Looks to be around 20)
Location: Somewhere beyond the Haunted Woods
Blood type: O+
Occupation: Hermit
Spoken Languages: English, Japanese, French, German, Latin, Spanish, Chinese, Russian, Egyptian, and the unknown language her brother Seahrtask speaks.
Intelligence: 75
Petpet: Lavaspinner the Spyder
Music Preference: Classical, Opera, New Age
About: Kijoyagi is a bitter Ixi. Why should she care about the world and everyone else when they have shunned her? She harbors deep feelings of anger within her and this has made her seem like dynamite. She explodes very easily. She enjoys her solitude and quiet home and if anyone disturbs her, they will pay dearly. Its difficult for her to make friends because of how she is and what she looks like. She is fiery, highly intelligent, and violent. Though, there are times when she just has to hug and kiss puppies and kittens, but you will never see THAT side of her. Ever. She does have a petpet named Lavaspinner who guards over the castle with her spyderlings. Betrayal is something Kijoyagi will not go through again, and that is why she secludes herself from everything and everyone.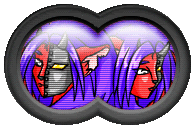 Dislikes

Likes

~ Cybunnies
~ Happiness
~ Usuki
~ Faeries
~ Cuteness
~ Loud noises
~ Sunny days
~ Tombola

~ Silence
~ Collecting
~ Strawberries
~ Books
~ Magic
~ Storms
~ Meat
~ Stamps
The Battledome:
Battles fought: 0
Battles won: 0
Battles lost: 0
Battles drawn: 0
Overall score: 0

Level: 3
Strength: 42
Agility: 48
Defence: 8
Maximum HP: 138
Current HP: 134


Primary:

Painted:

Mutant to come!

Plushie to Come!

Robot to come!

Custom status: CLOSED
Trade status: Possibly

(Note: If requesting a custom, please fill out the form below in the text box and neomail it to me. No chat speak. No noob talk. Plain english only. I am very picky about these things. Use a spell check too. If there is no form in the text box, then customs are CLOSED, so don't even ask. If you ask while they are closed, you will not get a custom.)
Customs/Trades:

 
 
 
 
 
 




Yes! Kijoyagi DOES have family! Shocking, isn't it?

Lavaspinner is Kijoyagi's petpet and companion. Lavaspinner is the master of millions of little mini Spyders called Spyderlings. Lavaspinner reports to Kijoyagi regularly and tells her if anything out of the ordinary is happening within or outside of the castle. If you even come near the castle grounds, Kijoyagi knows, as there are millions of tiny little eyes watching those who dare come too close. Lavaspinner is about the only creature that holds the privilege of Kijoyagi's almost nonexistent love and affection. If you actually make it into the castle, you will be attacked by Lavaspinner and her Spyderlings.

The youngest of Kijoyagi's siblings is Crestfallon the Gelert. She is shy, soft spoken, and very cute. Kijoyagi would never admit cuteness out loud though. That would totally ruin her image. Crestfallon follows her dreams, but is always unable to catch up with them. She, like Kijoyagi, is filled with sorrow. However, instead of hiding the loneliness and sorrow deep inside and covering it up with anger, she wears it on the outside for all to see. Even if she tried to look happy, to put on a better face, the mask would always be transparent and the sadness would show through. She has only one friend and that is her guide Aeris a mighty Blobagus that resembles a dragon.

Seahrtask is the second to the youngest. He is a Hissy that lives near the Lost City of Geraptiku with his tribe called Ohualia. He speaks an unknown language known only to the tribe and a few others such as his family. Seahrtask is a proud warrior and is in charge of defending his tribe along with a few other warriors. He is very handsome and the women of his tribe are after his heart, but he does not feel that any of them are the right for him, so denies them all. Besides, his duty is to be a warrior first. He people depend on him and he is a very reliable young man.

Itekhbet is right under Kijoyagi when it comes to age. He is a Lupe that lives in the Lost Desert. He is not as handsome as his younger brother and he is very rugged. He is outgoing and fierce. He will not allow anyone to get in the way of his goals. Unfortunately, anytime on of his family members steps foot into the Lost Desert, they totally forget about him because of a curse the gods of placed upon him. To add to this fact, his is cursed every day with something different. It just goes to show that you shouldn't make the gods angry. He is almost just like Kijoyagi in that he is mean looking and out for revenge and is usually always annoyed and angry.

Kijoyagi collects many different things, but she mostly collects figurines of herself and stamps. How she comes by these figurines is a mystery all in itself. According to a very talkative Spyderling, people leave them on her door step! Kijoyagi is so stunned by this, she has decided to keep them no matter the reason the statues are made. The Spyderling says its because Kijoyagi is happy that people are thinking of her.
Stamps:
11



DO NOT STEAL MY ARTWORK! Taking it and changing the colors with paint and everything, or even redrawing it yourself is STEALING MY ARTWORK! I want you good samartians out there to keep a look out with me and tell me if anyone has stolen my artwork! Ok? And you art thieves, yes you know who you are, will pay the price if you steal my art!
Anyway, you will see anything from old design sketches to full color drawings. I must warn you, some are REALLY old and are pieces of crap! Don't steal my ideas or my drawings. They are only here for you to look at, ok?