Hello!
Off Neo
My name, if you hadn't deciphered yet, is Kayla. I'm a 27-year-old currently residing in a city not far from Boston.

I don't think I'm terribly interesting, but if you're on this page reading this than you must be at least mildly curious about me.

I lived at home with my mom, sister, four cats, and a yappy little dog for longer than I'd care to admit. About a year ago I moved out with my then girlfriend, took four months off work, and had a challenging but super fun at times summer on the beaches of the south coast of Massachusetts. I then moved again to where I currently live now with my fiancee (who I plan to marry in October 2015), and my step-dog "doo doo" who is a Pomeranian chihuahua mix (and is incredibly adorable even though I'm sooooooo a cat person). I also have a beautiful kitty cat named Arielle who will hopefully come live with us soon. :) We also plan on getting a fish... soon.

I went to college and received a degree in Psychology in 2010. I haven't ever had a job in my chosen field and instead have worked in childcare since graduating. I currently work as a nanny (even though I prefer working in day care - but let's face it nannying pays way way better) for a four year old girl & two year old boy. The job is 10+ hours a day and is super exhausting, but is thankfully temporary. At one point I had planned on going back to school but am not unsure if that's something that will come to pass. At this point my dream job would be to open a home daycare once I own my own home so I can stay home with my own children and still earn a living.

In person I'm very clearly an introvert. I love me my alone time. I like playing neopets (obviously) and otherwise messing around online_ However, I do genuinely like people and find people fascinating, I just can't spend much time around a bunch of people without being exhausted. That said, I am still involved as much as I can be in the community. I also love going on adventures with my fiancee especially beach related adventures. Though other favorites include rollerblading, hiking, and hitting up yard sales & thrift shops. Like I said though, my favorite hobbies are typically ones that take place indoors. :P I love crafty things I make my own jewelry, and am slowly learning to sew, and to cook! I also like the usual things everyone always mentions: TV - Most crime dramas, most things on the weather channel & investigation discovery channel, The Walking Dead, Grey's Anatomy, & Glee. Music - I'm pretty open music wise, I like songs here and there from all genres. Movies, reading, sleeping, and hanging around with cool people. B)

I'm generally a pretty happy, positive, caring, generous, and fun loving person. I don't have a ton of friends but I'm extremely loyal and loving towards the ones I do have!

Fun Facts

1. My fiancee's name is Dena
2. My favorite holiday is Valentine's day
3. My favorite season is Fall
4. I'm not the most girliest of girly girls, but I am obsessed with painting my nails, hand bags, hair & skin care, and get my fair share of enjoyment from shopping.
5. I adore genuinely good, positive people. They give me the good feels.
6. In my old age (lol) I've found I'm really laid back, definitely a type B personality. I have my fair share of pet peeves but not much bothers me or gets me down nowadays.
7. I love chit chatting, feel free to neomail me any time! :)
On Neo
I've been playing neopets since May 25th 2001, shortly before my 13th birthday. I found neo through someone who was a close friend in 7th grade. From the very start, I've been extremely involved in guilds. Chatting with and meeting new people was a pretty strong reason for my playing neopets as I was definitely what you'd call a troubled & isolated teen.

My interest in guilds never went away and I went on to participate in, create, and own quite a few in my now 14 years of playing here. But, I'll talk about my current guild in another section all it's own, since it's THAT important to me.

I had many accounts over the years, many of which were frozen due to misunderstandings, flat out unfairness, and adolescent carelessness. My current account is the one I'm most proud of, and luckily I haven't managed to mess that up yet! :P

My activities on neopets mostly surrounded my guild, earning NP (mostly by way of flash games, key quest, the new BD, and SSW sniping), achieving my dream pets, collecting avatars, improving my account, and spending neocash. I rarely frequented the boards but if I did it was usually the NCC, AC, or premium boards. I've been a premium member off and on since 2006.

In the last year and a half my interest / activity level on neopets has gone down. I still love neopets, and I won't go on about how busy I am or how I have a real life now because everyone does that. Basically, after a series of events, I started really looking at my life and what I wanted to do with it... and after some soul searching decided to limit my time online_ I have no intention to fully "quit" neopets as I genuinely enjoy playing still, and have some wonderful memories involving neopets.

Still, most days I'm lucky if I get on for dailies & whatever event may be currently going on. I do still have plans and goals here on neo and I will probably eventually get to them. I am on occasion on for more than 5 minutes. When I am I'm usually trying to earn np, chatting with guildies, or doing something involving NC.

Current Goals/Plans

1. Finally finish my about me page
2. Get my pets organized / downsize my accounts
3. Start actually using the NC items I've spent over $4k on.
4. Update my wishlists / fix my other petpages.
5. Host an activity or something for my guild because I miss them.
6. Figure out what to do with my unused FFQ.


I have 5 accounts, but I want to get them organized and stuff before I officially link them. Though if you click around you can probably find them.
My Guild
As stated in a previous section, guilds have always been a big part of my neo life. I have been a member of tons, & owner of quite a few.

My current guild, Kreludor Crater, has been a HUGE part of my life since I created it in 2006. For about 8 years it was my baby, a constant project that kept me super busy and took up a ton of my time. I only owned it for about 4 months before handing off ownership to my bestie Emily. She owned the guild for about 4 years before handing ownership back off to me in 2010. For the guilds first 8 years even when I wasn't technically owning it, I was extemely active and involved in it's running. I planned countless activities, advertised the guild, racked up over 80,000 messages, maintained the webbie, etc. Over the years I met tons and tons of interesting people. Some stuck around, some were temporary presenses, and some I'm still close to now! Although there was our fair share of drama at times, I have a ton of awesome memories involving my guildies.

I gave up ownership once again in early 2014, it was a tough decision to make... but because of changes in my life and in my activity level on neo I felt it had to be done. I handed over ownership to two people I thought would run it best. Luckily, they haven't failed me and KC still lives on. :D I'm still proudly a council member (although I'm not a very good or active one currently) and I still stop by and chat as often as is possible.

Kreludor Crater is still up and running. If you're looking for a guild I would obviously recommend it highly. It's an awesome mix of older and newer members. The guild is a drama free, relaxed, fun community of people eager to chat and help each other out with av collecting & account improvement.
My Pets
I'm currently downsizing and figuring out what pets will be residing on which accounts. Once I figure all that out I'm gunna put a blurb about all my pets here. :)
Pets UFA
In progress.
Special People
I wanted to include a couple special friends on here. Like I said I spent a lot of time on here, particularly with my guildies. Some friendships didn't last long at all, but others have lasted years. I'm super grateful to have met a bunch of really AWESOME people in my time on this site. The people below have been there for me through some really REALLY rough times. They've seen some of my best days as well as my worst. We've had arguments and triumphs and have still managed to remain friends, even when we don't talk NEARLY as much as we used to.

There's plenty of people I probably left out. Don't feel bad if I didn't include you! I'm running on little sleep these days, I'll add as I remember to. :)
Avatars
Dear self,
Work on getting these avatars.
Love, Kayla
Flash Games: 19



















Random: 4




Other: 4




Lol, ya rite: 13













Plus a bunch of retired avs. :P
Eventually I'll put what av I'm working on and my progress on it.
Nostalgia
Just random stuff, mostly old inside joke type things.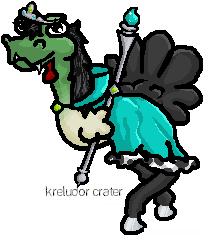 This is my royal Teenage Mutant Ninja Turchikhorseagunky. Don't hate, she's awesome.
She was made made by Perky. You're jealous.
I used to refer my guildies to "my wrath" here on my about me when they got on my nerves. *lol*