Application for Siara
Introduction
Hey there, my name is Helen, this is my application for Siara_the_Acara, or Siara as I shall call her. This petpage will give an idea of how Siara will fit into my little neo family. I shall try and keep to a minimum, as I realise you will have a tonne of applications to read through
About Me
On Neo:
My favourite thing to do on neopets is customising my pets, because this is my forte, I will be sharing with you my plans for Siara's customisation.
I also enjoy collecting avatars and adding new trophies to my collection, just generally improving my account.
I have been on neo for over ten years, I had an account before my main
(_starryeyedsurprise_) but when I made this my main, I stopped using that one. In 2006ish I took a two and a half year hiatus, during that time my oldold account was purged.
I currently have four side accounts: _starrysidesurprise_, itsonlyforever_, padawana and starrysspare.I have permie pets on each of these accounts and each is fully customised with a mix of NP and NC items.
Siara will reside on itsonlyforever_ in Eastly's current spot.
I am currently training two pets Dotava and Abylan, with the sole purpose of trying to trade them both for UCs, the ultimate goals being a UC faerie pteri (hence why I am applying for Siara) and a UC grey grarrl. This leaves my accounts with no open spaces for Siara at present, however, if chosen to adopt Siara I shall be adopting out my BD pet Dotava, to my dear friend Lily, who is currently trying to find her own UC to love, hopfully this will help her on her quest.
Off Neo:
Outside of neopets, I work full time in an opticians, I teach people how to put contact lenses in and out. Its an interesting job and I meet a lot of interesting people.
At home I live with my husband of 4 years and our two cats, Dexter and Cortana.
I'd love to say I have an exciting life outside of neo, but sadly I really don't. Mostly I enjoy the usual things of watching TV and reading, exciting stuff, I know.
I suppose the thing I do the most is decorating our house, we bought it last year and its been my little project to make each room special.
Why Siara?
Its a funny thing, how you can think you are so name picky and yet still fall in love with a pet with a 'bad name'!
I'll be the first to admit, that, when searching for potential trades/dreaming of my dream pets, I only ever dream of them being well-named. So I find it so bizarre that I am inexplicably drawn to Siara. Perhaps it is because the first part of her name is Siara and I can just call her that.
Before I went on my hiatus, I had always aspired to owning a painted pet (I used to be horrendous at saving my neopoints). Whenever I visited the rainbow pool to look at potential pets I could own, my favourite was always the faerie pteris, I just love the way they look, as if caught in flight. When I came back from my hiatus and saw that the pets had been converted, and that the beautiful art was now completely different, I was truly gutted that I hadn't had the neopoints to realise my dream before my hiatus.

I won't lie, I am very intimidated about applying, up against what I can only imagine are some pretty seasoned applicants, this is only the third time I will have applied for a pet (and have yet to be successful). To be perfectly honest I had actually given up applying for pets, resigning myself to training my two BD pets to eventually trade for my dreams, but my desire to own such a beautiful pet (coupled with my impatience in training) is forcing me to apply again. I knew I would never apply for any pet that wasn't one of my two dream pets ever again.
I guess I never really put my heart and soul into my previous applications, because they weren't my dream pet. I mean they were amazing pets and I would have loved to have owned one of them, but I know in my heart that I would always wish I could trade them for a faerie pteri or a grey grarrl. I personally wouldn't feel right trading off an adopted pet, for an owner to place that much trust in another player is one of the hardest things to do, I know I have adopted a few pets out myself, choosing someone and being confident in that choice is really difficult. The last thing I would ever want to do is spoil the experience for the original owner.
Important notes: I will never trade/convert Siara *shudder* she will be a permanent member of my little neo-family and I would never want to spoil what makes her so special.
Why Me?
I like to think I'm a good mummy to my neopets, each of my permies has a special place in my heart, be it whether I adopted from a quitting friend, or morphed and hand painted myself, each has a special meaning to me.
Click to here to meet them.
I think Siara would fit nicely into my little neo-family, and I know I would spoil her with pretty backgrounds, trinkets and garlands.
Exsisting family
Avabel: Ava is one of my favourite girl names, so this name has a special meaning to me, I also hand-painted Ava myself.


Awin: is my battle pet, I hand painted her stealthy not long ago, I spent a long time getting her into the ninja training school and am really proud of her stats, my plan is to max out her strength and defence then work on increasing her HP until she is the toughest neopet out there


Bakie: is a very important family name to me, therefore she holds special significance to me and will never leave my main account, she is also my favourite colour/species combo for a converted pet. I created her as a lutari on lutari day, but quickly realised that they weren't as cute as I'd thought, so I spent 12 million nps morphing her into my favourite species.

Dansena: I love kacheeks in general but disco is one of my favourite colours for them, Dansen is Dutch for dance and as my Dutch friend has all but quit neo, Dansena has special meaning to me. Her petpet is named after another friend who has quit altogether.


Doriann: was adopted to my by a close friend who means a lot to me.


Gersira: was adopted to me by another very close friend who has quit neo, i find her greyness very fitting as it reminds me of how sad I am that my friend has quit.


Glacise: my friend and I have matching baby bruces, hers is called Glacidys, our little twinnehs.


Eastly: is my customisation pet, everything suits her and i just *squishes* love her so much, her name reminds me of the South East coast I grew up on, apart from Bakie, she is probably my favourite pet, but shhhhh don't tell the others. At present she is sitting on my side account whilst I train my two BD pets for trading


Joliyne: is a mispelling of Jolene, one of my favourite songs by the White Stripes, also baby aishas are so adorable how could you not love her?


Keriso: is my newest pet, she was born on my husband's 30th birthday, she is the only draik I have ever hatched and I painted her zombie because my husband and I do love a good zombie film. She is very special to me and it took me forever to settle on a final customisation for her.

Natalay: is a mispelling of Natalie, she's so wonderful to customise, and so pretty pink. As with Eastly, Natalay is currently living on a side account while i train.


Ninbuh: I wanted to create a Harry Potter themed pet so I adopted Ninbuh from the pound because I thought his name sounded a bit like Nimbus. I handpainted him electric for the lightening bolt on his forehead.


Philippa: Philip is my husband's middle name, so Pippa has special meaning to me. I traded for Pippa. Pippa has been crosspainted several times whilst I settled on a base colour for her, she has been Desert, Christmas, Royal Girl and she is currently Royal Boy.


Priyia: on hissi day last year I created a bunch of hissi's to zap for pretty colours, Priyia was my favourite out of the names I created so when she zapped eventide I was over the moon.


Samdra: is a mispelling of Sandra, I love RG grundos, I think their colours are amazing.

Tezne: I adopted Tez from a dear friend, I think baby chombies are one of the cutest baby pets there are.

Toojio: there is a long story about how Toojio came to be, which I won't bore you with, all you really need to know is that a spotted koi was my first dream pet that I actually got and that Toojio was a replacement for that pet. Morphing and painting spotted kois has cost me more nps than I dare to think about.


Westron: is a RW for a language use in The Lord Of The Rings, I love Tolkien and when I saw this name wasn't taken I jumped on it. Westron is my Dr Who pet, he is modelled after the 11th Doctor, as played by Matt Smith.


Ywandi: I always wanted a usul to dress up and there is something about Ywandi that makes me love her so, she dosn't have any special story, significance or anything, shes just a cutie-pie who I love.

Future Plans
So as mentioned before I enjoy customising my pets and Siara will be no exception, I have a plethora of backgrounds, trinkets, foregrounds and garland for her to wear. These are my two favourte customisations I have in mind for Siara (however I may mix it up from time to time):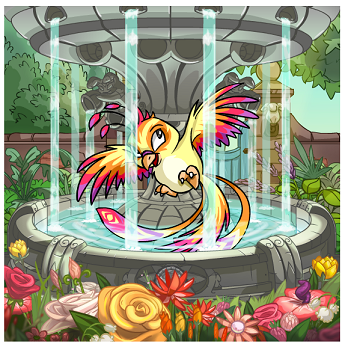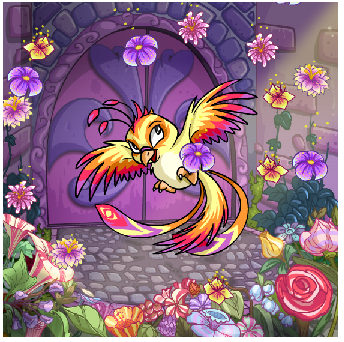 I plan to buy a Faerie Kadoatie for Siara. I love how their art is different from other kadoatie's, just like Siara's is different from other pteri's.



I will most likely rename her Tay, I like to name my petpets after friends, so I think it would be nice if the kadoatie's name was special to Siara's original owner, however if you have a special friend/name you would rather me to call the kadoatie, please do let me know so that Siara could keep a part of you with her always.
In addition to the Faerie Kadoatie, I plan to get a Dragonfly Nymph for her as well (this is gonna take a lot of saving *sigh* but so worth it)



I also plan on making a comic starring Siara, but this is a top secret work in progress. I have had a comic published in the NT here, and I hope that Siara will give me some lovely inspiration.
Conclusion
So I hope from this petpage you can see how much I would love to own Siara, she would be a very welcome addition to my (rather large) neo-family.
I hope you find the perfect owner for Siara, and I really hope that that person happens to be me, but if it is not, then I want to thank you for giving me (and many others) the opportunity to apply for Siara, and for giving me a real reason to actually apply myself and reach for what I felt would be an impossible dream.
Disclaimer/Credit
I was in no way forced to make this application, I have chosen to do so of my own volition.
The layout of this application was made for me by my friend Cortney

You've clicked on a link that will take you outside of
Neopets.com. We do not control your destination's website,
so its rules, regulations, and Meepit defense systems will be
different! Are you sure you'd like to continue?
It is a journey
I must face...alone.
*dramatic music*
I want to stay on Neopets,
where the dangers of
Meepit invasion
are taken seriously.

You've clicked on a link that will take you outside of
Neopets.com. We do not control your destination's website,
so its rules, regulations, and Meepit defense systems will be
different! Are you sure you'd like to continue?
It is a journey
I must face...alone.
*dramatic music*
I want to stay on Neopets,
where the dangers of
Meepit invasion
are taken seriously.

You've clicked on a link that will take you outside of
Neopets.com. We do not control your destination's website,
so its rules, regulations, and Meepit defense systems will be
different! Are you sure you'd like to continue?
It is a journey
I must face...alone.
*dramatic music*
I want to stay on Neopets,
where the dangers of
Meepit invasion
are taken seriously.

NEOPETS, characters, logos, names and all related indicia
are trademarks of Neopets, Inc., © 1999-2014.
® denotes Reg. US Pat. & TM Office. All rights reserved.
PRIVACY POLICY | Safety Tips | Contact Us | About Us | Press Kit
Use of this site signifies your acceptance of the Terms and Conditions