Keilieh's profile currently unavailable.
I, Smoothiegrrl/Merleven, have taken over my Aisha's petpage. You can see the navigation in those handy links to the left-- and it will scroll with you, too.
NP Wishlist
Here is my NP Wishlist! This is a long-term wishlist and doubles as my own personal goal list, because some of these items (mainly due to their price) I do not expect to ever receive.





Bottles of Sand or Sand Scupltures
Books
Any icy, snowy, or cold item
Any smoothie
Aisha Paraphernalia




Thank-Yous
And, of course, I must thank everybody who has gotten me items on my wishlist! Your kindness has been most appreciated!
Hover over the gift to see who it is from.


























My Favorite People
These are the people I adore. No, this is not a list of my neofriends. No, I will not put you on this list if you ask me to.

♥ ♥ ♥ ♥ ♥ ♥ ♥ ♥ ♥ ♥ ♥ ♥ ♥ ♥ ♥
NC Wishlist
This needs to be updated.
Dream Pets
These are my dream pets. I've already obtained the ones that have non-white, non-transparent backgrounds :)
| | | | |
| --- | --- | --- | --- |
| UC Royalgirl Aisha | UC Royalboy Kyrii | UC Royalgirl Kyrii | UC Faerie Pteri |
| Royalgirl Peophin | Nightsteed | Pirate Kougra | Spotted Kougra |
| Royalgirl Shoyru | UC Faerie Lenny | Shadow Ogrin | Faerie Lutari |
| Maractite Aisha | Alien Aisha | Faerie Aisha | White Aisha |
My Writing
As you may (or may not) know, I am a Creative Writing major. What do I hope to do with this? Write books, of course. I've actually gotten my start here on Neo, via the Neopian Times.

Read on for Writing FAQ & Etc and feel free to mail me any other questions you might have.


So, what have you written for the Neopian Times?
My first piece is called Unlikely Allies and features the members of the Darigan and Faerieland Yooyuball teams. My second piece, "Taelia's Pride: The Beginning," features my white Aisha, Alzyia. It is the story of her childhood.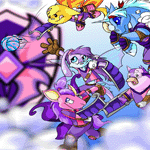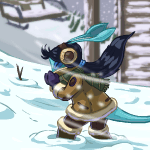 You can find all of the pieces I have written for the Times by visiting my userlookup and clicking on my Neopian Times trophy.


How did you get into the Neopian Times?
I submitted my stories.

OK, really. I spent a lot of time writing my stories, first of all; I put a lot of thought into them. Secondly, I submitted them near a time when it was likely to be relevant (ie during the Yooyuball Cup for Unlikely Allies). Finally, I made sure that it was as good as it could be without sacrificing any of my original idea/plot.


How can I make my story better?
First of all, read and re-read it, looking for spelling and grammatical errors. This is very basic but very important; it is frustrating to read a story where the technical details continually distract from the story itself. I read my stories numerous times AND had friends look it over for me; investing in a beta reader would not be a bad idea.

In addition, your characters will make or break the story; make sure that you've portrayed them realistically. Nobody wants to read a story about perfect characters; give all of your characters faults. In my story above, the main character (Delma) has a large temper. Tandrak is judgmental and prone to acting without thinking. These traits seem to make a negative person; the key is to balance them out with good qualities, and then make sure that these show through in your writing. I promise that it will make for an interesting story.


General Disclaimer
My stories certainly aren't perfect, but I firmly believe that a story doesn't have to be perfect for it to be good. I have here one example, from Part 7 of Unlikely Allies:
Probably one made from Bluchard; they often use that root when searching for pigmentation... It appears as very dark in some concentrations when mixed with particular solvents. It is prized for its near-black color that appears slightly warmer because of its blue undertones...
As was pointed out to me, blue is a cool color and red is a warm color. Basic color theory states that blue is added to make a color cooler. Therefore, if this ink had blue in it, it should be cooler, not warmer. However, what I meant was that it appears warmer than richer blue inks, or that the use of Bluchard gives it a blue shade that is warmer than the use of a different blue pigment.
Although this sentence is perhaps badly worded and confusing, it did not prevent my story from getting published. Arguably this is a minor detail, but it was significant enough for somebody to message me about. It is important to keep the details in mind when writing your story.

Another example is a scene in Part 2 of my next series, Taelia's Pride. Alzyia has a mug of hot chocolate, and I alternate between the terms 'hot chocolate' and 'hot cocoa.' The terms in general are interchangeable, but a connoseur knows that the actual products are very different (hot cocoa has a lower fat content, arguably a different flavor, etc). However, the product itself wasn't all that important to the scene, so I did not bother to specify. This kind of thing can really get you in trouble if you aren't careful.
Resources & Links
These are the resources I have used on this page. I have provided links to the original artist. If you're interested in using them yourself, make sure you provide credit!

Bullets



Back To Top Signs