A Quick Note
You may recognize this guide, yes? Great! Yes, it IS MissAttie's guide that used to be on Ellivya (the faerie draik)'s petpage. Unfortunately, MissAttie was wrongly iced in April, 2006 during a monitor's mixup. I reported another user for spamming and advertising an offsite page, and within two minutes, I was also iced for 'spamming.' I've been speaking with TNT and trying to get the account back, but until then, this is where I am. Chances are I will just stay here, starting over with a new main, no NP, and no goals achieved. It gives me something to do! :P Anywho, the point of this note is to let people know that this IS Attie's guide and I -AM- Attie, or in other words, CHANGE YOUR LINKS! :P LOVE to all of you kaddie feeders who had me linked before. :)
Announcements
11/16/06 Updated info about restock timing!
4/16/06 Kauiish gave me an award!
4/15/06 A link back button have been added!
Kadoatery Guide
Feeding Kadoaties in the Kadoatery has become a very popular game, especially because you can earn an avatar for feeding 75 Kadoaties.

The Neopets Team describes the Kadoatery as the placewhere Kadoaties go when their owners are on holiday. The Kadoaties get a little lonely in the Kadoatery and request items to make them happy until their owners return. Every item a Kadoatie requests is a food item (the little porkers!). A new Kadoatie requests an item during what is referred to as aKad RS or in plain English, a Kadoatie Restock. This is when you, the Kadoatie Feeder, get the chance to give a Kadoatie that special item they are requesting. You have the chance to earn trophies and even an avatar by feeding Kadoaties, not to mention, it's very addictive!
You can read more about the Kadoatery and it's story by visiting the Neopedia and reading the article about The Kadoatery.
Kadoatie Restocks
First, we'll go over when the Kadoaties restock and what main/mini restocks are; then we'll move on to how to feed them. It's very important that you learn as much as you can about the Kadoatery before attempting to feed the Kadoaties, because Kad Feeding is very tricky and requires patience and speed.

Main and Mini Restocks
The Kadoatie Restocks are referred to asKad RS and is the time when new Kadoaties can be fed in the Kadoatery. There are two types of restocks: main and mini. Main Restocks are when all the Fed Kadoaties are taken home by their owners and replaced by New Kadoaties who want items. Mini Restocks are created when Kadoaties who were not fed during the Main restock (usually because they want an unbuyable item) are fed. Mini restocks will usually replace only one or two Kadoaties, leaving a smaller chance for feeding.
Keeping Track of Restock Times
Restock times are kept track of usually on a Neopets Chat Board located in the Games board by the minutes time. (More information in the Kadoatie Board section.) The Kadoaties restock approximately 30 to 45 minutes later than the previous restock. For example, if the Kadoaties go through a Main restock at 12:31, the next Main restock will be at 1:01 or within the next 15 or so minutes of that time. And Mini times are kept the same way, if a Mini restock happens at 12:46, the next Mini restock will be at 1:16 or within the next 15 minutes or so of that time. Just follow this simple equation: Last Restock Time † 30 minutes. It's also important to remember that Kadoaties restock on the minute, so if the restock is scheduled for 1:11, the Kads will restock on the minute (1:11:00, for example), not on the second (1:11:35, for example.)
Update! TNT has decided to change the system. Kads will only refresh on minutes that end in 1 or 6 (ex: 12:36:00 or 12:31:00). The 1 and 6 rule applies to both mains and minis.
Feeding Kadoaties During Restocks
There are three ways to feed Kadoaties during restocks, inventory feeding, shop wiz feeding, and sdb (safety deposit box) feeding. Most people choose the method they find easiest, or they utilize two or more methods. I, personally, use the first two methods by inventory feeding if I can and shop wiz feeding if I need to. I'll explain all the methods below so you can choose your ideal method.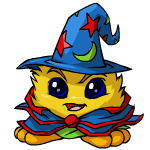 Shop wiz feeding is the process of buying an item you need to feed a Kadoatie during the Kad RS. The recommended way of doing this is to have two wind*ws open, the Kadoatery and the Shop Wizard, ready to go. When the Kadoaties restock, quickly pick a Kadoatie to feed (I usually go for the more expensive items or the Kadoaties at the bottom of the page.) Highlight the item it wants using your mouse and press CTRL † C on your keyboard to copy the item name. Hit the Shop Wizard wind*w and paste the item name into the item search box by pressing CTRL † V on your keyboard. Enter the first shop that comes up, buy the item. Click back over to the Kadoatery wind*w and click your Kadoatie. This method is very very difficult and requires you to be very fast and very familiar with Neopets and your computer. I have a tendency to be more successful with this method.

I recommend Shop Wiz Feeding to those that are quick and those that don't mind how much they spend to feed a Kadoatie. Shop Wiz Feeding has a tendency to be the most expensive way of feeding. And remember, if you fail to feed a Kadoatie after you've bought an item, keep it! You can use it to Inventory Feed.

Inventory feeding is the process of feeding a Kadoatie with an item you already have in your inventory. The best way to go about this method is to carry common Kadoatie foods in your inventory so that when the Kadoaties restock all you have to do is click a Kadoatie that wants an item that you have. Many Kadoatie feeders keep a list of items they have seen in the Kadoatie restocks. I recommend checking out carmyyyyys guide which lists a wide variety of Kadoatie foods seperated into categories with lots of tips on Inventory Feeding.
Inventory Feeding is great for slow connections, saving NeoPoints, and those with a ton of patience.
Another method, which is rarely mentioned in guides, is SDB Feeding. Which is the process of stocking up on Kadoatie foods and storing them in your Safety Deposit Box, and then using the SDB search to locate an item and feed it to a Kadoatie during a Kad RS. I personally have never used this method and never plan to as I don't want to invest a large amount of Neopoints into Kadoatie Feeding at one time to stock up items.
A little sidenote, you cannot feed a Kadoatie if you have fed one that is still sitting in the Kadoatery. You can feed again when your Kadoatie is taken home by its owner and replaced.
Feeding Kadoaties: What You Get For Feeding



What's the point of feeding Kadoaties? Well, besides being fun and addictive, not to mention the new friends you'll make, you can earn shiny things! These shiny things are, of course, trophies. To earn a Bronze trophy (first one from left), you need to feed 1 Kadoatie. If you feed 10 Kadoaties, your Bronze trophy will upgrade to Silver. Feeding 25 Kadoaties will get you the Gold.

What About The Avatar or Kadoatie?
Yeah yeah yeah. Who doesn't know about the Avatar?!?! But, just in case, I'll let you in on it. If you feed a whopping Seventy-Five (75) Kadoaties, you'll have yourself a pretty new avatar that looks like that. Lastly, it's been said that if you feed enough Kadoaties, you'll actually win a Kadoatie. It was also referenced in the Neopian Times Editorial right here. To my knowledge, this has never happened. But who knows, right? A Neopian can dream!
Kadoatie Boards
A Kadoatery board can be found in the Game board of the official Neopets chat boards. There is always a Kadoatery board running, it'll most likely have a ton of posts and have the word "kadoatery" in the title. The Kad Board is the most helpful resource while you are Kadoatie Feeding, they keep track of Kad RS times and are also feeding kadoaties. You'll have the chance to have fun and make new friends while kadoatie feeding.
Proper Kadoatery Board Mewtiquette
First off, always remember to follow Neopet's Terms and Conditions. Play nice and play fair! When it comes to the Kadoatery board, follow these simple steps and you'll be absolutely fine!
If it's your first time, introduce yourself! It's nice to know who you are feeding Kads and chatting with. And it's great to get to know people and make friends!
Don't ask for Restock times! Some Kadoatie Feeders keep the Kad RS times in their siggy. Search the board high and low, and I'm sure you'll find the Restock times.
Don't give up! If you're trying but not being successful, remember to be a good sport. Don't whine about it on the boards, just keep your head up and keep going for it. People will always support you if you believe in yourself!
When you feed a Kad, share it! Let the other Kad feeders know what item you fed. It helps to keep lists. If you can't feed, try to catch a list of the Restock items for the other feeders.
Kadoatery Board Terms
The Kadoatery board is filled with new Kad feeders as well as old Kad feeders, so a little confusion is expected when it comes to abbreviations and shortcut terminology. Many kad feeders use short terms because it's easier to type and refer to things that way. Here's a short list of terminology I've picked up on:
Mewbie : A person who is new to Kadoatie Feeding. It's not a bad term! I think it's actually kind of cute. :)
Kad : Short term for "Kadoatie
RS : Restock
Main : Main restock, explained above.
Mini : Mini restock, also explained above.
HN : Had nothing, in other words, the person did not feed a Kad
CF : Congrats feeders, congratulating those who managed to feed a Kad
SDB : Safety Deposit Box

Kadoatie FAQ
Below are miscellaneous questions that have not been covered in any section of this guide. If I recieve questions that I have not included in this guide, I'll answer them here if I can. So if you have a question, neomail me.

Q: Why are all the Kadoaties crying at night?!?
A: After 11 PM (NST), all the Kadoaties cry, no matter if they have been fed or not. Maybe they are afraid of the dark?

Q: So, you don't get Neopoints or items from feeding Kadoaties? Just a trophy?!?!
A: Yeah, that's how it works. Well, the trophy and the avatar if you feed enough. But who cares! It's fun and so very very addictive.
Q: When someone gets an avatar, they should stop feeding! It's unfair!
A: That's not particularly a question, but really, let's play nice. Like I've said, Kad Feeding is very addictive and fun, and I can understand continuing to feed even after you get the avatar. Would you like it if someone told you you shouldn't play your favorite game anymore just because you got on the High Scores list? Didn't think so!

Q: Do I really have to feed that Kadoatie a BLUE DRAIK EGG?!?!
A: No way! Sometimes the Kads want unbuyables and there is no reason to feed them those items unless you really want to. Someone will eventually, that's how Mini Restocks are created, remember? Edit: Kads no longer ask for BDEs
Q: What happened to the Mini restock? It never happened!
A: Eventually, a Mini restock will merge with the Main restock creating just one Restock. But it's very common for a new Mini to be created shortly thereafter because there are some picky Kads who just want unbuyables!
Link Back, PLS~!
to link back:
Awards are 1337