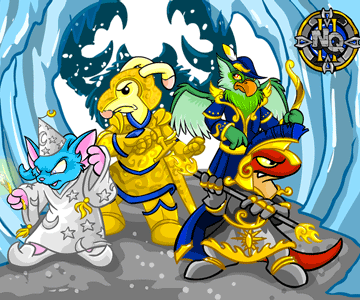 My guide is organized into parts (or sections) that are related to what level you are. Every 10ish levels there is another section, totaling for 4 sections.
1. Neoquest has NOTHING to do with your pets! If your grarrl is level 100, it will not improve your chances in the game. If your pet is hungry, painted, or has a petpet, it will make NO DIFFERENCE.
2. You have 1 game per account.
3. I do not know if you can transfers games, or what will happen if you pound your pet and re-adopt. I wouldn't try it, though. TNT would NOT make the games transferrable (User A plays up to a certain point, gives game to User B), so I think if you pound/transfer your pet, your game is deleted.
4. There is one character in NQ, you.
5. When you die, you restart completely. You will once again be in Neopia Palace. This is the most frustrating thing about NQ.
6. You start off the game with 7 skill points.
7. Each time you gain a level, you gain a skill point.
8. In NQ, you have to collect different items to get 'weapon upgrades'.
9. Under level and Over level - being under level is, exactly what it sounds like. When I say 'be level 12 before you do whatever' I mean it. The farther along you go as an under level, the harder it is to get up to your proper level, the more chance you have to die, and the more frustrating the game gets. Over level is exactly what it sounds like - Being level 15 when I say be level 12. There is NOTHING wrong with this! In fact, I advise it somewhat! Makes battles easier and smoother.
10. Have FUN! Don't worry about playing the perfect game, or dying too often, or anything like that. It's JUST a game, it's here so you have FUN (:
11. Don't feel bad if you get confused or lost - trust me, I had no idea where I was going half the time I played and I must've died 20 times before I got the hang of it. Always remember: You will get better.
12. It took me a week to complete the whole thing - of course I only played for an hour or so a day. I chatted with friends most of the time while I played - which actually takes your mind of the mind numbing bits of the game ;). If you can, get a friend to play/chat with you as you play. It makes it easier.
13. If you're under leveled, wait til the next free rest spot and level up as much as possible there by hunting, and when you have low health, getting rest. In chapter 1 being under leveled isn't too bad, but once you reach chapters 2 and 3, it is crucial to NOT be under leveled. I learned this the hard way x-x.
14. Try not to flee from battle too much, I know, you're in a rush to finish the game. Make deals with yourself when traveling: 7 fights, 1 flee, for example. It adds up in the end (:
15. The maximum level for any skill is 5.
16. The maximum level for your character is 50.
17. If I didn't specifically say GO. TALK TO THIS PERSON. You don't need to. Of course you can, they tend to have interesting things to say, but it takes longer and is unnecessary, and the plot isn't the greatest anyways.
18. The NQ avatar (Wise&Powerful) is given to you towards the end of the game.
19. If you need Neoquest maps, go here.
20. Listen to music. Because it's nice. Don't play NQ2 instead of studying for that math exam.
Neoquest 1&2 boards - If you have a question, post there, or neomail me and I will do my best to answer. (:
AMAZING Sticky Board - To my knowledge the only 'sticky' thread on neopets - TNT keeps deleting the posts so others can use it and gain information. Everyone is super nice, so don't be worried to post or ask a question :D
And you can always neomail me (;
back to top