Brought to you by a proud member of the Fyora's Cottage-#01 Faerie Lane
For all your Faerie Quest needs and much more!

Plushie Tycoon Tax Brackets
Cash On Hand (nps)
Tax Rate
Taxes (nps)
0-50,000
0%
0
50.001-75,000
5%
2,000-3,750
75,001-100,000
7%
5,250-7,000
100,001-150,000
10%
10,000-15,000
150,001-250,000
13%
19,500-32,500
250,001-500,000
18%
50,400-90,000
500,001-1,000,000
23%
115,000-230,000
1,000,001-5,000,000
31%
310,000-1,550,000
5,000,001-10,000,000
39%
1,950,000-3,900,000
10,000,001-??
48%
4,800,000-??
The taxman visits every 7 days from the time you click Create Store.
The tax table is completed. Thank you to all of the players who were kind enough to send me their information.
Of note here: The lower tax brackets have gotten a tax break with lower taxes while upper brackets, beginning with 500,001, have gone up. This means that for those of you who play to get your million and plan on taking a tax hit at the end will need to readjust your final figures to compensate for the higher taxes. A goal of 1.6 million should be sufficient to take the final hit and pay rents and still have plenty left over. The last tax bracket is INSANE! The Tax Dud takes nearly HALF?!

The information for the January, 2005 tax brackets was obtained with the consent of many, many players who neomailed me their tax information. Most of the information was gathered in January, 2005. For more information on taxes, including all of the raw data that was used, click HERE to jump down the page. If you wish to use information that is available only on this petpage, please reference the petpage and its author. Thank you.
I also want to add another note here regarding the warehouse. It's been bandied about that you MUST actually LOOK into the warehouse before the plushies will begin to load. This is not correct. The warehouse timer begins immediately upon updating the Main Page of your game. Rosebud2554 checked this and found that I was correct. (I'll shut up about it from now on Rose. :D) On the same note, it was also verified that you do NOT have to pay your initial warehouse rent before plushies will begin to load. You can wait to pay it until you are certain they are loaded. (I'm not sure WHY someone would do that but you can.)
---
A new prize structure was introduced in February, 2007 and tweaked in April, 2007. The trophy and avatar requirements are the same but the neopoint award is now awarded on a sliding scale based on your final Cash On Hand (CoH) and the number of plushies sold. The number of plushies sold MUST be complete batches.
PLUSHIE TYCOON PRIZE STRUCTURE
Starting with February 2007 results (revised in April 2007)
Data collection and analysis by ptit_lou; Used by permission

CoH above 1 million (Gold)
Plushies Sold (complete batches)
NP Prize
at least 2,000,000
320,000
at least 1,500,000
240,000
at least 1,250,000
200,000
at least 1,000,000
160,000
at least 500,000
120,000
at least 200,000
96,000
at least 100,000
88,000
at least 50,000
80,000
at least 20,000
72,000
less than 20,000
64,000

CoH above 250,000 (Silver)
Plushies Sold (complete batches)
NP Prize
at least 100,000
44,000
at least 50,000
40,000
at least 20,000
36,000
at least 10,000
32,000
at least 5,000
28,000
less than 5,000
24,000

CoH above 50,000 (Bronze)
Plushies Sold (complete batches)
NP Prize
at least 20,000
18,000
at least 10,000
16,000
at least 5,000
14,000
at least 4,000
12,000
at least 3,000
6,000
at least 2,000
4,000
at least 1,000
2,000
less than 1,000
1,000
---
Plushie Tycoon Guides
Good Current Guides
Link
Notes
Author
MapleHood
Both of these are excellent, highly detailed guides for a beginner. Remember, experimentation is the key to success in this game
by Sirinja
TampTree
by m_evard
Evil_PTGod
Another very good guide but not as detailed as TampTree's guide. Please be aware that the author also has another guide that was created as a JOKE (Fun Plushie Tycoon Game Guide) linked on this petpage. For example, it simply is NOT POSSIBLE to combine different colored cloths to get new colors.
by Evil_PTGod
Sample Game and Budgeting
p_e_t_a_l_s
This petpage is an example of the first crucial updates of your game following Tamptree's guide and an EXCELLENT example of of how to budget your Cash On Hand (COH).
written by rosebud2554

hosted by p_e_t_a_l_s
Answers to Frequently Asked Questions (FAQ's)
FlamingTroll1970
This guide answers many of the questions that we get asked. Check here first to see if your question has already been answered.
by dornbeast
Reference Resources
NoDogKnow
This petpage is a HUGE resource. Included are How to set your Time Zone, Loading Times for all warehouse levels for batches of 100, Material Requirements, Taxes, Rents as well as many other tables.
by roweslab
Blaizea
Current Material Requirements in a fast-loading HTML table format.
by sillybonnie
Older, Out-Of-Date Guides
zoarali
These 3 guides contain every possible material combination for the plushies that require accessories. You can see how using different materials affects the selling price. However, these are old prices and the effects of different materials has also changed---dramatically in some cases. Experiment. ;)
by w0x0x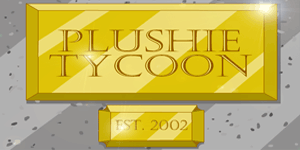 Plushie Tycoon Major Changes and Loophole Closings
April, 2007 PT News
March, 2007 PT News


Information on the new prize structure is being gathered. The results can be found HERE.

February, 2007 PT News
A new prize structure has been implemented. There isn't enough information yet to tell exactly how it works yet but the top prize for February's game was 200k.



Hmmmmm...wonder what's in store for future games.


January, 2007 PT News
For whatever reason, there was no PT game last month at all.


I would like to extend a warm welcome to all the new members of the PT 100M Club. Until now, this club has had a membership of exactly 2 (TWO) people, myself and Dilowe. Congratulations to each and every one of you and Welcome to the club!!
parkerchempro 123,741,168 NP (member since 2004)
blue_phoenix43 114,311,574 NP
rosebud2554 109,357,685 NP
megslow 103,031,356 NP
roweslab 102,740,360 NP
ptit_lou 101,111,110 NP

September's Changes
Regarding Plushie Tycoon random events.
Please note that these are events that will ONLY take place in your Plushie Tycoon game.


Regarding Glitches/Bugs
The post to kutyr is referring to what PT'ers call Lazy Worker Syndrome or LWS for short...this is when next to no plushies are produced even though your workforce was hired properly.
The post referring to FF/250 is an issue with Firefox users not being able to hire 250 workers in one click like everyone else can.







Regarding Material prices:



September game stats:

August's Game
New Species added
All require Accessories
Gnorbu 3-roll, complexity 6
Lutari 4-roll, complexity 8
Ogrin 6-roll, complexity 10
Xweetok 4-roll, complexity 7




July's Game

June's Game
This month's game may become known in the PT History Book as the "Month of Missing Updates". More updates have gone missing in this game than in any other month I've ever played (since March, 2004). At this point, June 29, 2006, we have had 22 updates go missing. We had 4 vanish without a trace on June 9 (thank you sirinja and biggie_rat for the date), 4 more disapeared on June 18, another 4 MIA on June 20, 1 more failed to appear on June 23, an astonishing 8 on June 26, and 1 more straggled off on June 29th.
It's good to see you again Greg! You've been missed. :-)





January's Game
New game begins. Hey! Better late than never!




December's Game
Game changes planned and a script error causes doubled prizes to be awarded.









November's Game


October's Game

It's just been confirmed that the 2nd tax visit is 7 days following the first one. Looks like it's every 7 days this month folks. :)



At least 7% taxes are now actually 7%..rather than 70%.

You can now buy up to 50 of each material as long as you have over 150,000 Cash On Hand (COH). At the moment, the maximum your inventory can hold is 250 items. Once you drop below 150k COH, then you can only buy 10 at a time and your inventory will only hold 100....just like always.

The tax percentages have changed and overall seem lower. I was taxed 13% on 248k COH. The Tax Dud made his first visit this month 7 days after starting the game.


September's Game


August's Game

Tons and Tons of Changes

August, 2005 has ushered in a vast set of changes. As of this writing on 8/6/2005, I have found changes in materials requirements (see table below), Warehouse expansions and rents, worker wages, and store rents. I'm still looking.

In these tables, yellow denotes an Increase and Red denotes a Decrease.
Material Requirements as of 8-2005
Plushie
Accessories? (Y/N)
Cloth (# bolts)
Complexity
Plushie
Accessories? (Y/N)
Cloth (# bolts)
Complexity
Acara
N
3
5
Krawk
Y
2
7
Aisha
Y
2
3
Kyrii
Y
2
4
Blumaroo
N
2
2
Lenny
N
3
5
Bruce
Y
3
4
Lupe
N
3
5
Buzz
Y
3
9
Meerca
N
3
4
Chia
Y
3
3
Moehog
Y
3
6
Chomby
Y
2
3
Mynci
N
2
6
Cybunny
Y
3
5
Nimmo
N
2
3
Draik
Y
4
9
Peophin
Y
2
5
Elephant
Y
4
8
Poogle
N
3
3
Eyrie
Y
2
4
Pteri
Y
2
6
Flotsam
N
2
4
Quiggle
N
3
3
Gelert
N
2
5
Ruki
Y
5
10
Grarrl
Y
3
5
Scorchio
N
3
4
Grundo
N
1
2
Shoyru
Y
1
2
Ixi
Y
3
6
Skeith
Y
2
6
Jetsam
N
3
4
Techo
N
3
4
Jubjub
N
2
5
Tonu
Y
3
6
Kacheek
N
3
3
Tuskaninny
Y
3
5
Kau
Y
3
7
Uni
Y
2
7
Kiko
Y
3
5
Usul
Y
2
5
Koi
Y
3
5
Wocky
Y
2
3
Korbat
N
4
5
Yurble
Y
4
5
Kougra
Y
4
5
Zafara
Y
4
7
Worker Wages
Dropouts
5
Graduates
9
Trainees
14
Journeymen
25
Managers
82
Warehouse and Store Changes
Level
Warehouse Expansion (rent in 7 days)
Warehouse Rents
Store Rents
1
940
940
1350
2
940
1880
2700
3
1880
2820
4050
4
2820
3760
5400
5
3760
4700
6750
6
4700
5640
8100
7
5640
6580
9450
8
6580
7520
10800
9
7520
8460
12150
July's Game

June's Game

May's Game
Many people have noted prices that appear "stuck". Here's Greg's explanation:



At the very beginning of May's game, the workers appeared to go on strike. They were paid but no plushies whatsoever were made. Flighttime checked into it and said, amazing what a little comma will do when you're in a rush.. fixed....


April's Game
April Game Ends


9 Games were disqualified due to playing on multiple accounts; not cheating.


There have been some problems in the past few months with players not being able to read their Congratulations Neomail for PT. This has been fixed.



The Big April Restart
On April 11, 2005, Neopets had a severe database glitch that wreaked much havoc among the Plushie Tycoon games. Here's how things went:



There was a lot of debate about whether the games should be restarted and Flighttime finally ended the discussion by ending everyone's games.


This is what the Main Page of your game showed after the games were restarted. In my example, I had just paid my rents when the message appeared.


March's Game
Stuck Prices


March Game Ends



The March, 2005 game also ended at midnight NST. It appears as though this may be part of the game coding now.

Warning From Greg about test games


Broken PT Game


Updates stopped occuring March 19th on the 3pm update and continued through the weekend and Monday. Hopefully, things should be fixed and the game should return on Tuesday, March 22nd. (We hope.) (The game did return to normal at 12:19 PM PT time.)

Supply and Demand Working Properly



Stay on topic; no kings/queens on PT chat board


Flighttime plays too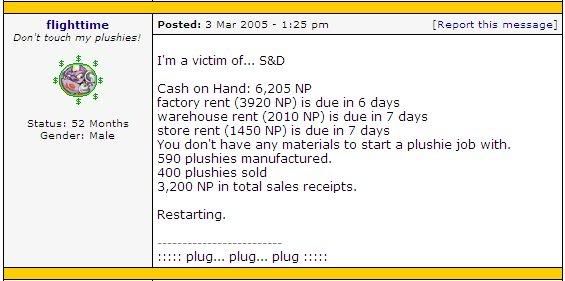 And he even gets hit by Supply and Demand.

More Supply and Demand info







So now the selling prices won't change in your past sales to show the current selling price. No more running to make high priced plushies or being able to track prices that aren't in your current store inventory. Of note as well, your selling prices will ONLY change during your 10:01am-5:01pm game times.

Between February and March's Games


The February game ended promptly at midnight on February 28th. This caused a lot of frustration as it was the first time we had seen the game end this early.

February's Game

February's Game Ends

The tax man appears to be coming every 5 days this month instead of 6. Even more taxes this month. Sigh. :(

YAY!!! Hopefully he got the penalty problem taken care of. There is a "month-end" tax collection and many people had to pay unearned penalties as well as their taxes at the end of January's game.

January's Game

The Tax Man Cameth!

The tax man has shown up. The taxes are based on your Cash On Hand at the time taxes are due. Here is the information so far:
We are now 100% positive that the tax man comes exactly 6 days (to the minute!) from the time you CREATED your store and appears to be coming every 6 days thereafter. We'll know for sure as the month goes by. Let's make sure that everyone is with me on this. That's 6 days after you hit the button that says CREATE STORE when you very first started your game.
If you have less than 50,001 nps Cash On Hand when taxes are collected, you owe nothing.
The tax man also ignores the sales receipts currently in your store.
Taxes are calculated at the exact time they are due. For instance, if your taxes are due at 10:30am but you don't update your game until 11:01, then you are taxed on what your COH was at 10:30am; not what was showing when you updated. Thanks Meili1 for helping to point this out.
Taxes also appear to be due on the first day of the new month and some people are paying penalties even though they weren't late.
From the information gathered by other players so far, the tax brackets appear to be as follows:

0% 0-50,000
8% 50001-75000
9% 75,001-100,000
12% 100,001-150,000
17% 150,001-250,000
20% 250,001-500,000
22% 500,001-1,000,001
26% 1,000,001-5,000,000
31% 5,000,001-10,000,000
37% 10,000,001-???

Note: Numbers in italics are calculated figures based on percentage rate and tax taken.
PT Tax Data
Username
COH Before taxes
Tax
Tax Rate
COH after taxes
Penalty paid
How late?
Ladyflame18
27,000
0
0%
27,000
0
N/A
Pretiful
31,815
0
0%
31815
0
N/A
Jakes_chick
35,824
0
0%
35,824
0
N/A
Roweslab
40,000
0
0%
40,000
0
N/A
M_evard
42,385
0
0%
42,385
0
N/A
Sirinja
50,000
0
0%
50,000
0
N/A
Betsy88
55015
4,401
8%
50,614
0
N/A
Skye1114
62,620
5,009
8%
57,611
0
N/A
Canuckian
68,670
5,494
8%
63,176
0
N/A
Parkerchempro
71638
5,731
8%
65907
0
21 hours
Barms84
86833
7,815
9%
79018
0
N/A
Jack_the_ripper777
91,781
8,260
9%
83,521
0
N/A
Nhh_beach_resort
100,018
12,002
12%
88,016
0
2 hours
Davidcooper319
104,494
12,539
12%
91,955
0
N/A
Sirinja
115,594
13,871
12%
101,723
0
N/A
Intrepid7
143,393
17,207
12%
126186
0
N/A
Justlo1
157912
26,845
17%
131067
0
N/A
Mhardyzgurl
173458
29,488
17%
143970
0
N/A
Rosebud2554
212,610
36,143
17%
176,467
0
N/A
Betsy88
315103
63,020
20%
252,083
0
N/A
Barms84
316,077
63,215
20%
252862
0
N/A
Azn_battlemaster
327331
65,466
20%
261865
0
N/A
Mhardyzgurl
439,992
87,998
20%
351994
0
N/A
Idahospudette
553114
121,685
22%
431429
0
N/A
Nhh_beach_resort
601,398
132,307
22%
469091
0
N/A
Parkerchempro
750,082
165,018
22%
585,064
0
N/A
Barms84
827,573
182,066
22%
645507
0
N/A
Intrepid7
930,560
204,723
22%
725837
0
N/A
Davidcooper319
1033954
268,828
26%
765126
0
N/A
Rosebud2554
2,063,767
536,579
26%
1,527,188
0
N/A
Rosebud2554
3,634,940
945,084
26%
2,689,856
0
N/A
Sirinja
5,256,825
1,629,615
31%
3,627,210
0
N/A
Parkerchempro
6,203,856
1,923,195
31%
4,280,661
0
N/A
Davidcooper319
6,875,411
2,135,097
31%
4740314
0
N/A
Roweslab
10,047,683
3,717,642
37%
5,735,219
594822
2 days
Rosebud2554
18,270,520
6,781,019
37%
11,489,501
0
N/A

Thank you everyone for the information!!

If you have any information regarding taxes, please neomail me. I will need your Cash On Hand either before or after you paid taxes, the %-rate, tax paid, amount of penalties (if incurred), and how late your payment was if you were late.

Sirinja was kind enough to send me screenshots of her taxman page and the Main page after taxes were collected. Thank you so much!!

During April, 2005 Sirinja found her Cash on Hand very close to 50,000 and decided to check something and verify it for the purposes of this petpage. Her results are in the table above and she also sent me screenshots of her current game. If you wish to use information that is available only on this petpage, please reference the petpage and its author. Thank you.

Before the tax man arrived:


The Taxman Cometh!



After the taxman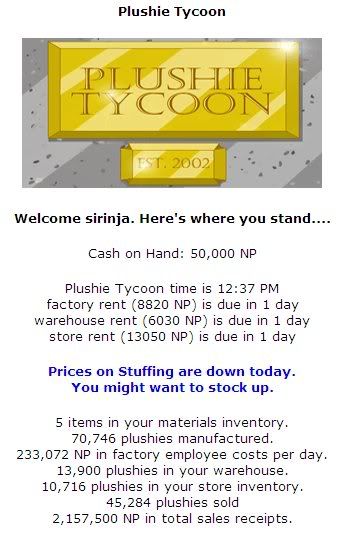 Here's a reminder from Flighttime to be polite and keep a positive attitude on the PT chat board. Remember, you're there to either help or be helped.

December's Game

A Warning from Flighttime

December's TTL (top 12 shown)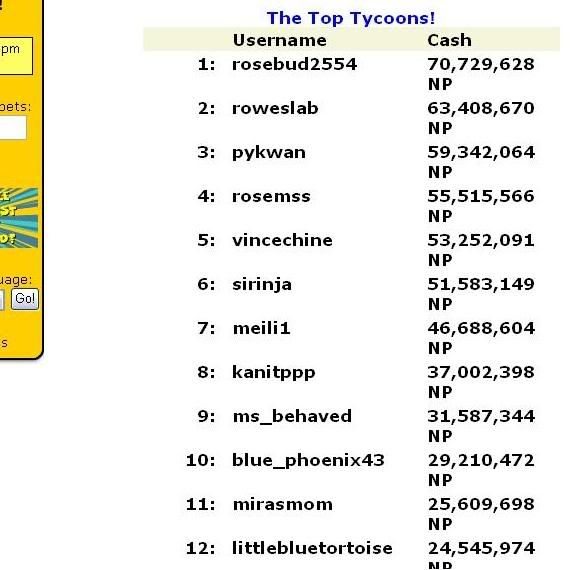 November's Game


Factory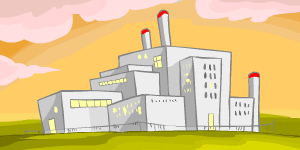 Double-Clicking Bug
Beginning in October, 2004 many of us noticed that we were losing a lot more of our jobs due to the "You seem to have clicked twice" glitch that we have all noted in previous months. For the most part, this glitch usually happens if you're putting in jobs too fast. Every once in a while, it would read a "double-click" and you would lose the materials for that job and only that job. In October, things changed...for the worse. We started losing more of the batches rather than just the 1 that we "double-clicked" for. Here are Greg's comments regarding this as well as some other comments he's made during October and November:

YAY!!! We can make Tonus, Rukis, and Yurbles now!!!

To my knowledge, double-charges for shipping only happen if you refresh after you've shipped. Don't DO this!! Bad idea! If the page doesn't load, then go back to the Main Page and check your COH and warehouse contents to see if they shipped. Otherwise, you will be handed a nice Restart button.

Yes...but do they have to steal EVERYTHING??
When it was explained that we don't double-click to put jobs in, the conversation started to deteriorate:



SIGH :(
At the end of November's game, we tried to explain again that we were losing TONS of jobs due to the "clicking twice" glitch.



YES!!! He's going to get LOTS of neomails. :D

Wage Increase


All of your workers got a pay increase in July. The new wages are as follows:
Dropouts-7
Graduates-11
Trainees-16
Journeymen-23
Managers-74
Warehouse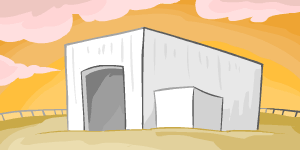 Warehouse


You are now required to pay to upgrade the warehouse when you expand. Click HERE for a Warehouse Loading Table at all levels of the warehouse for batches of 100 as well as the expansion costs of the factory and warehouse.

The time required for the warehouse to load your batches of plushies has undergone a drastic change.
First, the size of a job affects the speed of loading; small jobs will load faster than larger jobs. For example, a few jobs of 100 in the warehouse will load within 30 minutes, but a few jobs of 200 will take close to an hour.
Second, and harder to predict: The time required to load your plushies depends not only on the batch size but how many total plushies there are in the warehouse. The more plushies or the larger the batches, the longer it takes to load. For example, 4 jobs of 100 will take less than 30 minutes to load whereas 16 jobs of 100 will take closer to 40 minutes. I was running batches of 700 and 800's and when I was finished for the day, I had over 80,000 plushies in the warehouse to be loaded. It took roughly 8-12 hours for them to get loaded. Sirinja notes that when there are more than 100,000 plushies in the warehouse, loading can take up to 30 hours. For the best results, combine smaller batches in with larger ones to load overnight. For instance, 500's, 1000's, and 1600's work very well. 3 updates each producing 15 batches of 1600's and 1000's followed by 2 updates of 500's will load overnight.
Store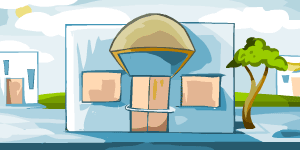 Store Ugrades, Advertisements, and Rent Changes


The Advertisements and store rent changed in July with store rent going up by 100 nps per level. The upgrades have changed again in October. The costs for Upgrades and Advertisements are as follows:
UPGRADES per level

Carpet-204
Lighting-344
Security-610
Display-1280
Sign-2320

ADVERTISE

Flyers-125
Gifts-221
Candy-348
Clothing-534
In-store-1388
Times-3723
Plushie Selling Prices
The selling price of all plushies has been drastically changed due to the new Supply and Demand. Plushies selling prices are not set in stone any more but rather reflect the plushie's relative position on the Supply and Demand list.

9/2/2004-Supply and Demand Tweak is Here!


You now have a nice, shiny new link at the bottom of your Main Page called Supply-Demand.


When you click on it, you will see something that looks like this:

We have noticed that those plushies that are on the Supply list have a decreased selling price while those on the Demand list have an increased one. However, any of the plushies may have slightly higher or lower prices at any given time. These prices can change on the next update and you will receive less than what you originally planned on for them. Here are some of Flighttime's comments:



Well, this one answers a question we've all been having. This new tweak is based on EVERYBODY's shop contents.

Raw Materials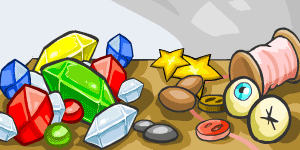 Setting Your Time Zone


Setting your time zone is now required within 2 days of starting your game and BEFORE you pay any rents. If you do not set your time zone, it will automatically default to the NST time zone and you will not be able to change it for the remainder of the game.

If you need help setting your time zone, click HERE

Raw Goods Prices


Raw goods prices are now randomized for everyone across all time zones. You will no longer be able to get the prices ahead of time.

Materials Dump


You can no longer dump materials whenever you choose as the link has been closed off unless you have 89 items or more in your inventory.

Factory




Shipping Arrival Time


After being loaded, your plushies will take about 5 minutes to arrive in your store and be added to your inventory. Keep checking the Main Page to see if they have arrived.

Posts from flighttime:


For those of you unfamiliar with flighttime, he is the programmer for Plushie Tycoon. His advice and warnings should be heeded at all times.

Screenshots and Copies of Posts from Flighttime
Going Bankrupt

Warehouse Tweak Warning

Flighttime's announcements regarding the closing of "secrets

flighttime Don't touch my plushies!
Status: 44 Months
Gender: Male Posted: 21 Jul 2004 - 10:13 pm [Report this message]
if it sounds too good to be true... it is. slowly closing all of the "secrets" some experts use.
------------------------- ::::: tweak... tweak... tweak :::::

Flighttime's comments regarding lost rent payments during July's game

flighttime Don't touch my plushies!
Status: 44 Months
Gender: Male Posted: 24 Jul 2004 - 2:25 pm [Report this message]
if you lost your game because of nonpayment of rent during the crash, you were pushing your luck way too far anyway.
------------------------- ::::: plug... plug... plug :::::

m_evard & kahlmek both paid rent the morning of july 19th, and both lost their games when the backup was put in place on the 24th.

A couple of people had their games cancelled on them. This is what flighttime had to say about the situation:

The August game begins

All cheats removed. Fun things in store for next month's game.

Hint for next month's game.


Skintstocks' font is really light and had to be highlighted to be read. Here's a translation of the post:
alright on this account I'm new to plushie tycoon...but I have an idea. what if the game were changed to be more realistic, so that you couldn't just hire and fire workers, like you might get a fine for it? there'd be something else changed to balance it out of course...just a thought ;)

Total number of players in August game and a warning for September's game.

The gate is GONE!!

The top scores for August's game got erased somehow. This is how the Top Tycoon List stood at 10pm NST on Tuesday, August 31, 2004. September's game began about 14 hours later and at some point that day the scores were erased from all games again. Therefore, the top 17 scorers did not receive their daily nps nor was there any mention in the news of the top 3 players. (sigh)
Plushie Tycoon Chat Starting Posts
Just copy and paste the following into each post for the new board.
Post #1
This is a place for Plushie Tycoon addicts to talk about the game and help new players.
EVERYONE should be polite. Please be patient, it might take a few minutes before someone has time to answer your post.
PT takes place in real time over a month.
Many questions are addressed in the guides (see next post). Most of us are happy to answer questions AFTER you read a guide.
Post #2
Trophy or avatar question? Read the in-game help.
New to PT? Haven't played in a while? Try out one of the guides we recommend on the Jumjim8975 petpage (that also lists the changes in the game).
To read the guide list, click here:
http://www.neopets.com/~Jumjim8975
The only guide we recommend in the Neopian Times is in issue 179. The others are out of date.
Post #3
The taxman now visits periodically - In March, he's visiting every 6th day.
Don't use your browser's back or refresh buttons on PT pages.
We do NOT mention specific plushies by name; if all of us made the same one, the price would drop.
Have fun! It's a game, and this is a nice place to talk about it.
Post #4
We take the game of Plushie Tycoon - and this board - very seriously. Chain letters, spam and repeated off-topic posts WILL be reported!
Link to old board:
(paste link here)
Credits
This page would not have been possible without the priceless input from m_evard. Some of the screenshots and posts from flighttime are hers and used by permission. She also read through everything and helped me make sure it was accurate. Thank you so much!
The rest of the screenshots are from funandgames999. Thank you for sending me the rest of them.
Thank you also goes to Sirinja for her information on the warehouse loading times.
I would also like to thank flighttime for his tireless efforts to keep this game fun, challenging, and entertaining. Keep the tweaks coming!