Welcome
Hello, I'm Hobnob! You'll find me on biscuitqueen, jade_sight, or cinema_child. Jacques has kindly agreed to let me use this space to host my junk page, where you can find out about me, my goals, wishlist, and permanent pets. Navigation is at left. Hope you enjoy your stay!
News: I've been poking my toes back into the water after a long hiatus. :) I'm trying to take things easy, mostly!
Goals
I have a lot of goals. *sheepish grin* You can read the entire long list below, but the ones I'm most actively working on are: train Fineflour to 600 HSD, get Zorazix a Booktastic Book Award, become a 10x NT champion, and get 54 more items in my biscuit gallery so that I have 200 items total. I used to have some pretty goal counters here, but they seem to have stopped working, so I've taken them down for the time being, sigh.
complete list of goals: biscuitqueen
secret lab map [x]
train Fineflour to 300 even HSD [x]
train Fineflour's agility to 100 [x]
train Fineflour to 600 even HSD [ ]
100 avatars [x]
200 avatars [x]
100 items in biscuit gallery [x]
200 items in biscuit gallery [ ]
finish my Aisha family [x]
start Zora and Fineflour's space story [x]
rehaul Fineflour's page [ ]
rehaul Millawyn's page [x]
Booktastic Books trophy for Fineflour [x] - 10/24/12
Booktastic Books trophy for Zora [ ]
NT and Poetry contest 10x winner [ ]

complete list of goals: jade_sight
start up Tabora and Rhodry's pages [
x
]
finish customizations [
x
]
paint Tabora Shadow [
x
] - 7/22/12
create custom layouts for Tabora and Rhodry's pages [ ]
finish pages [ ]
win any BC trophy (species) for Rhodry [
x
]
win a gold BC trophy (species) for Rhodry [
x
] - 4/26/13
expand Permanent Treasures gallery [ ]
complete list of goals: cinema_child
finish Jacques' morph + paint [
x
]
set up Jacques' wishlist/tl/info page [
x
]
win Jacques a BC trophy [
x
]
read Jacques 30 books [
x
]
read Jacques 100 books [ ]
wint the Petpet Spotlight for Winston [
x
]
find a pal to go on adventures with Jacques [ ]
This section is mainly so I can keep track of my specific item goals,
particularly the Booktastic Books I need.
In general, I'm always looking for cookies and biscuits that I don't have in my gallery,
Biscuit Bonanza.
NC Wishlist

Baby Toy Wagon

Faerie Quest Fortune Cookie
x5
General NP Wishlist

Aisha Disco Dancer Shirt

Aisha Rain Slicker

Alien Aisha Plushie

Baby Eyrie Plushie

Eventide Aisha Plushie

Fashionable Aisha Shoes

Gormball Necklace

Outrageous Grarrl Wig

Patch of Knitting

Rolled Up Treasure Map
Books Zorazix Needs

4 Billion Pie Recipes

Easy Decor in Low Gravity Situations

Get Organised Stay Organised

Guide to Orange Furniture

How to Earn NP the Easy Way

How To Escape

Laser Energy

Made of Stars

Meteorite Craft Book

Secrets of Sloth

Situational Gravity Pranks

Under the Surface Part I

Under the Surface Part II

Zarex Diary


I created these wishlists automatically at Jellyneo's Item Database!
Check it out to make your own!
Permanent Pets

Fineflour the Biscuit Aisha, age 28
She may be gentle and easygoing, but docile she's not; Fineflour has the adventurous heart of an explorer, and spends half the year traveling around Neopia gathering observations and stories for her personal journals and a series of guidebooks she's working on. The rest of the time, she lives on Terror Mountain and sells curios she finds on her travels in her shop, Fine Finds. When she's not off exploring, she loves to read and perfect her impressive repertoire of biscuit recipes, and to spend time with her best friend Zorazix and their little sister Millawyn. Some might mistake her steady, loving nature for that of someone who is easily cowed, but Fineflour will fight fiercely for her friends and beliefs, and has the Battledome record to prove it.

Zorazix the Alien Aisha, age 28
Zora crashed from outer space into Fineflour's backyard and life without so much as a by-your-leave and has been causing trouble ever since. Well, maybe that's simplifying things a bit too much--and nothing is ever simple where this engineer-turned-archaeologist is concerned. Bright, ambitious, and charismatic, Zora certainly causes a stir wherever she goes, and makes a lot of friends and enemies on the way. Somehow she always manages to sweet-talk her way out of tight spots, though, leaving her free to roam the galaxy as she pleases. Once the brightest star of the Alien Aisha Mothership, she now turns her technical talents towards archaeology. She loves finding things for her history museum and has become extremely fond of her found family, Fineflour and Millawyn.

Millawyn the Eventide Aisha, age 12
Fineflour and Zora found Millawyn in the wreckage of a meteorite crash when she was just 3. Since they had no idea where her parents might be and she couldn't tell them, at least not in a language they understood, they took her home and raised her together. Despite her harrowing entry into Neopia, Millawyn grew up bubbly and joyful, if a little flighty. Until she turned 10, she didn't remember anything about her pre-Neopian past, but when a group of Eventide pets kidnapped her to take her "home," she had to figure it out pretty quickly. Luckily Fineflour and Zora were able to rescue her! Although she's still too young to travel around Neopia by herself, she tags along with her sisters and gathers Neopian myths and folktales for her story collection.

TaboraAmirante the Shadow Gelert, age 29
A quick-witted and impatient cartographer, Tabora comes off as quite rude to most people. She simply doesn't care enough about being nice to worry about manners; her mission to map all the unknown areas of Neopia takes up almost the entirety of her attention. The rest is taken up by her sister, Rhodry, who she is fiercely devoted to and protective of. Tabora often collaborates on projects with her cousin Fineflour; Fineflour discovers little-known areas of the world, and Tabora follows after to immortalize them on parchment. Doggedly determined and loyal to a fault, Tabora always proves an amazing ally and friend once you convince her you're worth her time. That may be a difficult task, however--she's skeptical in the extreme and distrusts braggarts. (She gets along with Zora only grudgingly.)

RhodryMaewaedd the Speckled Grarrl, age 23
Rhodry is shy and more than a little insecure, but beneath her self-deprecation lies a sunny, creative mind and an incredibly sweet heart. She loves to design clothes and hopes to be a successful fashion designer someday, but she'll have to overcome her crippling inability to put herself in the public eye first. She lives in Neopia Central while Tabora travels around mapping the world, working on her designs, sewing, taking care of their house, and babysitting their neighbors' kid Jacques. Aside from sewing and drawing, she also knits, does papercraft like origami, cooks, and tries to garden, with mixed results. Nature inspires her, and you can often find her outside. Her current project is a guidebook about Grarrl fashion.

Jacques_Demy the Baby Eyrie, age 7 and a half
You can describe Jacques in just three words: tiny but determined. His mother is a courier who delivers important messages between Altador and Neopia Central, and Jacques decided a few years ago that he wanted to be just like her when he grew up. To that end, he's declared that he's going to become the fastest flier in the world, and spends every free second practicing his flying and reading books about it. Well, almost every free second--he does have to spend some time going to school and playing with his petpet, after all. He thinks his babysitter Rhodry is the coolest person in the world aside from his mother, even though she can't fly. He hopes someday he can go on adventures like the heroes in the stories she tells him.
Writing and Art
One of my favorite things to do here on Neo is write! I also really enjoy drawing, though I need a lot of practice. This section will host links to my published pieces and some art.
Poetry Contest
The Second-Hand Shoppe
Not All Grarrls Growl
The Day Branston's Boasts Came True
Gwyl's Great Escape
Koya, Korbat Huntress
Sophie's Horrible Halloween Brew
The Aisha Slorgrider
Closed Battledome Blues
Black and Gold, Feathers Bold
Booktastic Book Dreams
Neopets 13th Birthday Cake
Boochi Vs. Weltrude
Winter Wardrobe
The Amazing Auction Genie
The Queen of Lawyerbot's Office
The Stalwart Explorer's First Invention
Tyran Far, Not Fire Paw
Neopian Times
10 Amazing Alien Aisha Facts
Safety Deposit Box Scouts
Storytelling Contest
Week 578
Week 579
Week 580
Week 582
Week 602
Week 603
Other Spotlights
Sprocket (Petpet Spotlight)
Winston (Petpet Spotlight)
Various Art
In addition to art on my pets' lookups and their petpages, here are some other Neo-related art pieces I've made.

Jacques won 3rd place in his species with this picture!

Rhodry won 3rd place in her species with this picture!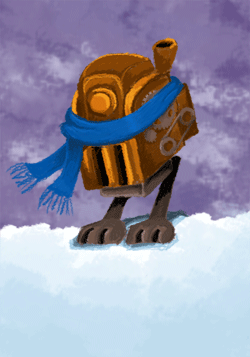 I used this picture of Sprocket in my winning Petpet Spotlight entry.

Just a little doodle of Tabora!

Rhodry won first in species with this picture! :D I'm so proud of her.
Quick Doodles
Sometimes I challenge myself to draw things in 3 minutes or less. Here are some of my favorite quick doodles. Click and drag for full size.
Miscellaneous
This one is on Zora's petpage already, but I almost never do animated pixel stuff, so I'm putting it here, too, because I'm proud of it. :D
I guess I'm sort of trying to learn how to do pixel art! Here's a little pixel Fineflour.
That's all that's here for now, but I'm always looking to add to more writing and art here!
I love adoptables and art of my pets! Here are some adoptables I've collected, some art I've requested, and some gift art I've been lucky enough to receive. (Credit for non-adoptable art is listed below each pic.) I try to only pick adoptables that work with each pet's character, so that's why some of the Aisha ones aren't repeated for all three of my gals.
Fineflour
Zorazix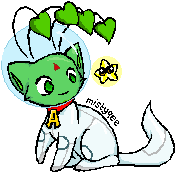 Thanks, Kayla! :D
Millawyn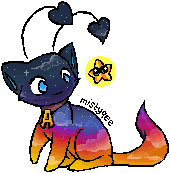 Tabora
Trying to find Gelert adoptables that aren't adorably cute and are thus appropriate for Tabora's character is a bit tough. D: I'm working on seeking out some more for her!
Rhodry

Thank you, Yoshi! I love this one to bits.

Rhodry rarely gets angry, but when she does, this is EXACTLY how it goes down. *grin* Please click and drag to the URL bar to see it at its full and amazing glory. Thank you for making me laugh so much, HighLordofPenguins! (With hilarious art page here!)
This incredibly adorable picture was drawn for me by dewdropzz who sent me a lovely neomail saying that she liked Rhodry's character so much she had to draw her. I may possibly have flailed my hands a little! Look how cute!
Jacques
Miscellaneous
A Little About Me
I'm a twenty-something college graduate who's obsessed with storytelling in all forms. Books, movies, TV shows, comics, games--I love 'em all. I especially enjoy stories involving magic or space, or magic and space. (This might explain my Aisha obsession, heh.) I love to make up my own stories, too, so here on Neo, I revel in creating characters for my pets and writing about them. It's pretty much my favorite thing to do on the site!
Aside from working on my pets, I enjoy entering the Poetry Contest and trying futilely for game trophies. I also love to draw, though I'm not a stunning artist yet. Drawing my pets is an excellent way to get some more practice in, though, so I try to do it as often as possible.
I played Neopets when I was younger, but lost the account info to my oldest accounts, so when I came back from my college hiatus, I made my new main, biscuitqueen. I was later able to recover my accounts jade_sight and cinema_child, for which I'm very thankful, because I missed my pets on there. They might not be well-named or super fancy, but I love them to pieces. That goes for all my pets--they're what keeps me coming back. :D
Drop me a Neomail if you'd like to chat--my inbox is always open!
Favorite Customizations
I have a blast customizing my pets. Here are some of my favorite outfits for them. Drag to the urlbar to view in full. I'll be updating this section periodically with new customizations.
From Halloween:
(Tabora didn't dress up--she was much too busy making maps for such frivolous things--and Jacques fell into a pumpkin, a screenshot of which I'll try to upload soon! The outfit Rhodry is wearing here is the one she's wearing in Yoshi's gift art in the Adoptables/Gift Art section. :D)
Notables
If you catch one of my permanent pets as Notable Neopet, I would love to know! So far only Zora has been sighted on the front page, so the others are feeling a little put out.
Thank you so much to poodlepaw18 for catching Zora as Notable on April 13th, 2013!
Screenshots
Here are some miscellaneous screenshots I've taken to record happy Neo moments. Click and drag to the urlbar to view in full!
Painting Pets
I had wanted to paint Tabora for YEARS before I took my hiatus for college! Saving up enough to paint her last year was an amazing moment for me.
Thank you, Fountain Faerie!
Spotlights and Achievements
Fineflour getting her Booktastic Book Award!
Sprocket winning the Petpet Spotlight. Yay!
My first article in the NT is visible here in the sidebar. I wrote this article in honor of Zora, my favorite Alien Aisha of all.
Front Page Poetry
My poems have been featured on the front page a couple of times--I'm always pretty excited about that!
Credits
Layout by
Sugary Premades
The picture of the HobNob biscuit is in the public domain. Any other art here aside from the adoptables and gift art is mine, and I would appreciate it if you don't use it, since it was created for my pets specifically. If you'd like a piece of art similar to something you see here, please just ask me. :)