TABLE OF CONTENTS
What is a pirate?
definition
in layman's terms
Where are the pirates?
globally
historically
in Neopia
How do you become a pirate?
how to dress like a pirate and pirating materials
hot to talk like a pirate
eat like a pirate
act like a pirate
what not to do
Showing off?
on the boards
through your pets
in your lookup or personally site
Famous pirates?
Edward Teach
Mary Read
Henry Morgan
William Kidd
Francis Drake
Anne Bonny
Captain Scarblade
Garin, Jacques and crew
Where to find out more about pirates?
NEED A NEW ACCOUNT? NEED TO GET AN ACCOUNT? CLICK BELOW

THANKS FOR THE REFERRALS!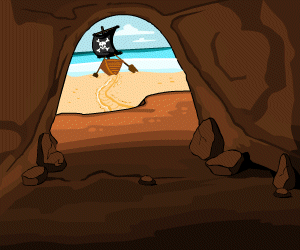 Avast, a land lubber! So you wish to know a bit more about pirates do ya? Well, you've got my attention hook, line, and sinker. Pull up a crate and rest your legs, walking the land is a tiring business and sit back and relax as I tell you all about piracy on the high seas.
What is a pirate?

Piracy dates back to more than 3000 years ago, that is ancient times, before our grandparents even! 140 b.c.e the word pirate was first used by the Roman historian Polybius, in the form of peirato. The Greek historian Plutarch defined pirates as those who attack without legal authority ships and maritime cities in 100 a.d. Yet, the first English definition of pirate came about around the time of the XVII century (17th century). In medieval England pirates were referred to as "sea thieves". The best definition, and the one used today was drafted in the XVIII century a.d. and defines pirates as "outlaws" whom even persons who were not soldiers could kill.

What does this mean? Well, it means that pirates were outlaws, possibly even thieves, who sailed the seven seas. They stole goods and people were not very happy and saw them as the dregs of society. But if you ask me, and I believe you were, pirates are jovial folks out for a good time, who sometimes rough up a few people while sailing the ocean blue and borrow items for undisclosed periods of time. I am mean you say? Well, fine, you think that way, you're just jealous since we know how to throw a better party than you!
How do you become a pirate?

how to dress like a pirate and pirating materials
So, you want to know how to dress like a pirate eh? Well that is very simple, you will need some ragged cloths, hard to find a seamstress out there on the high seas. Then you must make sure that your leg wear is not very long, remember, you must at times enter the water to haul in your dingy. A hat would keep that tropical sun out of your eyes so that you can see the land, water and other obstacles, and weaponry would be advisable...
Here on Neopets you can just pick yourself up a pirate paint brush and spruce yourself up a bit!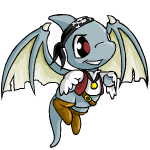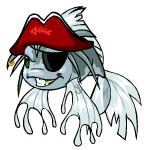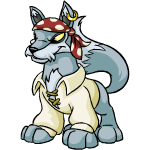 Can't afford it? Well, here is what you can do... buy a bandana, and a toy pirate sword, and pretend until your brain hurts!












And for you young pirates out there, here is a nice little friend for you!


how to talk like a pirate
So, you want to know how to talk like a pirate, eh? Well, you might as well just give it a try, especially since September 19 is International Talk-Like-A-Pirate Day! Here is a simple little
Ahoy! - Hello!
Avast! - Stop and give attention.
Aye! - Why yes, I agree most heartily with everything you just said or did.
Aye aye! - I'll get right on that sir, as soon as my break is over."
Arrr! - yes," "I agree," "I'm happy,"
Beauty – The best possible pirate address for a woman. Always preceded by "me," as in, "C'mere, me beauty,"
Bilge rat – The bilge is the lowest level of the ship. It's loaded with ballast and slimy, reeking water. A bilge rat, then, is a rat that lives in the worst place on the ship. This is a pretty dirty thing to call someone.
Bung hole – Victuals on a ship were stored in wooden casks and barrels. The stopper in the barrel is called the bung, and the hole is called the bung hole. That's all. It sounds a lot worse, doesn't it?
Grog – An adults-only drink, usually diluted with water.
Hornpipe – Both a single-reeded musical instrument sailors often had aboard ship, and a spirited dance that sailors do.
Lubber – (or land lubber) A lubber is someone who does not go to sea, who stays on the land.
Smartly – Do something quickly.

how to eat like a pirate
So, you want to know how to eat like a pirate eh? Well here are a few delectable delicacies for you to try, just remember, though, you wont find many of these floating around in the seas. Be prepared for tropical fruits if you are lucky enough to find some that will last your journey, and food from the sea. Just hope that you don't get stuck with gruel or crackers for the whole ride!








how to act like a pirate
So, you want to know how to act like a pirate, eh? Well that is fairly simple, just follow this here code of pirate conduct!
Every man shall obey civil Command; the Captain shall have one full share and a half in all Prizes; the Master, Carpenter, Boatswain and Gunner shall have one Share and quarter.
If any man shall offer to run away, or keep any Secret from the Company, he shall be marroon'd with one Bottle of Powder, one Bottle of Water, one small Arm and shot.
If any Many shall steel any Thing in the Company, or game, to the Value of a Piece of Eight, he shall be marroon'd or shot.
If at any Time we should meet another Marrooner (that is Pyrate) that Man that shall sign his Articles without the Consent of our Company, shall suffer such Punishment as the Captain and Company shall think fit.
That Man that shall strike another whilst these Articles are in force, shall receive Mose's Law (that is 40 stripes lacking one) on the bare Back.
That Man that shall snap his Arms, or smoak Tobacco in the Hold, without a cap to his Pipe, or carry a Candle lighted without a Lanthorn, shall suffer the same Punishment as in the former Article.
That Man that shall not keep his Arms clean, fit for an Engagement, or neglect his Business, shall be cut off from his Share, and suffer such other Punishment as the Captain and the Company shall think fit.
If any Man shall lose a Joint in time of an Engagement he shall have 400 pieces of Eight; if a limb 800.
If at any time you meet with a prudent Woman, that Man that offers to meddle with her, without her Consent, shall suffer present Death.

what not to do
So, you want to know what not do do eh? Well there are a few things that are very untrue in piracy. Do not carry around a parrot on your shoulder, do not have a peg leg and do not have a hook! A parrot is most likely a product of fiction, from Treasure Island. If there really were parrots on the shoulders of pirates there would have been maids on board due to the mess, can you even imagine what would happen during molting season? The peg leg, is not funny, and might have also arisen from Treasure Island due to the pirates use of crutches. If an injury were to occur, amputation would be most likely, and survival would be minimal. However, if the pirate were to live through having his leg cut off, he would need a replacement/crutch for steadiness and mobility. Finally, the pirate hook, fact or fiction. Fiction! Remember Captain Hook? Well, the loss of a hand was commonplace, but to actually look for a replacement was unlikely, to use a hook was even more unlikely... Can you imagine what would happen if they had an itch?
Showing off?

on the boards
Here are some avatars for you to use!





through your pets
Turn you pets into pirates!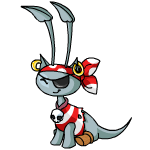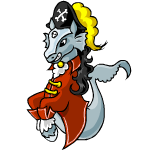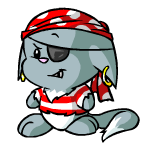 in your lookup or personally site
Advertise your loyalty with a homemade picture!
Famous pirates?

Some famous non-Neopets pirates were Edward Teach, Mary Read, Henry Morgan, William Kidd, Francis Drake, and Anne Bonny.

Captain Scarblade
Captain Scarblade is the captain of the Revenge, the self-proclaimed ruler of the five seas of Neopia. He, feels no remorse in taking for his own the treasures of those that sail the waters.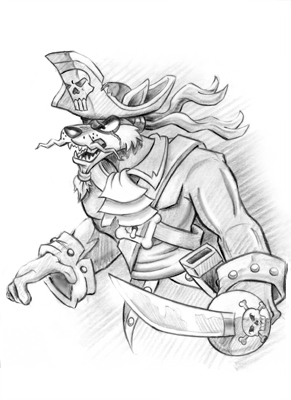 Garin, Jacques and crew
Want to learn more?
Well, here are a few good books for your Neopets to read to beef up their knowledge of pirates.



TABLE OF CONTENTS
The mission
to find the truth about the new species

The team
Shoyru4notfluffybutt
Ixi_Trixi_fluffybutt
yarbal_labray
cwazy_conundwum
i_rolled_in_dirt
mOnGoliAn_ReX
The adventure begins
Day 1
Day 2
Day 3
Day 4
Day 5
Day 6
The results
What did they find out?
Where are they now
Did they make history?


NEED A NEW ACCOUNT? NEED TO GET AN ACCOUNT? CLICK BELOW

THANKS FOR THE REFERRALS!
THE MISSION
Today we embarked on our mission to find the biggest paleontological discovery that Neopia has ever seen. Rumors have been spreading around about a strange neopet lurking around the depths of the seas. We hope that by exploring the ancient world our team will get to the bottom of this. We will start my introducing ourselves to you.
---
THE TEAM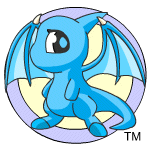 Shoyru4notfluffybutt
Hello, I am Shoyru4notfluffybutt, and I have been named after my owners hamster. Like him I am lazy, sleepy, but sweet. I am the leader of this mission, and although I may look like a well-rounded, intelligent, brave Neopian, the dung has been scared from me at the thought that there has been something hiding out there and I have stolen the idea from my friend Ixi_Trixi_fluffybutt to go and find out what it is. I am looking forward to the world renown that this discovery will give me... Maybe I will even have an avatar made after me!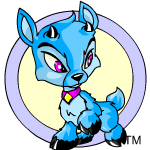 Ixi_Trixi_fluffybutt
Hello, I am Ixi_Trixi_fluffybutt, and have also been named after my owners hamster. A sad sort of beast of the human realm, but a good sleeper for which I admire him, rest his hammy soul. I am second on this great mission, the fearless, thoughtful, and ingenuitive neopet that will keep this team together at all costs. I am also the financial planner of this mission... Hence why if you see me being carried it is because I am tired from playing games to raise the neopoints to help fund our mission into the vast unknown, although I am happy that my poker hand has improved as a result. If you would like to know a bit more about me, I am a lover of books and rotten foods because they are cool since they look gross.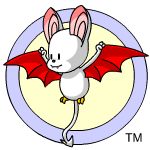 yarbal_labray
Hello, I am yarbal_labray, and I am named after my specialty. I am the equipment specialist on the team. Chalk it up to being a computer nerd, but for my age, I am the best around. I may be quiet, but I have the feeling that my knowledge about machinery and transformations will come quite in handy.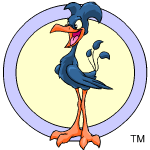 cwazy_conundwum
Hello, I am cwazy_conundwum, and I am the knowledgeable one in the group. I shall say this now, I am a bird of few words...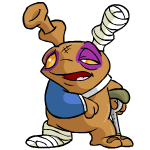 i_rolled_in_dirt
Yo, I AM i_rolled_in_dirt. I AM a grundo. And I AM out of this world- when it comes to digging and mining. Unfortunately due to the cave-in at my last job I am a little banged up and you now have to color the cave paintings yourself at the ancient cave paintings site. Sorry about that, I hope they get some help in quick or this may take a while.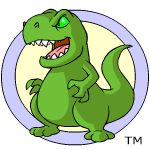 mOnGoliAn_ReX
Hello, my name is mOnGoliAn_ReX, and I am a Grarrl. My owner wants to be a Paleontologist, which is someone that studies past life. She wants to go to Mongolia (wherever that is) and study Velociraptors (what are these?) and other large predators like the Tyrannosaurus Rex (huh?) and what their families are like. Therefore she named me after Mongolia, the place where she wants to study and Tyrannosaurus Rexes since she says that I look like a T-rex... Do I really look that mean? I am the local guide for all of Neopia and will be assisting this team of neopets on their adventure.
---
THE ADVENTURE BEGINS
DAY ONE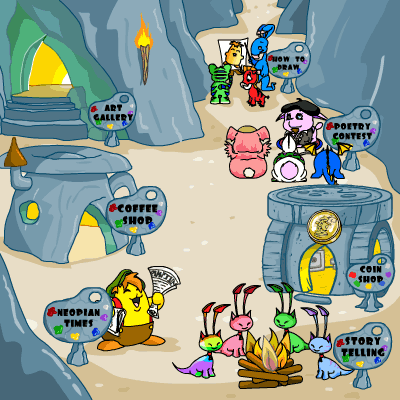 We being the journey by all meeting at the coffee shop to discuss the mission...
Shoyru4notfluffybutt: I have heard from reliable sources that there has been a new neopet swimming around the ruins of Maraqua. They have said that it appears to be an ancient neopet, unlike any that now exists. Do you think it is a remainder from a bygone age?
Ixi_Trixi_fluffybutt: Do you mean to say that it is what the "humans" call a "dinosaur"?
Shoyru4notfluffybutt: That is precisely what I mean.
Ixi_Trixi_fluffybutt: If we can discover this ancient being, perhaps get a specimen, and evidence of its past existence we, will be the most famous neopets that have ever lived!
Shoyru4notfluffybutt: Fame...(this is my chance...)
yarbal_labray: Maybe... maybe we can... maybe we can find this... this thing!
cwazy_conundwum: I concur.
i_rolled_in_dirt: How many other peeps are we gonna be enlisting for this uh... thing... uh... mission?
Ixi_Trixi_fluffybutt: Well, I can only do so much with games, so, we can only afford the aid of one neopet. And he is that grarrl walking this way. He is the best that there is.
mOnGoliAn_ReX: Hello, you may call me mOn. If you have any questions about neopia I am the one to ask.
yarbal_labray: When do we begin?
cwazy_conundwum: Now.

DAY TWO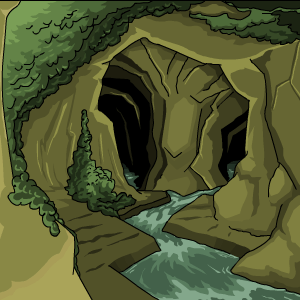 Today is the first day of the rest of our lives... mOn has taken us to the distant land of Krawk Island to witness the very creature that we have been searching for. The journey leads us through a very strange place.
Shoyru4notfluffybutt: I'm afraid!
Ixi_Trixi_fluffybutt: What is this place?
mOnGoliAn_ReX: This is the Fungus Cave, it is the quickest, safest, and most secret rout to the location to which I am taking you. Be careful and watch your step, or you may just be swallowed up...

Soon, a light begins to shine at the end of the tunnel, and the team of neopets emerge in the ruins of maraqua.
Ixi_Trixi_fluffybutt: What is this place?!
Shoyru4notfluffybutt: I'm scared!
yarbal_labray: Oh... Oh I ran onto a board once and it said... it said... this... these are the Maraquan Ruins aren't they?
cwazy_conundwum: Patience.
mOnGoliAn_ReX: These are the ruins, now come, and careful not to disturb anything lest you wake the...
yarbal_labray: AAAAAAAAAAHHHHHHHHHHHHHH!!!!!!!!!!!!
cwazy_conundwum: shhh...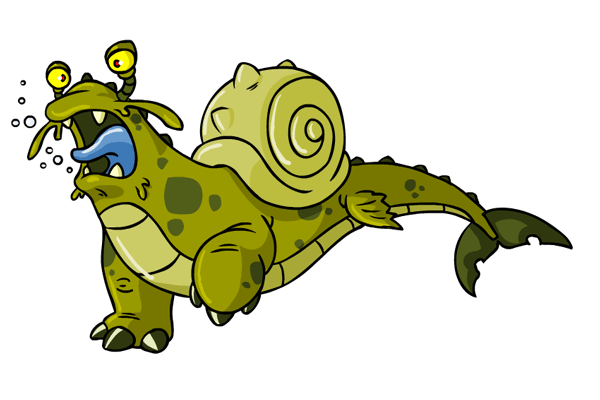 A gigantic sea slug appeared out from behind a rock. mOn swam up to him as if they were friends and they were soon riding upon its back, deep in the depths there were shadows swimming to and fro. When questioned as to what they were, the slug could not say since it did not know, but it knew that they were new to these seas.
DAY THREE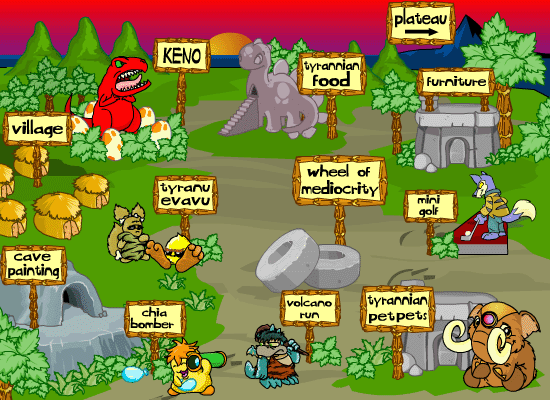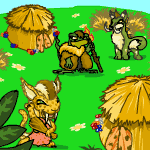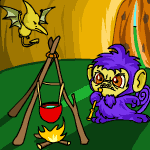 We rode through the night and awoke to find ourselves on a distant shore. The neopets here are of a strange bread, different from our own kind back in Neopets Central. We must all watch out backs as we head toward the plateau...
Ixi_Trixi_fluffybutt: What is this place?!
Shoyru4notfluffybutt: I'm scared!
cwazy_conundwum: Do tell?
mOnGoliAn_ReX: This is the land of Tyrannia, beware, we are foreigners in these lands and must treat all with respect.
i_rolled_in_dirt: I am not so sure I should be here... I have... a... record...
Ixi_Trixi_fluffybutt: How so?.
mOnGoliAn_ReX: Oh! You are the one they call ugg-ugga-hugg or artifact destroyer from afar... I suppose you may need to visit the council to regain their trust.
i_rolled_in_dirt: What?!?!?!.
cwazy_conundwum: I concur. Seek forgiveness, then all will be well.
mOnGoliAn_ReX: Come, I'll lead you to the council.
i_rolled_in_dirt:*gulp*

DAY FOUR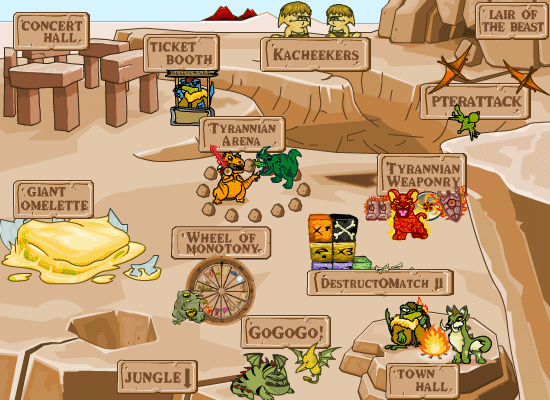 | | | |
| --- | --- | --- |
| Kyruggi | Grarrg | Tekel |
| Plesio | Sabre-X | Myncha |
Soon, all was forgiven, due to the great influence of mOn and the team was permitted to continue on their journey. Before leaving, the council told them of a ugoguh or a great unknown that resided within a cave. They did not know what it was, only that it was a relic from the bygone age. Shoyru4notfluffybutt, instinctive as he was decided to act on his own, one of the greatest acts of treachery that will go down in Neopian history for a long time.
Ixi_Trixi_fluffybutt: What now?
Shoyru4notfluffybutt: To the lair of the beast, I have been there before, you know.
cwazy_conundwum: Do tell?
mOnGoliAn_ReX: you have been there before? This is knowledge that I myself cannot provide, please- lead the way!
i_rolled_in_dirt: I'm not so sure about this...
Ixi_Trixi_fluffybutt: How so?.
mOnGoliAn_ReX: When in doubt trust the one who knows best. Lead on Shoyru4notfluffybutt!
i_rolled_in_dirt: What?!?!?!.
cwazy_conundwum: I concur. We must rely on those who know what we do not.
Shoyru4notfluffybutt: Right this way, just go down this tunnel right here next to this really long spinning wheel.
cwazy_conundwum: Won't you lead?
mOnGoliAn_ReX: He will lead once he sees that we have all made it down the shaft safely, right?
Ixi_Trixi_fluffybutt: Of course, you are such a brave and selfless leader.
Shoyru4notfluffybutt: Yes, now, careful everyone! *chuckles to self*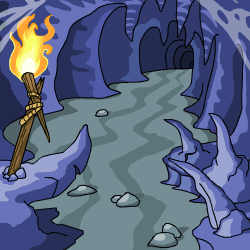 After a short while, the team realized that Shoyru4notfluffybutt was not coming down. Little to their knowledge, he had slipped away to take all the glory of finding the ancient neopet on his own. Entering the lair of the beast, he found... A beast!!! Frightened, he ran from the cave as the beast laughed after scaring yet another neopet. Soon he was back at the hole to rescue his friends, explaining only that he needed to take care of his business in a bit of woods down the way. They then proceeded to the oldest parts of the lands, the volcano...
Shoyru4notfluffybutt: Heh... heh... sorry guys...

They journeyed to the lands around the base of the volcano to begin the expedition. It was a long walk along a gulf carved out by an ancient river that ran through present-day Tyrannia, and it would be the ideal place to begin their search.
Ixi_Trixi_fluffybutt: Okay, let's begin the excavation, shall we?
Shoyru4notfluffybutt: Where?
cwazy_conundwum: Look at the volcano. The lava runs down the east end, therefore, and older sediments would have long been covered by a thick layer, therefore we shall start on the west end past the base of the volcano to avoid reaching newer specimens.
mOnGoliAn_ReX: Right! Now, If I remember this correctly... the volcano formed in what the "humans" call the "Mesozoic Era" or the time of the "dinosaurs". What we are looking for is an aquatic "dinosaur" or an ancient aquatic species. Therefore we shall go about 25 neopian units west of the base of the volcano. There is a rifted ridge there. Due to violent earth movements the "pre-Cambrian" sediments have been pushed up and out on the left, and the "Mesozoic sediments up and out on the right. Due to weathering it is not deep, but it is an ideal place for us to discover where and when this species lived.
i_rolled_in_dirt: What's it look like?.
mOnGoliAn_ReX: Didn't you notice the distinct shape of the shadows lurking in the depths of the sea as we left the Maraquan Ruins?
i_rolled_in_dirt: No.
cwazy_conundwum: Turtles.
Shoyru4notfluffybutt: Oh... Right and what are those?
cwazy_conundwum: Have you ever been to Meridell? They run the "Ultimate Bulls-eye" game.
mOnGoliAn_ReX: Close, but these will look a bit more fishy...
Ixi_Trixi_fluffybutt: Of course, lets begin. i_rolled_in_dirt, please start digging.
Shoyru4notfluffybutt: Yes, now, careful everyone! We wouldn't want to ruin the specimen!*chuckles to self*
DAY SIX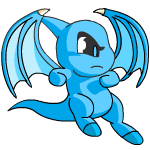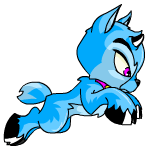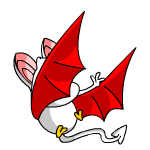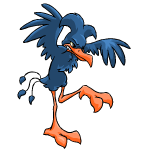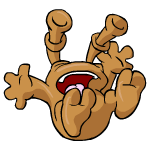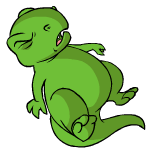 We dug through the day, and, with lanterns, through the night. We dug, and huffed, and rested, and fought our way through the hard soil, silt, and finally through rock. But our hard labors have not been for nothing, we have found a most intriguing sort of fossil.

Ixi_Trixi_fluffybutt: What is it?
Shoyru4notfluffybutt: I don't know... Let's go hit it with a rock!
cwazy_conundwum: It is a bony Grarrl Club, and only you, Shoyru4notfluffybutt, would think this is a fossil. Clearly it is a weapon, and CLEARLY it belongs to that big red angry grarrl stampeding this way.

The team was soon on it's way again. Running for their very lives.
Shoyru4notfluffybutt: RUN!!!
Ixi_Trixi_fluffybutt: What are we going to do?
Shoyru4notfluffybutt: How should I know! you are the brains in this outfit, remember? Why couldn't you win us some weaponry?
Ixi_Trixi_fluffybutt: Grrrr...
yarbal_labray: Maybe... maybe we can... maybe we can hide in one of those... those Keno eggs!
cwazy_conundwum: I concur.
i_rolled_in_dirt: Are you sure about this?
Ixi_Trixi_fluffybutt: It may be our only chance.
mOnGoliAn_ReX: Right. Lets go.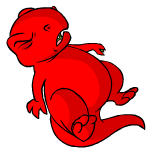 When they arrived, they found this sad site. A baby grarrl, looking very sad and hungry. The mother that was stampeding toward them was out in search of food when she noticed our brave team of neopets and mistook them as bandits out to get her baby. Feeling sorry for her, the team decided to give them some of their food rations as an "I'm sorry for startling you". And to repay them, she gave them her most treasured junk item, an item so useless to her, yet so precious because it looked cool, that it was the greatest thank you they could ever receive.

Ixi_Trixi_fluffybutt: What is it!
Shoyru4notfluffybutt: mOn?
cwazy_conundwum: A paintbrush?
mOnGoliAn_ReX: This is a rare Maraquan paintbrush. Where did you get such a strange object?
Grarrl Mother: From my nephew, Naquaram. He lives around the Maraquan Ruins and has dreams of swimming in a fish circus. An odd dream for a young shoyru, wouldn't you say?
Ixi_Trixi_fluffybutt: Shoyru? Swimming? Maraquan Ruins?
mOnGoliAn_ReX: Oh! You wouldn't happen to have a picture of this lad would you?
i_rolled_in_dirt: Why?!?!?!.
cwazy_conundwum: Turtles.
Grarrl Mother: Why, yes I do, and as a matter of fact, he does slightly resemble those turtles of the Skarrl King's land...
i_rolled_in_dirt: Oh brother...
yarbal_labray: Don't you mean, "Oh painted!" Ha ha ha... We have just went on this big adventure only to find out it was a huge misunderstanding
Shoyru4notfluffybutt: I'm doomed!
cwazy_conundwum: Well, it is good to have it solved, we are the wiser for it.
mOnGoliAn_ReX: I agree, we have all learned a lot on this adventure.
Shoyru4notfluffybutt: What now?
Ixi_Trixi_fluffybutt: Coffee.
mOnGoliAn_ReX: That is the best thing I have heard yet! Let's go, we can work on our cover-up story later.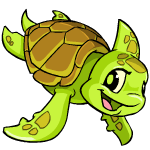 ---
The results

What did they find out?
Thus our paleontology adventure has come to a close, and I, your narrator, nightangelbsb, am almost done with this tale. But what did they find out you ask, guest? This is what they found. The "new species" was really just a new paintbrush form. A shoyru painted Maraquan. They found out that Shoyru4notfluffybutt had other intentions for this trip, and forgave him for all of his wrongdoings out of the kindness of their hearts (It is not the shoyru's fault if he is weak. Okay fine, it is, but they forgave him anyway.). They have also found a few new routes to places along the way, but the details of which they have sworn never to reveal.
Where are they now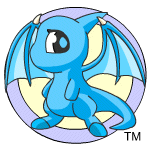 Shoyru4notfluffybutt
Shoyru4notfluffybutt, is currently in hiding, it is rumored that he plays a green shoyru, as innocent as can be, in the "Trouble at the National Neopian" game. This is most likely due to the great embarrassment that he felt after ditching his friends to go and claim the glory for himself. They do visit him and lock him in the slammer from time to time (they say it is a mistake, but you know it isn't). Yet this is unconfirmed because he disappeared after the inncident.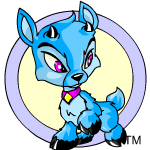 Ixi_Trixi_fluffybutt
Although nothing has been discovered, this little ixi will go down in history. Since his adventure he has returned to a life of gaming and has won two trophies so far. hopefully more will follow.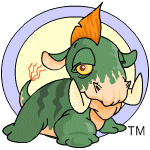 yarbal_labray
yarbal_labray, although young, refuses to grow up, and has since returned to the labray and is trying to make himself into something he is not.The latest of his current transformations can be seen above, although he is not particularly fond of this "accidental morphing". Perhaps an orange grundo or an island quiggle next time, both, he says, will preserve his youth beautifully.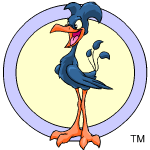 cwazy_conundwum
cwazy_conundwum, has retuned to his life of answering riddles and asking them too. Do you know the answer? He hasn't got a clue for you.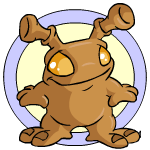 i_rolled_in_dirt
i_rolled_in_dirt the grundo, has since returned to his mining operation on Kreludor, after once again causing a fiasco in the cave painting region. It is my understanding that he may never again return to Tyrannia.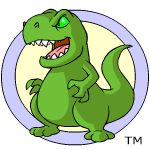 mOnGoliAn_ReX
And as for mOnGoliAn_ReX, I believe I have seen him in the Neopian Lodge, trying to avoid his gambling problem he developed when trying to court the Grarrl Keno mother.
Did they make history?
For most, the answer is no for most, but for one of the team, the answer is a yes. Shoyru4notfluffybutt, after the people of his home town learned of his deceitful nature, decided to bless him with a faerie. Now, I know this sounds very nice, but the result can still be seen on neoboards across the lands.

A MARVELOUS THING HAS HAPPENED!!!

With this paleontology theme, I won the site spotlight on February 24, 2005! Thanks for all of your support!
Note to all who view this page:
I have not made a single one of these images, and the story is not true. Any rights to the images and characters and such belong to Neopets as their disclaimer will say. If you enjoyed my story, and, yes, I made up the whole thing by myself, I am pleased to hear it. If you have any input, neomail me. Enjoy!