Hello!
I'm InuKujou- but you can call me 'Kujou for short, yes just like that movie about the rabid dog. Only.. spelled different. So i guess its not really the same. SHUT UP.


News
[8/28/05]
New Color-Me-Up Adoptable!!
[8/27/05]
updated every few days This is Inukujou. He is now fully Tyrannian. YEEHAWW! Honestly, i didnt expect it to happen this quickly. I was close to purchasing a labmap and just waiting for him to go tyran. Here's the story-
I Entered the Art Gallery a few days ago, really not expecting anything because 'Kujou has nothing to do with any of the near themes. But to my surprise, neopets delighted me. His image got in! And, to top it off they gave me a Electric Blue Paint Brush. What the majullies?! This prize was worth 230k np. Almost enough to buy his paintbrush! So, i decided to sell it, and switched accounts to give this lil cheapscap one enough to purchase a Tyrannian Brush! I'm so inescapably happy now. Isn't he a prettie?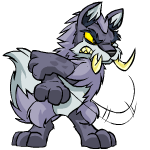 [HARHARHAR!!]


About the 'Kujou
InuKujou: I'm the newest of the family, probably the favorite, too! ;3 I was born as a Green Lupe, but i will mature into a Tyrannian Lupe. I had little tusks, mom will have to upload a decent baby picture of me sometime! XD Anyways, my name means 'trouble dog' in japanese, because, well i guess my aggression problems. Mom says I need anger management. heheh

My mom hasn't gotten me a petpet yet- because, mainly, she wants to paint me first and then see what fits me best. But i have an idea of what i want, though: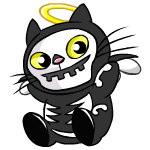 [Halloween Angelpuss]
Well, i got my Halloween Angelpuss, Kosshi [kah-she]! shes adorable- skiddish, but adorable. Mom bought her for me for 92,640np at a shop; it was a decent deal at the time. I'm so ecstatic she finally agreed with me that Kosshi would be the best petpet for me! XD I'll tell you more about her when she starts showing more personality.

_______________________________________________
Well, that was interesting. What is there to know about me? How about my favorite foods?



[Buried Bone]
I love bones. Nothing beats finding a buried one. Bones are better with age! :D



[Dried Lupe Snack]
I always get one for not attacking the neighbors. :3
_______________________________________________
Heres some other things i like:



[Gigantic Balthazar Plushie]
Balthazar is the greatest lupe ever. period.



[Fake Lucky Cybunny Foot]
I have one of these attached to my collar.


Design your Own
Color-Me-Up Lupe Adoptables!


[Lupe Sundae]........................................................[My Example]

How it works:
First, you save the blank outline image above. Then, go into any drawing program[ms paint,ps,psp, etc..] and color it in the way you want!
Then, upload your newly colored version to any image storage site (i use Photobucket.com, it's free!) and copy the code into your own petpage!

Rules:
ALWAYS keep my signature on there. And, if you'd like, a link back would be great too. But, the signature is NOT OPTIONAL.
You can also show me yours when youre done, i'd love to see! :3


Toys!
Tyrannian Lupe Adoptables are HARD to find i've found out, so heres my treasures so far!

[aww 1st one]


[from de taco!]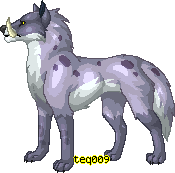 [Another one! WOW!]



[So CUTE!]


Trade
love the 'kujou? exchange links with me!

Links