Inseqt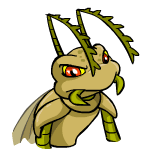 Quite twitchy, no? Many call me spazztic. I like to think they mean I'm excitingly fantastic, but I doubt that's the case. My name is Inseqt... yes, it means I'm a bug. It's just a fancy way of saying I have an exoskeleton, a three-part body, three pairs of jointed legs, compound eyes, and two antennae. What kind of bug you ask? I'm whatever you fear the most. As you could imagine, I have identity crises all the time. I really don't know who or what I am.
I'll stop with the fancy talk, it really doesn't suit me. I'm not one of those book worms, I'd rather eat books. Pages tend to have a crisp aged taste, much like a fine wine. I may look threatening, but that's not the case either. You could say I haven't really found my own calling. But enough of this intro stuff, let's go on to the more exciting fantastic topics.
~ About Me ~

Name: Inseqt
Nickname: Q
Species: Unknown
Color: Mixture of earthy tones (Browns and Greens) Eye Color: Red
NeoType: Mutant Ruki
Gender: Male
Height: 60 cms
Weight: 61 lbs
About:

No one knows for sure where I've come from, or my purpose in this realm. The only thing I'm really good at is scaring the living daylights out of anyone I come across. As you could imagine, I don't have many friends. The constant metamorphoses into other insects takes a lot out of me, so I try to avoid other living creatures.
Getting a good picture of me tends to be exceptionally challenging. It seems every time I look at myself I don't even recognize my own face. A trend I do see however is my markings and color. That seems to be the only thing that stays with me. It makes me wonder if the only thing thats really truly me is my hue.
~ Future Plans ~
I've thought a lot about it, and I've decided to choose a Tyrannian Spyder as my petpet of choice. As you know, spiders are arachnids, so I'll never have an incident of extreme bonding. But that's okay, lets just hope I never become bite sized. And for his pet, a petpetpet, I have chosen a Moffit. It's color and long legs will help it to blend in and stay on!



Aw, Araqnid and Flea get along already!
~ Future Family ~



Mutationly


Aka Mutant, he's the grand leader of our little gang. Nothing happens without his knowing. Keeping us in line, he makes sure we don't hurt too many people. Mutant is a superhero of sorts, or at least he aspires to be. A mutant from space, what an unoriginal aspiration. All I know is that he dedicates his life and petpage to neopets of every species and color. His adoptables are HERE.



Arbanaba


This slimy tentacled monster doesn't have a good side. He's pure evil, wreathing from torment, and pain. He seems to have infinite tentacles to grasp and drain the life out of his prey. Arabanaba is going through a character makeover I've heard, but he won't be any less creepy, believe me. If anything, looking more innocent would be worse; more victims. Petpage HERE.



sillysmart


Seriously, if I were you, I'd never call him silly. EVER. He's a loner, through and through; the hermit of the family. We call him Marty, because we cannot get what his real name is out of him, or even two words for that matter. All we know is that his house is cram packed with books, more than one person would ever need. Someone that smart could help a lot of people, if he were willing...



Dilapidate


We call him Dil, because well... I think you know why. He has to be the only chipper guy in the family, he is WAY too optimistic. Too bad everyone is always trying to eat him. Poor guy. Dil has this thing with jars as well, we find it kinda creepy. He likes putting things in jars... things that don't belong confined, and shutting the lid. I try and stay away from him for this very reason. Many times I'd be small enough...



beelezza


Lee for short, this guy is vain as can be. He insists on keeping as many mirrors as possible close by to admire his "beauty". He insists on entering beauty pageants as well, and unfortunately for us, he actually won one. We'll never live it down, that trophy is a constant glaring reminder. Personally, I think his colors are a little too... feminine. But don't tell him I said that!
Well, enough about those creeps, I'll try not to be like them! Honestly, I wish people would warm up to me more, but that's hard when they fear you. Isn't there someone who likes all insects?
~ My Art ~
Below is all of the art that I have done for Inseqt. Drag and drop into address bar for a better view!





During history class, I couldn't help myself and started doodling on my typed notes. Drawing on Microsoft Word is hard!
~ Fan Art! ~

Below is some art drawn by fans and fellow art traders! People can't resist drawing my buggy self!
~ Look Alikes ~

~ Special Thanks ~
A special thanks goes out to my sister Holly, and my boyfriend Matthew for the drawings of Inseqt (both traditional pencil sketches). Thanks a bunch guys, I love ya!
A very special thanks goes out to Dakota for giving me the chance to adopt Inseqt!
Thank
you
for reading! Take an adorable adoptable on your way out?



Link back?