Chapter 1
Cages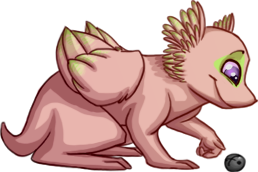 ______The creature's story began tragically. More so than others some might say. But it all started in one place... in one commonplace. A Limited Edition Pet, or L.E.P., Mill. He was happy enough as a young Draik. He had food, he had a home... and most importantly of all, he had the best of friends. Day in and day out they stayed in their cage on the top shelf. Some days were boring, others could be fun. They loved to tell stories to one another; made up stories of course, none of them had ever been outside their pathetic living area.
______In the mill the little pink Draik was known among friends as Feather. His chums Stripelegs and Roughskin called him that because of his beautiful pink feathers with the green and yellow tips around his head and on his wings. His best friend, Toughwing, wanted to call him Pinky. Feather didn't mind the feminine name but Stripelegs and Roughskin had laughed so hard the entire wall of cages rattled as they rolled and held their bellies. Pinky! Stripelegs exploded with giggles and fell onto his back.
______Hey, watch it! a grouchy Krawk hissed from the cage below as he stuck his sharp claws through the bottom of their mesh cage. Toughwing and Roughskin dodged the ivory colored needles gingerly.
______Knock it off, babies! An adolescent Cybunny was busy grooming her furry collar and looked clearly disturbed by the racket across the narrow aisle. Her floppy ears folded back in disgust, or maybe even jealousy. She was alone in her cage. Entirely alone. But Feather, oh, Feather was lucky enough to have three companions! Three best friends. Feather remembered early in their days, they promised that when they were all adopted and belonged to new families, they would ask their owners if they could all see each other. And so they would have a best-friend reunion when they were full-grown. Feather could just imagine how huge Toughwing's wings would be by then. And Roughskin's little knobs of spikes he adorned now would grow into huge, glistening spears. And Stripelges would have millions of beautiful, pink and blue stripes all over his body like a Kougra.
______Feather couldn't help growing a little jealous of Stripelegs. While he himself was very colorful, no one quite compared to Stripelegs' luxurious hues. The little feathered Draik's envy swelled even more when his plumes started dropping to the floor of the cage one week.
______Feather, you're probably just molting. You know, when you lose your feathers and grow bigger feathers! Toughwing tried to console him.
______Yeah Pinky, Stripelegs chimed in jokingly, no worries, you'll just be bald as Toughwing by the end of the month is all! He and Toughwing laughed at that. Feather's cheeks reddened and he ground his flat teeth together with annoyance.

______It was dinner time at the kennel. The mill runner had finished dishing out food to the cages across the aisle. Lutaris and Krawks greedily stuffed their faces, each munching on the same brand of kibble and scraps. Every time the man passed Feather's cage he paused to look at the pink Draik who looked back at him hungrily. But the mill runner's gaze sent shivers down Feather's little spine. He responded with a quick kick of scratching behind his ears or under his chin. With every scratch a foot-full of feathers pulled from his plumes and drifted to the floor of the cage. After, the mill runner would continue on feeding the other pets. Until he reached Feather's cage.
______Toughwing!! Feather squealed the moment he saw the latex gloves open the cage. The man never fed his stock with gloves: he only used them handle the ones that went into the back room.

______Before the other three even had time to turn around, Feather was plucked from the cage. Stripelegs leaped after him but not soon enough. The cage door came crashing in, pinching one of Stripelegs' candy-striped paws. He let out a pathetic yelp and Toughwing quickly pulled him aside to the back of the cage. Feather watched as he was taken down the aisle to the point of no return: the back door. Only Roughskin was there at the front of the cage to wave Feather goodbye.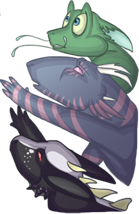 ______Toughwing, Feather cried out hoarsely but he knew his best friend couldn't hear him. Roughskin clung to the front of the cage and seemed to droop in his own depression. A twang of guilt plucked at his heart for teasing the other boys in the cage with scary stories about the back room. The mysterious back room: where the sickly-looking and downtrodden Neopets went... and seldom were seen again.
______Don't you worry, Pinky, Feather's ears (if you could call them ears) perked up. He looked around for whoever was talking, but they were already heading through the back doorway. We'll take good care of you. It was the mill owner. He looked down at Feather and smiled almost sadly. Confused and feeling a little drowsy, Feather didn't bother to struggle as the large man shut the door behind them. As they walked down the skinny aisle in the second room that appeared identical to the first, Feather tried to catch a glimpse of the Neopets in their cages. But they were passing by so quickly he never got a good look. All he could tell was that each Neopet had a cage all to himself. Feather thought that might be rather pleasant... until the man carrying Feather pushed past another back door.
______The third room was slightly larger because there were no cages lined against the walls, except for a couple stacked in a corner. In the middle of the room were four long metal tables, big machines, and tools on rolling carts. The mill runner stepped to the nearest table and chained Feather to it by the neck before the poor Draik knew what was coming. Feather sat, too afraid to move, too confused to call for help. He shivered a little. The table was cold.

______I've heard about this place, a small voice invaded the room, sending off all of Feather's senses. His body went into code red and he scampered helplessly on the table, slipping on its shiny surface. Feathers flew everywhere. It's me! the voice came again, more distinguished. It was a girl's voice, a young girl. Feather's heart pounded in his tiny chest as he stopped thrashing. I'm over here, the voice whined sadly. Feather saw no one else in the room. His magnificent purple eyes scanned the walls and the floors until his gaze fell upon the stack of cages in the corner. A small, scaly, violet wing poked out from the darkness behind the bars of the topmost carrier.
______Who are you? Feather asked breathlessly. The wing, though clearly an appendage for flight, looked more like a swollen hand; it had four distinct fingers and a thumb to grasp onto the gaping mesh of the cage door. Even Toughwing's wings couldn't do that.
______My mom called me Annabelle, she squeaked, I don't know my full name. Withdrawing her hand-like wing, she pressed her round face against the door of her trap. She was certainly reptilian and almost looked a little bit like Toughwing... but she didn't have any ears. And instead of a normal body, she appeared to only have one long neck and tail. Feather had never seen anything quite like her. This is the bad place? Where bad pets go?
______The chain around Feather's neck was terribly uncomfortable. More so because it was still pulled taught from when he freaked out. He lay down as to loosen the chain's grip a little, and also for a better view inside Annabelle's cage. This isn't a bad place, Feather replied, troubled. He loved living there, it was the only home he had ever known. Mom, you said? You had a mom? Was she anything like my mom? Feather's question was dearly sincere: he didn't remember his mother. All he knew was that she was in a different cage, in a different trailer, with all the other moms of the pets in the mill.
______Annabelle looked concerned for him. No, my mom was human.
______The pink, ragged Draik thought a moment. Human... his thoughts targeted on the unshaven face of the overweight mill owner. Oh, my mom's human too.
______My mom says this is where pets go when they are bad. I didn't know I was being bad, she sniffled and coughed a little. She was about the same size as Feather and the rest of the gang, maybe a little older.
______I've been here all my life, Feather offered gently, and I'm not bad... at least he didn't think he was. Why did your mom say those things?
______I don't know! Annabelle was crying now, sobbing. Two clear rivers of salty tears spilled down her round cheeks. My mom talked to a man outside-- (Outside? thought Feather,) --and just GAVE me to him for a bag of neopoints in return! Annabelle absolutely wailed. She threw herself to the floor of her lonely trap and exploded into a tantrum, banging against the wall of her cage with her muscular tail.
______Feather jumped and turned his back on her. There he sat in the dark with the little girl's welling screams. He could do nothing but listen.
Chapter 2
The Sickness
______
After the mill owner removed Annabelle's cage from the room, Feather curled up in silence. He stayed there for many long hours, chained to the table. There was no food or water to speak of, but he wasn't hungry anyway. Just cold. Pink and green feathers littered the metal tabletop all around him. He mourned the steady loss of his beautiful feathered crown and wings. He tried to sleep his worries away, but a nagging thought stirred him into awakening constantly. What of Toughwing?
Does he miss me?
the pink Draik wondered,
Is he going to find a way to get me out of here?
______The back door opened, sending Feather's train of thought into panic. He scrambled on the table, choking himself with the chain again. The mill owner rushed over, hushing him softly. Now, now Pinky, settle down. He loosened Feather's chain a bit so he had more room to move around, but was still limited to the table. Feather peered up at his captor with almond-shaped purple eyes. The man smiled down at him. Didn't mean for you to get sick too, buddy. Creases around the man's mouth melted his face into sorrow. We're going to get you all better now.
______Feather wished the man wouldn't the moment he saw the needle. How many injections he received, the Draik had absolutely no idea. But when it was all over, he felt dizzy and listless, numb at his hips from the punctures. And before he knew it, he had been stuffed back into a cage, very similar to his first one. But he was on the bottom row and his only companions were the stray feathers that littered the cold floor like soft snow. Pink snow.
______But ohhh... how he itched!
______It was a terrible, relentless itching that he'd subconsciously scratch at with his hind feet. The annoyance was significantly less important than the shedding of his beautiful feathers. He hadn't bothered to count how many times he scratched himself in the cage, in the laboratory, even when he was still with Toughwing and the others in the front room he scratched and scratched, kicking out plumes and down. And all that scratching only made the itching worse.
______The man returned every day to pluck Feather from his cage and feed him another slew of injections. Feather wasn't sure what the medicine was supposed to do for him because he felt no different after: just tired and woozy. His skin still itched all over and his feathers still fell out.
______It wasn't long before the little Draik resigned from struggling. What was the point? He was totally and utterly bald. Not a feather to speak of. Ironically, no one called him Feather anymore. There was no one around to call him that. Only the mill owner talked to and about him, piddling around in the laboratory as he fished through boxes for the small vials of medicine to inject him with. Instead he was called Pinky. And Pinky greatly resented the humiliation.
Chapter 3
Ghost Machine
______
The featherless Draik on the bottom row slept through feeding time and most of the day. It was a deep slumber. And despite his ordeal, he had the most wonderful dream he would ever remember. He was his old self again, with bright pink feathers with yellow and green on the tips. He wasn't quite sure where he was, but he was
flying. Actually flying.
Feather had never flown a day in his life. But the probability that he never would didn't seem to haunt him as he slept soundly. Had he been given the choice, it was likely that the poor boy would never want to wake up again. But he did. In the most unpleasant and agonizing manner.
______Someone was thrashing about in one of the cages across the aisle. Feather opened his eyes just in time to hear the uproar of commotion from the other residents.
______Feather rose to his feet to see what had happened--but only his front end cooperated with him. His back legs and tail lay on the cold metal floor. And no matter how hard he tried, they would not budge. Pinky panicked. Help! he cried, shoving his nose through the bars in earnest. Somebody help, please! My le... My legs don't work! But not a soul was paying any attention to him. All eyes were focused on the cage directly across and three stacks up from Feather's.
______Did you see that? the sickly and mutated pets whispered to one another.
______He scratched himself, I told him not to scratch! It only makes the virus worse! Povre ragazzo!
______It's not the itching, old man, it's the virus itself!
______It makes you go insane!
______Can anyone see if he's still breathing?
______The owner, get the owner!
______But the commotion of the distraught pets in their cages was enough to ensnare the mill owner's attention because he had already burst through the door. He stared in horror at his terrified stock rattling and rumbling around in their cages, and what ever it was that started the whole mess. He ran to the cage but it was too late. The Draik with the sagging wings was no longer moving. Alright, shut up, the lot of you! The creatures behind their bars and mesh wire obediently fell silent.
______Now what am I going to do with you, the man grumbled almost with annoyance as he slowly opened the cage door. He carefully withdrew the pet from its container, but Feather could not see it. He could only catch a glimpse of a single, tiny wing that hung like a limp rag from the man's arms.
______After the man disappeared into the back room, the other pets began to murmur to one another again. Shame, they said. He was so young, they grieved. I'll probably next, they muttered with bitter hopefulness. An atrocity.
______A short while passed before the mill owner returned with a bucket of soapy water and a sponge. He stood up on his toes and began scrubbing the inside of the now empty cage. Feather, feeling light-headed, subconsciously let out a droning whimper. The large man looked at him and smiled. It's okay boy, you'll be okay. But his grin was erased in a flash when his beloved Pinky took a step forward, without the aid of his hindquarters.
______The water sloshed across the floor when it spilled. Feather wheezed when the man snatched him so rigorously. Before he even had time to look around, Feather was placed on one of the metal tables in the back room. A light from overhead blinded him. He squinted into the harsh light and lay very still, not certain what to make of the situation.
______Here Pinky, the man said as he rolled over a silver box with numbers and buttons and a screen and flashing lights. This ought to make you feel better in no time. The man pricked a needle into Feather's arm. But he was too weak to fight it. The needle was attached to a tube which ran from a bag full of what Feather suspected to be water. The man then tried to cover his nose and mouth with a plastic mask, but Feather wasn't into it. He growled a little and diverted his head from the man's aim. Come on, Pinky, if you don't let me help you your kidneys'll go kaput! Feather had no idea what in Neopia the man was saying to him. But he was tired. He was so tired. The man hesitated. He leaned down close to Feather and gently stroked his nose. You and me, we're supposed to be together. I swear, the day you hatched, you looked right at me and picked me. Everyone wanted you. I didn't want to sell you. Feather could see the moist sparkle in the man's eyes. Then his little bald head lolled onto his shoulder. Now, we gotta fix you, fix you all better. The owner was finally able to put the mask on him.
______Feather breathed deeply. He felt calmed from the warmth the lamp was giving off. And through the bright glimmer of the light he could see on the next table the shape of a sleeping best friend laying in wait. Toughwing... Feather gasped through heavy but aided breaths. Toughwing... you came... to save me... He smiled. And he closed his eyes and fell fast asleep, yearning to return to his dream.
______But he never did. The last thing Feather saw was the dark abyss between sleep and death. And then he was gone.
Chapter 4
Going Home
______
The old man, aged and creaking at the joints, shuffled into the T.V. room and sat down in his favorite, green-knit chair. He smiled happily and looked around him and all that he had acquired over his long and remotely successful life. Scholarly books, books on physiology, biology, ecology, bacteriology, botany, psychology, all of which he read to himself and never took a class for. He was a self-learned man, and very proud at that. He turned on his prized lava lamp which immediately jumped to life. Grunting from a pain in his hip he leaned into the cushioned back of the chair.
______You know some folks started building a home over that old place, he said aloud. A summer home, they say... beautiful location. Beautiful location. And you know I kept every letter they sent me. About tearing that place down. ...Not that there was much to tear down. Couple of trailers... a few cement blocks... That place they're building has its own name, it's so big. He reached up and rubbed his balding head with twisted knuckles on a leathery hand. But we said no. No sirree, no way no how mister.
______And, and, you know, you loved that place. He waited for his mysterious conversation partner to reply. Oh, pfft, don't lie, now. You loved it there! Maybe the food wasn't so good, but... eh. Stiffly he reached into his back pocket and pulled out a withered packet of smokes and some matches. Lighting one, he puffed for a few silent minutes before starting up again.
______You remember, he said with a wry smile, you remember what I did with that first eviction notice? Tsss! Right into the fire place. His yellow grin slowly faded and the old man grimaced. His lower lip twitched unpleasantly and he wiped a spot of saliva from the corner of his mouth with the back of his hand. And then, you know, those letters from the public... Garbage, all of it. His eyes scanned the air in front of him as though he was flipping through junk mail and angry, hateful letters as he often did in his younger years. Every day they would come, letters from the public about how poorly he treated his Neopets in those trailers... But he knew, he knew he was doing good for them. He gave them a roof over their heads and food in their bellies. That's all they need, those stupid little... Except one.
______The twisted look of anger slowly ebbed from his face as the old man fell into deep thought. There was one that he paid close attention to. You were something else, he grumbled quietly.
______He turned around in his chair and smiled up at a grotesque, stuffed monster that hung from a polished cherry wood plaque and smiled down at him. Ain't that right, Pinky?
Chapter 5
Awakening
______
White light flickered in through the windows... one, two, three, four, five, then a hideous crack that shook the house.
______Lightning flashed again: one, two, three, four--KRSSCHGUNNNG, roared the thunder in response. The storm was getting nearer. The man remained still in his favorite green knit chair, staring at his favorite lava lamp which sat inside the fireplace beside him.
______He groaned, his back creaked, and his lungs wheezed as he made his way into the chair. He smiled up at his trophy: a featherless Draik hanging from a plaque on the wall. Wiping his nose with the back of his hand, he situated himself most comfortably. And then he fell asleep.
______Lighting flickered in the sliding glass doors at the opposite end of the house... one, two, three... thunder boomed. The storm was passing quickly. All was well. All was quiet.

______From within the house a cuckoo clock chimed twelve. The entire home was still with death. In the sitting room sat the old man, entirely abandoned of life. And as the last ounce of breath left his lungs, it was immediately stolen with a gasp.
______On the wall above the old man's head, the taxidermy stirred. Its cheek, sewn into a bright smile, twitched. Then its neck. And finally its entire body pulled to and fro in frantic jerks.
______Its hands and feet were nailed into the wood, and still it struggled to free itself. In an explosion of thrashes and grunts, the plaque fell to the floor, and off fell its occupant.
______The pink and bare Draik's back was caught in the vapid glow of the lava lamp. A black painted 'X' shimmered when it moved. The creature's dull skin wrinkled grotesquely as it turned its head to see... to try to see, with those plastic, painted eyes.
______WHAT! it shouted into the dark. It grabbed at its face and felt its barrenness. No feathers, no down. Just skin. Just wrinkly, dusty skin. And eyes? It reached for one of its eyes and tried to pull it off--in case its own eyes were still underneath. ______It slipped its little fingers behind the plastic. Nothing. It could feel the eyelids were sewn shut, tight. It groaned in agony.
______What... What have you done, it said quietly, desperately, in hopes of an answer. But it knew none would come. Lightning and thunder invaded and shook the little room on its foundation. WHAT HAVE YOU DONE!

______Staggering through the hall, the pathetic Draik examined his face, his body. Stitches... stitches everywhere. He was stuffed. He was stuffed and kept in that old man's home, that old man he had once thought to call 'mom'. Then he stopped.
______His plastic, orange eyes stared off in different directions on either side of his face. Then he whispered softly and kindly, ...Toughwing? Something brushed past him. The creature bolted in fright. He rammed headlong into the wall in a fury, cracking and denting the paneling.
______He winced. ...But the pain didn't come. Straightening up, he felt his head with his hand. A little dented... but it didn't hurt.
______...It didn't hurt.
______Slowly, a light chuckle escaped him. Within moment it escalated into a hearty and dirty laugh.
______Can't feel a thing... he smiled smugly to himself. Toughwing returned to his thoughts and his smile dropped into a frown. Impervious to physical pain... Sitting down, he hunched his shoulders sulkily. The little fleshy stalks of what were once his wings drooped behind him pathetically. He thought for a moment.
______I can't believe he just left me there, like that... Like this! He gripped his toes consolingly but the rusted nails jutting through his feet pricked his leathery hands. Augh! I HATE THIS! he shouted into the desolate night.
______Toughwing, he grumbled sourly, mulling the betrayal of his best friend. Toughwing, you hurt me back there. Real bad. He sat for a long while, plucking blindly at the shag carpeting around him. He must be so smug with that grand span of wings he'll have by now... I can hardly move mine. The little creature attempted to flex his featherless wings. They cracked and crinkled, and a thin layer of dust shed from them when they moved. It didn't hurt, but it was not a pleasant sound. He has no idea. Suddenly, the Draik giggled. He has no idea I've come back. And he'll never know what's coming to him...
______Lightning flickered and thunder boomed. Inflicts threw his head back and let out a hideously joyful cackle that reached every corner of the run-down house and beyond.