MY STORY
It was a long time ago. Snow was getting heavy fast. I was pacing myself as I saved my energy whilst looking for a place for shelter. Before I knew it, it was not just a rain of snow but a blizzard. My feathers felt stiffened, my body weight bringing me down. I was a Fire Eyrie then and should have been immune to the cold weather, however as the storm raged on, my colours, as it did.. seemed.. to fade. I had no luck.. so I seeked shelter under a huge tree.
I waited and waited for the storm to pass, not realising the extreme change in the colours of my feathers. It must've been a few hours as I had fallen asleep. When I woke up I was in front of a brightly lit fire place. An electric blanket covered my body. I looked up and all around me, just to see a well cooked meal on a table. "Are ye alright there? I hope the blanket and fire will help you warm down." I looked behind me and saw a human. My clan had always talked about the humans, that they would take care of us neopets, where some would leave us abandoned in this place called the 'pound'. She seemed friendly. So I replied "Yes I'm fine thank you. But please, do tell me where I am?" She responded "My house, I found you out cold under a tree in the middle of the neopian woods. Don't you know blizzards are at their peak this time year round?"
It was true. I had known the weather changes would be this harsh. But my clan had been seperated in the wind and thus we had to go our own ways, on foot where the ground was as cold as ice, our toes frozen my the snow caught in between them. "I apologize for the trouble I've caused you. I will take my leave now. Thank you for your hospitality." I turned my head, got up on my feet and headed towards the door. "There's no way you'll be able to even get out without the wind thrusting you to another direction! I really do insist you stay, at least till the blizzard's over." The human rebuked, as though meaning to care for me, a stranger who just happened to be out unconcious during a blizzard.
I was really glad I was invited into this human's home, but felt I'd be a bother to her. "Don't worry! I live alone here so I really wouldn't mind your company." She said, as though reading my thoughts. "Well.. thank you. I'm very grateful." I said with my eyes closed, slightly bowing my head in approval as all the Eyrie's of my clan do to our elders or respected. "May I know.. your name?" I asked unsure how she'd react to a stranger asking her of her identity. "Oh dear I'm sorry, I must've forgotten my manners! My name is Kyashi, Kyashi Flame." She responded in an apologetic manner. "It's nice to meet you, my name is.. Igneous, Igneous Eyriol."
Thats how we first met. The blizzard lasted for quite awhile, perhaps 12 hours? Dinner was served and we talked about our pasts and about the daily happenings in neopia. It was not until Kyashi asked why I had a name of fire when I was as white as snow, that I realised what the blizzard had done to my coat. I was shocked when I rushed to see myself in the mirror. There I was. From a Coal coloured creature with flames the beauty of a dancer, to a plain white coloured Eyrie. Colour no different to the snow which had tried to take my life earlier this day. It was as though the blizzard had frozen time itself and had taken a hold of my life. I despised this colour! Of most colours in fact. I took pride in what made my name mine. Igneous! Like the rocks formed after an erruption with the most hottest Volcano. But it was all gone.. my life had taken a turn for the worst.
Igneous.. please don't feel too bad. White is the colour of purity and of the most blessed creatures." said Kyashi trying to comfort me. I looked at myself one last time in the mirror before I turned to face her. "But.. without my flames, my colour.. the Eyriol clan will fail to recognize me and it will be hard for me to ever return to them again.." I looked at her facial expression, I could tell she was lost for words. It was after a few minutes of silence when she said this. "Igneous Eyriol. If it would suit you, I am willing to take you and care for you all your life and mine. Please do not feel bad, for there are these people called friends who will always be there to help you in times of need." She spoke in the most formal way.
I was amazed by what she had just said. Was she really serious on this? Though seperated from the clan, I felt my heartbeat quicken as a smile grew on my face. My wings felt better. The stiffness in them and my body started to fade. It was as though the kindness from this human.. no.. Kyashi was warming my whole body melting away the frost. I stood there in silence, but with the obvious on my face. I wanted to live with her. I wanted to live with this girl who had been ever so kind to take me in, a lost stranger. She smiled back at me, picked me up and sat me on her lap, her arms around me. This was the first hug I've had all month. And the first hug I've gotten from a human. After a few months we decided to move out from our little home in Neopia Central, to the newly found Shenkuu. Over this time I've learnt many things. Kyashi taught me how to draw and play the violin. We bought the instrument from the Neopian Plaza's music store just before we had set off to our new home. I have grown quite a lot since then. My fringe has taken different shades of white, and has grown almost long enough to cover my eyes. I've been performing violin solos in concerts neopia wide and have gained many fans and friends. It's amazing.. to think what a little blizzard and wind could do for an Eyrie like me.
ART - Drag to pics address bar for full view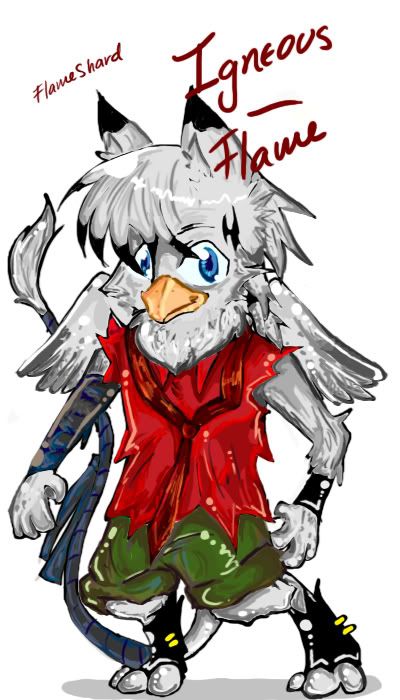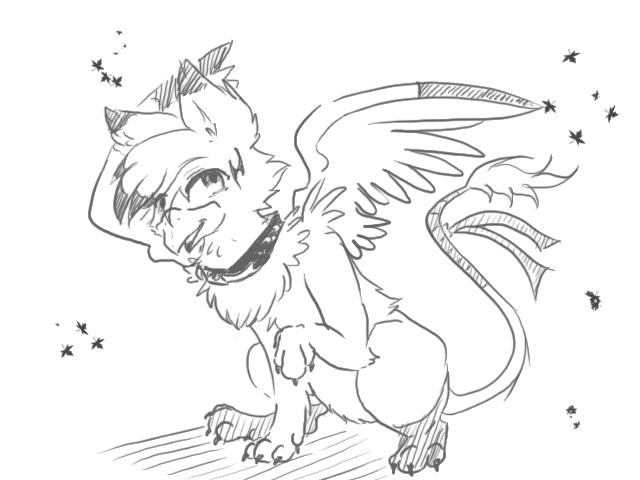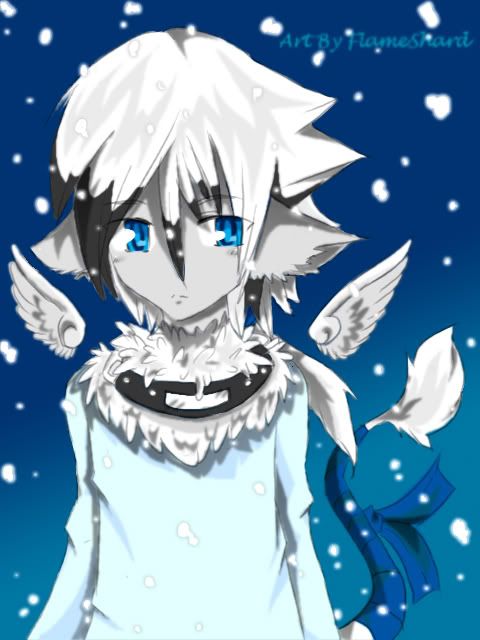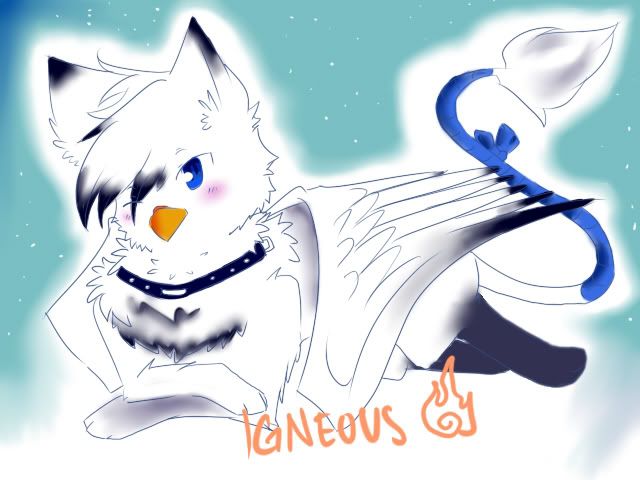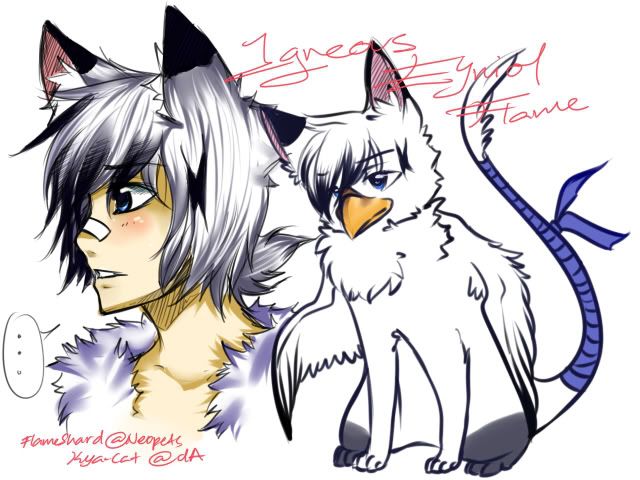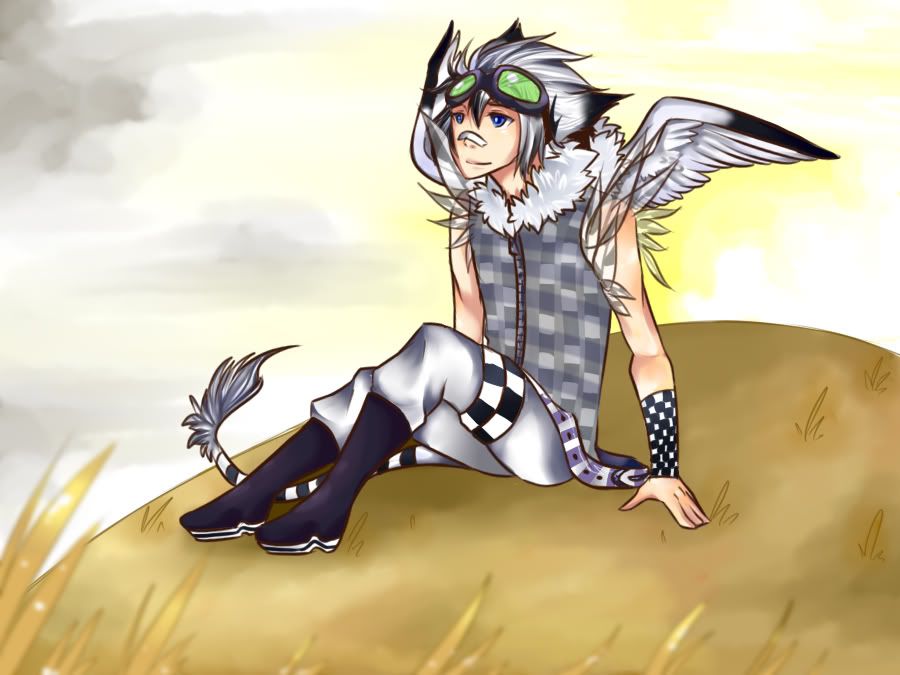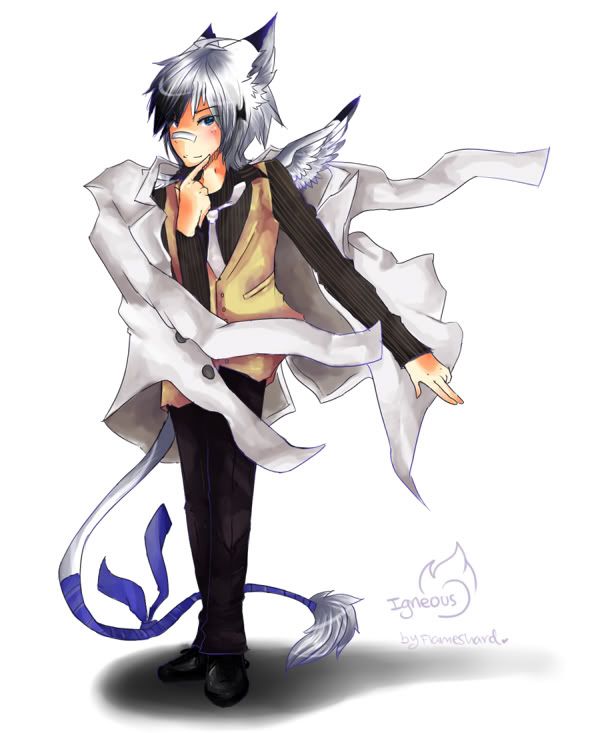 Vote for me in the BC? Click my entry then~ No entry at the moment
Gifts to Iggy