Who is Acele and what is her Arcade?
I'm Acele" someone said as they turn around from a game of Meerca Chase.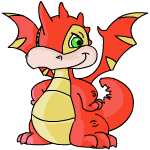 There in front of you stands this friendly looking Scorchio who goes by the name of Acele. "What brings you to my Arcade today? Are you up for a challenge? No no
DO NOT
mention that name. AAA is not the "Games Master" and he knows it. I AM!" *she starts to get angry* "This Arcade is
MY
Arcade and that is because
I
am the champion gamer, and I love to issue challenges to people like you who come around. Of course, you will never beat my score, but here I allow you to compete against some of the best in Neopia, and also throw in some extra twists in the game that you must beat in order to prove yourself. If I'm impressed with your ski1l before the next challenge begins, then you will receive quite the reward.