*
* Whale in the haunted woods you stumbled across
some glowing lights. You were curious so you followed
them. But suddenly they disappeared. Having no clue
where you are you just kept going forward. Then you
see the lights again having no clue why you followed
them in the first place you stand silently. The lights
get closer and closer till you see the creature that
those lights belong to. It looks at you as if it never
saw a human before. It stepped out further into the
moon light as if it wanted you to see it. The
creature stood there staring at you while you stood there
staring at it, both with the same confused and
curies face. The creature appeared to be some sort of wolf,
with only 2 toes on all 4 paws. Its eyes glowed red
and its rear was nothing but bones except the paws
which had some skin and fur. there was 2 claw mouth
things coming out of the part of its body with some
bones coming out of its front legs and one on its
back. It lifted up its head and in a semi evil girls
voice it says. Can you speak? You look at it and shake
your head yes. What is your name, it asks. You reply,
my name is yellow_hello_yo. You manage to get brave and ask
some questions.
*
are are you a wolf? yes i am what are you? a human. hm
never herd of your kind befor. are you evil? HA HA you
make me laght human yes yes i am evil but to me evil is
another way of saying live. live? dont you know evil
fliped is live? no no i did not know that wate arnt
you dead? no no i am alie. o did not know that eher
um ok!
pic by Littledragon1800
do you have a
family? yes well thar not blood related but i consiter
them family
pic by Littledragon1800
my good frend Paradise
as i call him travels all the time i tend to folow him
but i like living in this forist the best he is kinda
shy but i think he loves my compiny sins i see him
smile when he is arond me he never talks much ehre but
i love when he talcs it mack me fell even wormer insid
than gust being next to him *blush* and he is the father of my pups
pic by Littledragon1800
arora is the yungist
of my family and is vary nose. she travels alot but she
loves living with her frend in the hinilayas. thow she
can get on my nervs but i still tolerat her.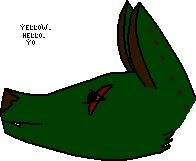 my cusin lukey
jazzyboy my first little bro i have ever had he is prity cool he loves music and is a vary good singer he dus not rely care whar he lives becus he is a robot
linoone is my cusun he is a magishin hes prity cool and likes to use pepel for his practis
lX_huli_Xl or prisum which ever you prefur. he is my brother and is kind of a skechy caricter is he good or is he bad or is he good with a bad to the bone aditod, i think the last one. he is vary small and looks like a fox and never say ranbos are for sisys around him or you whunt be brething for vary long but besids that he is vary nice and whiys surprisingly. he is vary layd back and liks to gust chill he loves playing whith my pups when he comes over.
do you have frends? no i dont haveany frends.
you got no frends arnt you lonly. no i am not
lonly iv still got my family.