Hello poor defensless creatures of the night Don't be afraid of me and my teeth Okay? I only bite so often...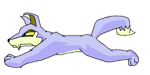 Look at him go...joy







Would you like to know more about, winterrosedragon, my friend/owner? You should Neomail her she would like that alot we dont have many people who like us these days... Who knows, you may even become Neofriends or join our guild Celestial Moonlight.Hey it was worth a try.







Many exploits of lupes are recorded in the great big book of lupes, including my life story well ok im not so sure they know about that but in just a few minutes you will...("Rearina? Rea come her child" I soflty commanded my young daughter"Dont travel off to far now I have to go deal with some pesky chias ill be right back and when you get home dinner will be on the table" Honto stammered through his frozen lips patting the child on the head the wind blew when he stood up then all he said was"I love you Rearina...." He was not only done with slaying half of the pestering chia Thieves when he heard a shrill cry from behind him it was Rearina!"Rea?!? I'm comming hold on" he shouted but when he got to Rearina all that was left was her limp body and blood stained snow that's when he saw him the one who killed his daughter, it was a skieth but not just any skieth this, was the king of Meridell."Why.." Honto stammered out as he slumped down beside Rea's limp lifless body he held her in his arms and as if magic were trying to give her one last chance her heart started beating again.."Daddy?" she said in a daze "What happened"She managed to say in the course of a monsterous pain"I'm sorry Rea" "sorry for what Daddy" she said in more than a childish statement than a question then her heart failed her the final time then for hours HontoKurayami sat there and wept upon his only daughters death and to himself swore that he would have his revenge on Meridell later that week a ceremony was made honoring the young lupes for bravery to fight death,that day and the following month was spent in anguish of his lost child eventually though the people went on with thier lives and forgot about Rearina this drove Honto mad he went through the town killing everyone in sight but making sure to let the parents watch thier childrens slow painful deaths as he did watch Rea struggle to keep alive he had been a mystery wolf who lived in hiding until he stumbled on Kikario's doorstep in a chill winter night they took him in to live with them and there other pets that was the start of his bond with winterrosedragon that has lasted ever sense...) Only things you need to know about me...and if anyone from Meridell sets foot in my home they will lose thier life...
NameHonto
Gender Male
Age 36
Work Spy for Darigan
Children Rearina~deceased age5
Anger Tolleration Not to good...
http://odur.let.rug.nl/~kleiweg/EdwardScissorhands.mid
NEOPETS, characters, logos, names and all related indicia
are trademarks of Neopets, Inc., © 1999-2013.
® denotes Reg. US Pat. & TM Office. All rights reserved.
PRIVACY POLICY | Safety Tips | Contact Us | About Us | Press Kit
Use of this site signifies your acceptance of the Terms and Conditions