Night Light – Sleater Kinney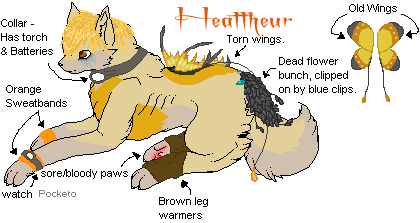 Intro:
A shiver runs down your spine.
You're not quite sure what's made that happen, but you have a few guesses. The mall you're walking through seems... Barren, abandoned to put simply. Most of the departments have the shutters down, a few ajar slightly. A lot of the in-store lights are switched off, but the ones overhead remain on.
Other than your own footsteps, there's no other sounds. Your footsteps and the sound of a breeze, a wind more so, passing through the ghostly halls.
As you walk past a few more stores you see a single door open, the blinds of which are down. It's one of those fast food places, but it's better than nothing.
You wonder inside, looking around. There's no-one behind the counter, or waiting to order.
Actually, there's only one person. A young lupe, in her late teens. You quietly walk over, noticing that she seems to be asleep.
Her arms are crossed on the table, her head resting on them as she breaths quietly. One side of her face seems like it's stained with tears, and her overall look seems a little distressing.
She looks thin, her ribs showing. Her hair's a wavy mess, and her fur looks grungy and dirty. Even her wings, which looked like they once had the same appearance of those of a butterfly's, are torn and tattered.
Without you making even a sound, she seem to stir from her sleep, hazel eyes opening slowly. Your sudden appearance doesn't even seem to startle her in the slightest. Rather, she looks a mixture of relieved and disdainful. She keeps an all about exhausted look.
-Must, finish...-
::Personal Information|
General
Alias
:
Heattheur
Name
:
Heather Mason
Age
:
17
Gender
:
Female
Species
:
Lupe
Mother
:
N/A
Father
:
Harry Mason
Siblings
:
None
Status
:
Taken.
Residence?
:
Limbo Between home... And Hellish 'Other World'
Occupation
:
Student
Appearance
Figure
:
Thin. Other than ribs and bones showing a bit, she seems to be... Healthy?
Eye colour
:
Amber
Eye Extra
:
She constantly looks tired, with it dark under her eyes. She usually is tired.
Hair Colour
:
Dirty Blonde
Nose colour
:
Light Gray
Main Pelt Colour
:
Light Grayish-Gold
Secondary Colour
:
Light Ash
Markings
:
Gray-ish Orange, blue (Tear marking), bloody paw-pads
Accessories
:
Orange Wristbands, watch over left wristband. Black Collar with Torch built in.
Wings
:
Torn butterfly-like wings, orange, yellow and black.
::Likes & Dislikes|
(I really need to code this... And add more to it DX)
o Literature
o Shopping
o Her Father
o Supernatural Stories
o Chocolates & Cookies
Dislikes;
x Hospitals & Nurses
x People Insulting Her Father
x The Order & Monsters...
x Mirrors
x Fire…
::Family|
Father;
Harry Mason;
I didn't exactly have, a normal birth.
But my dad, Harry, was there for me since day one, every step of the way.
He took me in, and raised me as if I was his own daughter. Well, I am his daughter, really, but you know what I mean.
Dad took care of me on his own, I never had a mother figure on the picture, but he was all I really needed. He raised me well, and did a good job. He's proof that a single parent can bring up a good child.
Well, I know I haven't been the best person in the world... But I could have been a whole lot worse.
He's always been very resourceful, and just knows how to survive, especially after all that's happened. I love my daddy, and I know he'd take on the world for me.
::Friends|
Xom;
I don't even know where to begin about Xom...
I feel like he's one of the only sane people left...
::Enemies|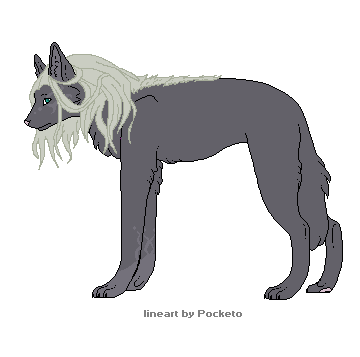 Claudia Wolf;
My own personal bringer of hell...
All of this, it's all her fault. She has some, sick twisted belief that her so called 'god' will bring about paradise.
And of course, I have to be involved, don't I?
I'm not co-operating with you, Claudia. I'm never, ever going to forgive you for anything you've done.
... She's just a heartless witch. She's seems mysterious, and dark... But mention one thing against her belief and she'll kill you in cold blood.
I hate this woman with every ounce of me I am. My
perfect
enemy... Typical.
::Acquaintances |
Henry;
Henry's a real hard guy to describe, I guess.
He's kinda been through some of the things I've been through. Kinda. We've both seen what hell Silent Hill has to offer, and we've both seen people die.
He comes off as an anti-social fella, so not many people seem interested in going near him. But he's actually just kinda, really shy, in a weird way. Without any form of blushing, or skittish-ness. It's just something with people. But he'll still give you a nod as he passes you out of courtesy.
He seems to prefer watching, I mean, he's even a photographer. He's got a fine eye for capturing what not many others see. If you don't know the type of guy he is, you might mistake him for a stalker. I know he was watching someone in the building he lives in through a small opening in the wall, but it was perfectly innocent. He just kept checking to make sure she was okay... Though I don't know if
I
believe that story.
He has this, sort of, selflessness. He tries to help a lot of people he meets, even forgetting about his own well being. It's like, altruism I think someone called it.
I dunno. He's a weird guy. I don't know much about him over all. Though it seems like it.
::Love|
::Petpet|
::Adoptables|
(Not very Silent Hill-ish, but oh well...)
(Please note :: I give away adoptables randomly. I just really like to do that with new sets. However if you want to return the favour, I always love getting adoptables for Rolandz.)
♥ - Do not claim as your own, edit, or enter into contests of any way/or form.
♥ - Be civil. I can reject requests.
♥ - No stupidly complicated designs. If you must, you'll be forced to make it a trade.
♥ - Add ons are fine, just... No extra heads.
♥ -
If you have your own set open, be kind and request a trade.
♥ -
Mail Fonon with your requests.
Please have the title Valtiel for a request.
Please have the title Pendulum for a trade.
READ THIS. This helps me keep everything in order.
Status;
Requests:
No.
Trades:
YES.
To Do
Requests
Beauclerc
Ricoxetson + Faultful + Caalo
App Pet
Trades
None
My Lupes
Heattheur
Rolandz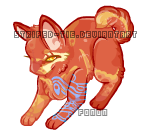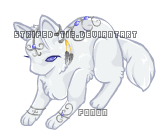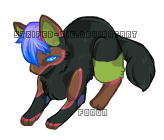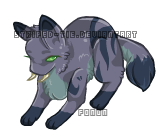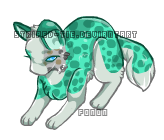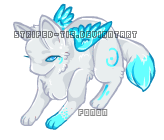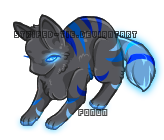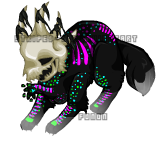 Canhdi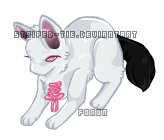 Kepru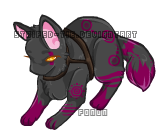 Ahunka
__Trixie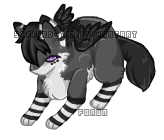 ::Link|
::Page Lyrics|
Oh little light
That shines for me in the dark of night
Oh little sigh
Sometimes I follow you all the way home
I would almost have to ask you
I hate to be led
So give me a spark I can look for instead
How do you do it
This bitter and bloody world
Keep it together and shine for your family
How do you do it
With visions of worst to come
Live in the present
And spin off the rays of sun
Oh little beam
Splitting the fog and the dirt in between
Oh simplify
Like a problem you try to work out in your mind
I would almost have to ask you
It's clumsy when said
So give me a spark I can look for instead