Oh, hi. What's new? The name's HannahCopy100. Basically I'm the coolest cat around, and you should totally invest in my–
Oh, for the love of– Hannah, move, I'm narrating this page.
No. That's boring. You're boring.
Look, I told you, I'm letting you have annotations. Isn't that enough?
Fiiiiiine.
Sorry about that. The name's fireblaster1000, and this page is here as sort of a guide to HannahCopy100, her friends, and her ridiculous enterprises. A cast page, so to speak. Since it's her page, why don't we let Hannah herself go first?


---

HannahCopy100: A born leader; constantly thinking up schemes to get rich, get famous, or just get into trouble. She's actually pretty clever, but don't tell her I said so, because she holds herself in high enough esteem already.
Hannah's Notes: Yeah, I'm a genius. Not gonna deny it. Also a Battledome champion.
Meneither's Notes: For your own sake, don't listen to her talk about herself.


---

meerkar45: Possibly the youngest member of the group; definitely the least mature. He still holds the boundless enthusiasm of childhood, but unfortunately he also holds its gullibility. Pretty much does whatever Hannah or Meneither tells him to.
Meerkar's Notes: Okay, so I'm not as smart as them. Big deal, at least I know how to have fun.
Meneither's Notes: I mean, I still think of him as a kid. It's hard not to.


---

meneither000: He's a good guy, but he likes to hide that fact under snark and sarcasm. Frequently Hannah's co-conspirator, but he tends to distance himself from her most absurd schemes.
Hannah's Notes: He's pretty cool. Maybe not quite as cool as me, but he's in the same order of magnitude.
Meneither's Notes: It comes from 'me neither,' not 'men either.' You'd be surprised how often I have to tell people that.
Meerkar's Notes: He's a smarty-pants.


---

Ultronius: The newcomer on the scene. Hannah bumped into him in the Battledome the other day, and she convinced him to join one of her ridiculous plots. Despite his appearance, he's rather reserved and well-read. Recently, he's been experimenting with the Lab Ray, so he may not be a Mutant Chomby any more...
Ultronius' Notes: I think Hannah was expecting me to be a brute. Frankly, if I saw myself on the street, I'd think the same. Oh well, it's water under the bridge.
Hannah's Notes: I'm a big fan of this guy. Two thumbs up.
Meerkar's Notes: He's so strong! He's like a mountain that's alive, and also a Chomby! Except for when he's not a Chomby.


---
Former Team Members:
---

cutecollar50: The one who started it all. She was the one to first unite the group, a bit like Hannah but with a better grasp on reality. Then she decided to try a solo cirⅽumnavigation of Neopia, and I think ended up moving to Lutari Island? She's off doing her own thing now.
Meneither's Notes: Yeah, I'll be honest, I miss cutecollar. This planet is out of its gourd, and she was really the only pet I know who could rise above it.
Meerkar's Notes: She left before I got here. That's... wow, that's a long time ago. Wow.
Hannah's Notes: Yeah, I, uh... sort of looked up to cutecollar. She was cool. Hey, uh, don't actually put that on the page.


---

Slashe1: A prankster if there ever was one. There was nothing Slashe loved more than causing havoc, especially against Unis, who he derided as universally vain and insipid. His mischievous nature led him to get along brilliantly with the group, even in the cutecollar50 days, but then some large-scale prank went wrong and Slashe went into hiding.
Hannah's Notes: Man, Slashe was the best. You could offer to do any sort of dumb heist and he'd be up for it. He had like no conscience. It rocked.
Meerkar's Notes: I was probably better friends with Slashe than anyone else. He was always nice to me, he never sent me into dangerous tombs or anything. He was a good guy.


---


All right, all right, the boring cast page thing is over. Hannah time. Look, I bet you're all wondering, what's in all these caverns and tombs and creepy things across Neopia? Like that tomb in Altador, what's up with that? For only a small fee, say 10,000 Neop–
Yes, Hannah, we get it, you're a fancy explorer. Nobody's going to give you that much money.
Ooh, can I talk here?
Get out of here, meerkar! You have your own page!
Hi, guys. Mind if I join in?
Look, I promised the guy who owns the studio I'd only be here for half an hour–
Oh my god.
Hannah, you have to come see this, some sick person painted his pet Strawberry.
Oh, ew, really?
All right, I'm going to wrap it up now. Catch you on the flip side.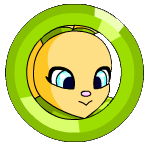 This page was made with
Usul Power!