Suri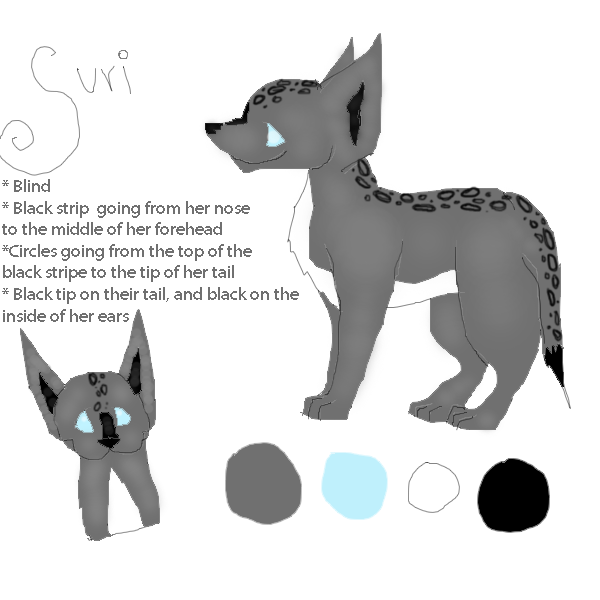 Name: Siyah
Call her: Suri
Gender: Female
Age: 120
Mother: Mavi
Father: Yesil
Deformities: Blind
Personality: Shy and quiet, Suri is normally the one to lay low and not speak. Although her tribe members treasure her greatly, she still feels like she doesn't belong with her fellow wolf mates because of her lack of sight. She is reserved, and likes to keep to herself. Her closest friend is a male outside of the wolf pack, named Chess. Suri had nicknamed him Aptal, which is 'silly' in turkish. Although she is forbidden from speaking to anyone outside of the tribe, because of the secrets they hold, Suri chooses to ignore the warnings from her tribe members and continue speaking to him.
The Hayalet Tribe
Seen by humans only twice, the Hayalet tribe moves quickly and silently, blending in with the whispers of the wind. The tribe consists of 12 wolves at all times. Each wolf has a different color of spots going down their spine. The current Alpha and Alphess, Mavi and Yesil, have blue & green spots. Yesil has green, and Mavi has blue. The rest of the members have spots consisting of colors such as gray, pink, purple, gold, etc. 120 years ago, a pack member reached the age of 630 and passed away. Each wolf shed their share of tears, and then buried the elder. It was agreed that Mavi and Yesil would take the spot of alpha and alphess next, and it was their duty to bare the next whelp.
When Mavi gave birth to her one pup, everyone began to mourn. Yesil held his mate close to him as she began to cry. Their kin was blind; born with no pupils. After getting over the initial shock, Mavi and Yesil decided to name their new daughter Siyah, which means 'black' in turkish. Yesil is worried about the future of their daughter; they are afraid she won't be stealthy enough, and will be caught and experimented on by humans.
Their fears melted away though when they tested out Suri's other senses. Her sense of smell, hearing, and touch was able to lead her away from dangers, and around obstacles.
Aptal
When Suri turned 119 years old, she wandered from her tribe one day to explore the forest. Yesil and Mavi agreed to allow her to leave them for a while, because none of the tribe members sensed any disturbances around them. As soon as Suri got far enough away from her mates, she broke into a sprint and ran through the forest, smoothly dodging trees and jumping over fallen shrubbery. A twig snapped to her side and she quickly stopped, leaping behind a log to conceal herself. She raised her head, her ears twitching and nostrils flaring. Suri picked up a scent and tilted her head, hoping she wouldn't be found.
The newcomer was coming closer and closer; she could tell by the crunching of leaves becoming louder. She was about to sprint away when she heard a voice. "Wow... i've never seen a wolf with the likes of you before." the stranger said. Suri was frozen in her spot. The voice sounded warm and friendly, so there was no need for her to run just yet. "Annem ve babam beni öldürecek.."
*Mother and Father will get so mad atl me..*
She muttered under her breath. The newcomer tilted his head in confused and let out a grunt. "Pardon me, sweets, but i have no idea what you just said." he said down. The male was extremely large with brown fur and a dark gray chest. His eyes were bright green. Of course, Suri didn't know what he looked like, but she didn't care. He didn't seem bad.
Oh, i'm sorry." she said in a delicate and light voice. "I was speaking turkish.. it's the language spoken by my tribe." The male bobbed his head softly, but then quickly noticed her clouded blue eyes. He decided to speak instead. "It's quite alright, hon. Name's Chester, but you can call me Chess. I insist." he smiled and moved a little closer, but she quickly scooted further from him. "I am Siyah.. but you may call me Suri." she swallowed softly after speaking, shifting from one paw to the other. "Suri, huh? What a pretty name. So, what tribe are you from?" Suri bit her tongue.. did she dare tell him that she was from the Hayalet tribe?
Art of Suri
by others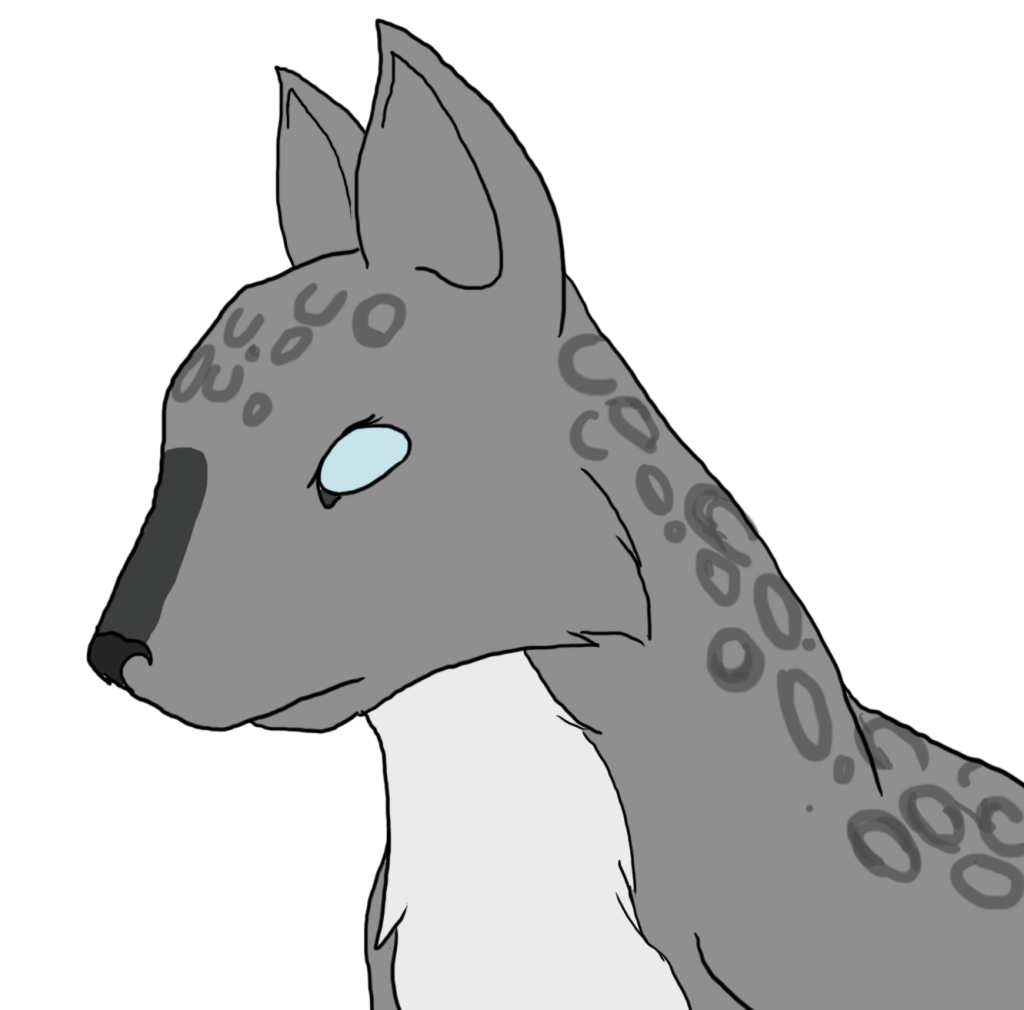 by me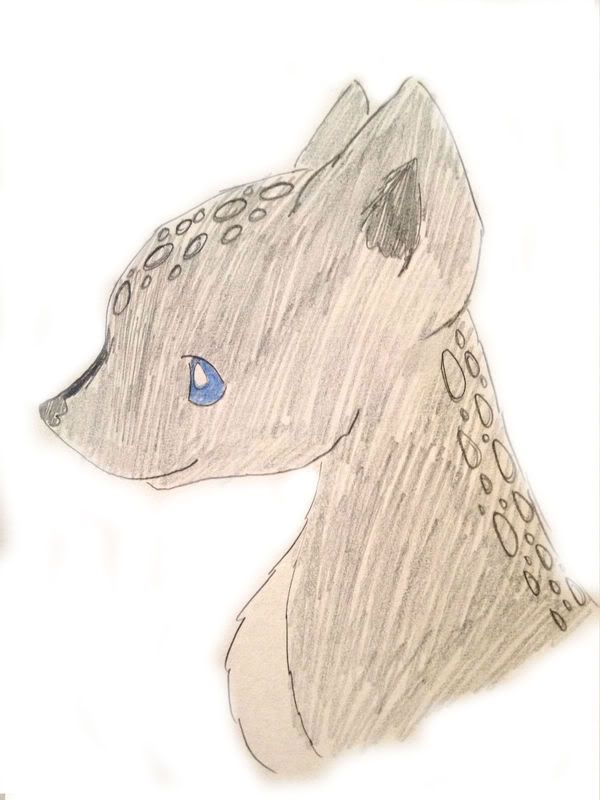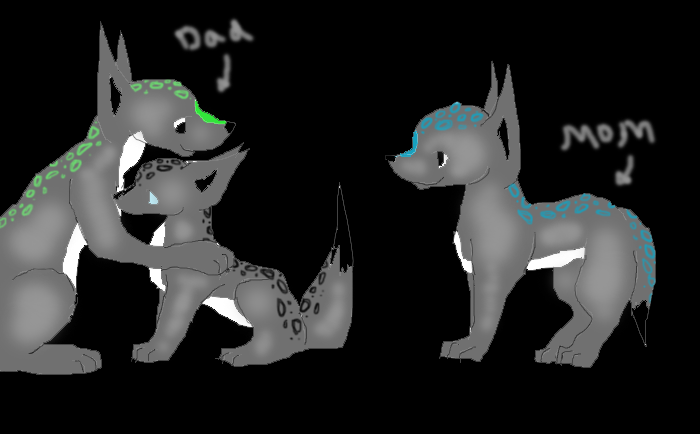 Adopted