I guess I will tell you my story from the start. Unlike most others, who are born in caves or dens, my brother and I were born in a house. Yes, a house. I know, crazy, huh? So anyway, let's keep going. My brother was born with a black pelt and I was born with a blue one. Now, my brother and I never got along when we were pups, and we still have our fights even now, but that's getting ahead of the story. You see, our mother was taken away from us when we were two days old. Our father ran her off—the jerk—and then he took us and split us apart. He had my brother on one side of the house while I was on the other side, and we were both confined to our own rooms.
He would do tests on us, mess with our DNA and such. He turned my brother into a Werepyer. (Before you ask, it's a mix between a Werewolf and a Vampire, now back to what I was explaining.) He also mixed Dragon DNA with my own, but it failed—or so he thought at the time. In being subjected to the experiments, my brother's fur changed, as did mine. My blue pelt went pink of all colors, with blue markings. You can imagine that I was not happy with that change. After a while our father brought us together again, but it wouldn't be a happy reunion. Instead, it was just to have us fight each other. My brother won, however I still to this day want a rematch. I hate losing, if it's not noticeable.
After I lost the fight, my father did something to me to make me forget everything that had happened from birth to that point. He then proceeded to put me in the pound—how I got there and who I was, I had no idea. It was then that I overheard one of the people that fed us what my name was. Overall, my life in the pound was okay, I guess. I was stuck in the same cage with other pets and I still hated my pink fur, though I never knew why. I finally got fed up with being in a cage day after day, so when they went to feed us one day, I bolted out of the cage, attacking the volunteers and leaving the pound behind. To me, I was free to do whatever I wanted, but it wasn't long until I was caught again. This time, however, I would have preferred to have been thrown back into the pound a second time. That however is another time; I'm getting ahead of myself here.
Once I had freed myself again, I came across a pack. Out of all the people that were in that back, was my brother, though at that time, I didn't know he was my brother. A few months went by in the pack, and we soon learned that we were siblings. Then another month went by and my brother soon left the pack for reasons unknown to me. Once he left, the other pack-members began to pick on me because I was different. Well, all but one that is, she never did pick on me. I however lost control of myself. I then proceeded to erase the entire pack, right down to the pups. Once I had come back to myself and saw all the damage I caused, it was then I found the mask that only my friend had. I took it and to this very day, I still possess it. I wear the mask at all times now, to remind me of all the horrible thing I did to that pack. Soon enough, I was on my own once more.
Eventually, I was caught by Dr. Sloth himself. He put me in yet another cage, of all things! I had escaped one before, just to be put into another. He carried on to preform tests on me, and refused to give me anything to eat or drink. He waited until he knew I would be forced to drink whatever I could get my paws on, and that is when he gave me the liquid. I'm not sure what it was, but it was nasty-tasting. However, it was then that I went through changes again, my pink fur turned to a purple-ish-blue, along with lighter markings on my tail, paws and belly. My blue eyes turned red and I grew the wings of a bat almost. I wouldn't know it for some time after that, but that was when the Dragon DNA my father had placed into my body began to react.
He continued to perform tests on me for three long months, but nothing else seemed to happened, and even my looks stayed the same. I finally got fed up with being a lab-rat and waited until the next batch of tests that were ordered for me—that's when I made my move. I attacked him and knocked him to the ground, he sent others after me, but their attempts to catch me were in vain. I was free once more, but this time, I didn't stop running 'til I knew I was in the clear of being caught again by his minions.
Once I did stop running, I came across another pack. I watched it for a few days, observing it before going up and attempting to join them. When I was accepted, it seemed to have a calm setting, which was something I wasn't used to. All the same, I kept an eye on one of the pack-members there; a black male with very few markings and bat-like wings. I didn't trust him for quite a while, but as time went by, I found that I began to trust him, despite myself. After a few months, I realized he was my brother. Then again after all this time could you blame me. I didn't see him growing up then when I did he left soon after. I haven't seen him since now. The pack leader knew that we were siblings. I didn't know how she knew, but I didn't care as well. After another month, he left the pack, and I didn't even get to find out why. I simply woke up one day and he was gone, with no warning or goodbye.
After he left, I only had one other in the pack that I felt comfortable talking to. My only friend, you could say. The others there would pick on me for being so different. I dealt with it for a good while, but yet again I snapped. I'm not sure what happened, really, I blacked out, and when I came to, I discovered the whole pack had died. I didn't realize until later that I had their blood on me, and that's when it hit me that I was the one who caused their deaths. Not a single one lived, not even my only friend. I then found where her lifeless body and put her to rest; I even put flowers on her grave. I then took the mask off and carved two lines on the inside to serve as a reminder of the two friends I erased.
I always wear the mask now, in memory of them. I feel I'm to blame for their deaths, so until I know I can put that behind me, I keep the mask on. I then left that area to get away from what I had caused. I kept my distance from others for a good while after that. I did overhear that my brother went back there; I also heard he possesses a necklace that was made from the blood of all of the pack-members who were erased that day. I'm not sure, however, if he knows I am responsible for their deaths.
I later decided to try a pack one more time, and this time it was a pack that went by the name 'Vlieg.' It wasn't bad, they're really not like my first pack, and then I could see my brother among the pack-members. (I swear, he's following me and spying on me.) It was then that I told him the truth of the last pack's fate, and was surprised when he simply let the issue slide as opposed to attacking me for my crimes. He then proceeded to tell me about how he now had a family, and that he was happy. I'm glad that he has a family of his own now.
I also found one of my cousins in that pack, his name is 'Vrouh,' and he can control the snow, calling a snowstorm or even something as powerful as a blizzard. (I like to call him 'Blizzard-boy,' just for the fun of it.) I then left that pack alone to try and find out more about myself. As time went on, my looks have changed yet again: my pelt is still the same color, but I know have darker markings and light blue markings as well. My wings no longer have rips in them, having completely healed, and I now have horns, which forced me to need to modify the masks so that I could wear them again.
I think it was my Dragon DNA kicking in again to give me the makeover. I, too, have a family of my own now, and I am very proud of them—Dagon is quite kind to me and our pup. I get told often that I worry over him too much, but I just don't want him to ever have to experience the same things I was forced to. I have yet to be able to allow my brother to meet my family, but perhaps one day that will happen. Come to think of it, I still have yet to re-challenge him. I wonder who would win now?
Name:
Gualae
Nickname:
Ala
Owner:
Mutt
DOB:
28th of May
Gender:
female
Age:
21 (Human years) 3 (Lupe years)
Species:
Lupe
Fur Colors:
purple, gray, grayish blue, light blue
Personality:
Nice|Lost|Confused|
Mother:
Olet
Father:
Kiaran
Brother(s):
Wolfwing
Sisiter(s):
None
Mate:
Dagontaro
Petpet:
Mutant Gruslen
Petpet Name:
Fang
~
My Likes and Dislikes
~
My Likes
1._____
2._____
3._____
4._____
5._____
My Dislikes
1._____
2._____
3._____
4._____
5._____
Dagontaro
I'm very grateful to have found him and I will never want to be apart from him. We have a wonderful life together with are son. Don't think for a second I wont hurt anyone that tries to come between me and him.
Fang is a great petpet. He gets jealous at times and wants to be the center of attention but, i love him anyway. *pets Fang.*I found him almost being some ones lunch and save the little guy. Hes followed me around since that day.
Dagontaro
He is my world. I love him and he feels the same with me. I would be so lost with out him. We have one pup together and we always make sure to keep the family save even each other.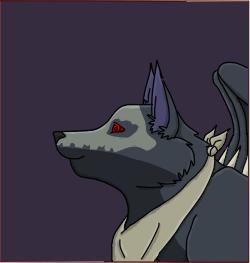 Wohq
Hes my loving son I would do anything for him. I know he takes off a lot and says I over worry about him but, its just I don't want him to go threw what I went threw. I just hope one day he will understand.
Wolfwing
hes my brother and as all brothers are they can be a pain. I do enjoy company with him even thought we have are moments wear we fight. He can be the best brother anyone could ask for. He is also the best friend anyone could ask for.
Blizzard boy
well really his name is Vrouh. Hes a great cousin and i love to pick on him from time to time. He don't really go by Blizzard boy but, i call him that. The reason he got that name is because of Manji and them. Yes their is a better reason behind it but if you want to know that ask him.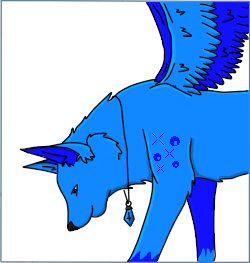 Sea
Hes been a good friend of mine for a while even when times was bad. I enjoy him around and I'm sure he feels the same with me or at least I would hope so. He know my past and didn't change his mind about still accepting me as a friend and for that I cherish are friendship.
Demon
Hes cool he showed me new ways to fight even. His sister is Soul she can always sneak up on him. It's funny to since hes hard to get. He always hears me coming that's for sure. Hes a bit unique to His red markings can disappear at his will so he can be solid black, but that's not all. He can change what the markings look like. However they always stay red.
Soul
Shes really sweet to be around. The polar opposite of me really. Odd that we get along so well, but we do. Her brother is Demon oddly enough even though the only thing they share is the black color. Makes me wonder about them.
Akiera
Shes crazy at times but I like her still. Let me clear up crazy for a second though not psycho crays or hype crazy. She can do things quickly and sneaky like to were she gets her way with things.
Ancest
Sweet little pup, she was apart from her family or well from what I get. My brother took her in he can't leave a pup behind. Normally I tease him for that. However in this case she has a spot in my heart. She lost her parents some how and wound up here. I would even go as far as to protect this pup myself.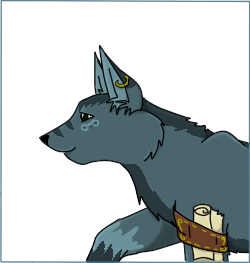 Oldoc
Hes cool I guess. Hes a pirate not something I'm used to by a long shot. He mostly has to fight to keep his own treasure from his pet so I guess that's a bit funny on its own. I don't know to much about him however. My brother knows him better though. I will put more here when I get to know him better.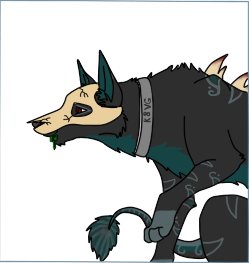 Bo
Hes another Mutant lupe like myself only no vampire/Dragon in him. He however does have a nasty bite. I wouldn't know lucky for me. His bite would end me. See that drool of his can wipe out a thing of dragons with one drop. With my DNA having dragon in it well I wouldn't do to well. However as you can guess I never been on that end. Hes nice to be honest, but you have to get to know him for him to talk to you. Other wise hes just to quite.
Rules!!!
1) No stealing them
2) No putting them in the BC
3) No taking my name off them
4) If the request or trades are closed don't ask
5) If the request or trades are full please wait before you request for one.
6) Custom only
7) Please do not take ones that are not yours
8) I can do wings better with the bat types though will do any type of tail but i will not do more then one head.
9) They will have a change to them for each holiday so if you request or want a trade during that time let me know if you do not want the twist since i wont be posting up what they look like before hand. 10) I have done more then what you see below if they was for my pets or a very close friend of mines they will not be seen below. So I will kindly ask if your going to say anyone stole my art work please ask me first. I will tell you if they have or haven't Thank you.
Please fill out the info for them below
1: I have more then one adoptable so please state what one your wanting
2: Please tell me the full name of the pet that you want done
3: Say Fang in the neomail so i know you read the rules. (with out this I will think you didn't read the rules so you will not get one sorry)
4: You Must repeat Must have a Ref sheet. Ref sheet as in one that shows all the markings not a fearal heart image please thats hard for me to go off of.
Request - Open X] Closed []
1: ___________
2: ___________
3: ___________
4: ___________
5: ___________
Trades - Open [X] Closed []
1: ___________
2: ___________
3: ___________
4: ___________
5: ___________

--------
Pick ups