Welcome to my humble manor. Care for a spot of tea? It might be the last you ever have.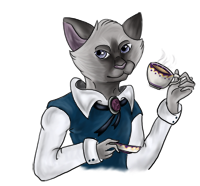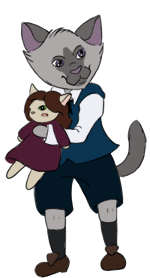 Title
: Duke Greuno of Milt
Name
: Greuno
Nickname
: Uno
Age:
12
Species
: kougra
Height
: 4ft 10in
Weight
: 80 pounds
Fur
: pale grayish cream
Markings
: Gray on eyes, muzzle and tail
Eyes
: Gray blue
Abilities
: Can turn animals and young children into toys making him one of the most innovative toy/doll makers.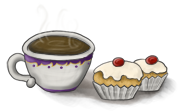 The whole room smelled of sweet tea cakes and coffee as the people milled around gazing at the many toys my family had collected over the years. I sat back in my usual chair watching the commotion. It was nauseating listening to the people comment on the ugly toys my family was responsible for. None of them were like the jewels I could create.
Around that time I noticed a lion enter the room. He was dressed in what appeared to be a long trench coat and unlike the other guests he did not look at single toy. Instead his sights honed in on me like a tracking beacon. I tried to show I had not noticed him but my arms clung tightly to Melody, my newest creation. Her sweet chocolate satin hair was done up in braids giving her the appearance of a princess as her eyes sparkled faintly in the light of the room.
Would you care to see her?
I held her out to the man but he just puffed out his chest and took out a pencil and a pad of paper from his pocket. I knew I was in trouble. I had just gotten back from school and even though I had promised myself I would not make a new toy I could not contain myself once I had seen Melody.
Is she not beautiful?
I beamed as I held her up in the light, but my hands were shaking. I prayed he had not noticed.
Don't you think a young lord playing with dolls is odd?
I watched as he licked his pencil tip.
I cleared my throat. It was a question many had asked me. The only reason I got away with my answer was because my family made toys.
We all have our strange doings my good sir. Dolls are just one of mine.
I said nonchalantly as he eyed me as he chewed on his pencil.
Listen here son, I'm looking for a missing child, a little girl. Have you seen her?
He removed an old crumpled picture which hardly looked like my Melody. My Melody was still full of life, and she would never fade away like this photograph.
No, sorry I have not. But send my regards to her family.
I snapped my fingers causing one of the servants to come over with a tray full of assorted cakes.
Here take these tea cakes to the family. Sweet things always seem to nub the pain of loss.
The man took the cakes but I could tell he was not done yet.
Well that's strange, because the butcher could have sworn he saw you playing with Melody in the park, not even a fort night ago.
He was now gnawing aggressively on his pencil. My heart started to race as I clutched Melody to my chest. I was afraid she would shout out, and before I could stop myself I was placing my hand over her mouth, but the detective paid no attention to this.
I believe you are mistaken. I only just arrived home from school this morning. If you do not believe me ask my father. I am sure he will be able to account for my whereabouts.
I could feel my throat closing, lying was so hard.

The detective looked over in the direction of my father and sighed. I felt my breathing steady. It was the fear they all had after I told them to speak with my father. He was no ordinary man. No, he was the Kings right hand and even they knew trying to gain an audience with the Duke of Milt was near impossible. Even at these sorts of functions the commoners were not even allowed in the same room as him.
So do you have any leads?
I was properly pushing my luck but I was in the safety of my home. What could he do to me?
He growled under his breath as he spoke.
No, you were the only one and even I knew I should not have trusted that stupid butcher.
I nodded my head as I sat back in my chair .
The only thing we know is she went into the park to play with her brother and after that she has not been seen since.
I see, well I am sorry I was unable to help.
I had to hold back the smile that was creeping up my face. Was, I honestly going to get away with it? Suddenly, the clock struck 12. The servants quickly began to usher people out of the room. The detective jumped when the bell rang causing him to drop his pad and paper as well as the photo of the girl. I hopped out of my chair and handed him the photo, which might not have been the best thing. His eyes suddenly caught Melody's, they were deadlocked.
My goodness she is so life like, I feel like she might be real.
He was reaching out his hand to touch her but I quickly pulled her closer to me.
Well, look at the time. I believe we have to say our partings for now. Good luck finding the missing child detective.
It was as if the trance was broken and he quickly regained himself. He got to his feet suddenly realizing he might have offended me.
Oh, yes. Thanks, I will try my best.
I could tell he wanted to get away from me because even though I was a 12 year old boy I held much more power then he ever would. Even questioning me in such a manor could have dire consequences for this silly detective.
Oh, by the way.

Yes.
His whole boy trembled as if someone had a knife to his back.
What was the child's name?

What?

The girl, the one you are searching for. What is her name?

Oh?
He sighed a sigh of relief as he placed his hands in his pockets, hiding them from the cold.
Melody. Her name is Melody.
As the doors were shut for the night I walked around the room as I whispered to Melody.
Did you hear that little one? There looking for you. I even gave that old fool I hint. I said what was her name, as if I already knew you were gone from this world.
I laughed as my father came over to me.
Did you have fun tonight Uno?
I smiled up at him as I petting Melody's head.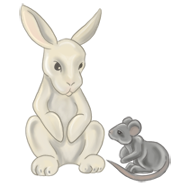 Oh yes father, more fun then you could ever imagine.
He smiled at me as I said goodnight and closed my bedroom door. Yes, making toys was the perfect job for a demon like me, no one would ever guess that the dukes only son could turn a living breath creature into a lifeless doll, which meant I would never get caught.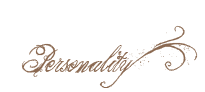 How do you do? My name is Greuno but my friends call me Uno. I am the one and only son of the Duke of Milt. I am 12 years old and I have a secret. I can turn children and furry little animals into toys. I don't know why but since I was little if I concentrate enough I can harden flesh and souls by placing there in a dormant state. Its actually pretty effective if I want to play a prank on the maids. I just go to the pond make a frog into a toy and then when I bring it back into the manor I turn it back into a real frog. Its simple and very entertaining.
Even though I love making toys and playing with them I don't get looked at oddly for this. Yeah, my family owns the biggest toy company on the whole Isle of Nor. Oh, Nor is that purplish Isle.
(Drag and drop to your browser to see full view)
Well actually, it is the only toy company since my father likes doing hostile takeovers. So I guess you could say toy making is in the blood.
I can also play the flute. I have been taking lessons since I was three years old and I am not half bad. My latest endeavor is trying to use my flutes song to get birds and animals to come to me so I can turn them into toys. So far it's a work in progress.
Over all I am a trickster and too smart for my own good. I enjoy playing pranks on people and making the servants hate me. However, they can never do anything about it since I am the Dukes son.

So I love toys but my father thinks I am obsessed. He kind of has a little bit of a point, since I am never without a doll in my arms. Because of this my father bought me Zest.
I never wanted a dog but he is perfect to use for experiments. It may sound mean but I wanted to see how long I could turn something into a toy without causing its soul to break. So far, seems there is no limit. Also if the toy breaks in any way when the toy is brought back to life the real creature is hurt. I learned this the hard way when I dropped Zest. I hid this by turning Zest back into a toy and painted over the break and placing two little butterfly wings on his back. Now he runs around with these wings attached to him. He can't flap them, they are just decoration to hide the fact that there is a scar running down his back from the break.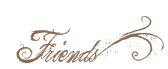 I only have one. His name is
Birzu
and he is the Prince of Nor. I kind of don't mind him being my friend but honestly he is a cry baby. He wines about everything and its hard to believe he is even a prince. His only royal feature is the fact that he can play the violin better then anyone I have ever heard in my life. We sometimes play music together whenever the castle is having a party. He has no clue that most of the presents I have given him were once real.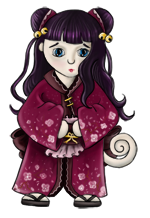 Lastly there is
Tosea
is a very bratty and hard to handle. I cant even stand being in the same room as her. She is the Empress of Tugan, a far away Isle and she has a strange obsession of wanting to always be around me. The only reason I put up with her is because she is so cute that she looks like a doll. My father thinks the two of us look perfect together and he is always inviting her over to play, even though she lives 500 miles away. Meaning she has to stay the night.

Kitrenna
is a Duchess my stupid Father set me up with. She is around my age and even though she has a cute face but, I have too much work to do to put up with her crying over how her music box is not working. Ok, I don't hate her I just hate the idea that I cant fix her stupid toy. Honestly, she is about the only girl I would consider ok. *blushes*