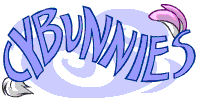 UPDATES
400 Cybunnies Listed! 400th was Mytherana, the female blue cybunny. Congrats! (June 4th)
Cybunnies Listed, some affies gotten. (June 2nd and 3rd)
Affies, got to 300 Cybunnies! the 300th was Phenomabunny! (June 1st)
One new affie, listed at 3 more places, listed 7 cybunnies! (May 29th)
I've done quite a bit, but I don't remember what! xD (May 25-May 28)
Updated Layout, added some extra stuff on sidebar, got a few affies, added some cybunnies! (May 24)
Added Cybunnies, added an affie! (May 23)
Got 1 affie, nothing else! xD (May 18)
Got to 200 Cybunnies! The 200th was Yoshiiri! :) (May 17)
Redid the layout, added more cybunnies! (May 16th)
FORM
Send me this form if you want your cybunny to be listed in this directory!
AFFIES
To be an affie, neomail me the form below!
Affies:






Pending Affies:

LISTED AT...




LINK-BACKS



REMOVAL or CHANGE
If you received one of the cybunnies listed and you would like to remove them from the list or move them to a different color, feel free to neomail me! Otherwise, I will be checking colors regularly, so I might neomail you!
AWARDS/REVIEWS
Drag to the adress bar to see the full image.

Calling to Mind
GOALS
35 Affies (Sometime in June! xD I wasn't paying attention)
50 Affies
300 Cybunnies Listed (June 1st)
400 Cybunnies Listed (June 4th)
500 Cybunnies Listed
350 Page Views(May 31st or June 1st)
700 Page Views
To Be Listed in 20 Places (May 30th)
To Be Listed in 30 Places
OTHER
Thanks to
for providing the mini neomail pictures!
Thanks to
for providing the button bases for 1 and 2.
THANKS
Hey! I just wanted to thank everyone for graciously allowing me to add their cybunnies names to my guide. Also,
none of the cybunnies are UFT or UFA.
Please DO NOT bug users by neomailing them asking if you can trade your pet for theirs!
Thanks so much Tasha for the layout and the beautiful buttons (some of them)! And thanks for all the help!
COUNT/COUNTER
There are currently 406 cybunnies listed. I have 37 affies, and I'm listed in 22 directories! Thanks for the support :)
Counter started on May 24th, and from boingdragon.