| account | customize | games | explore | news | central | boards | shops | mall |
---
Hi tuliakissa2!
Welcome to my FAQ.
A petpage that will have some knowdlegde about myself and my pets,
events, frequently asked questions, ridiculous users, etc.
Please browse through my question/answers before neomailing me.
Why? To avoid wasting both our time.

Who are you?
Well, my name is Lia, I'm from Portugal and I'm a neopian adult.
Is there a place I can view all your pets?
On my userlookup?
Your pet is a Notable Neopet!!
Please take a screenie, save it and neomail me!
It's worthless for me to know any of my pets was Notable without a scrennie.
So I'd really appreciated if you could save that moment.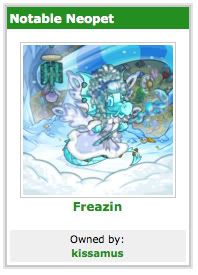 I tried to contact you but I'm blocked!
Yeah, my block list is 8 pages long. I block people who: 1. make stupid offers on my trades,
2. sent me stupid neomails and/or 3. Scam or cheat.
I won't spend my time babysitting.

You have a pet I LOVE, can we trade?
No. If you ask you'll be reported, blocked, scrennied and ridiculed.
Example below: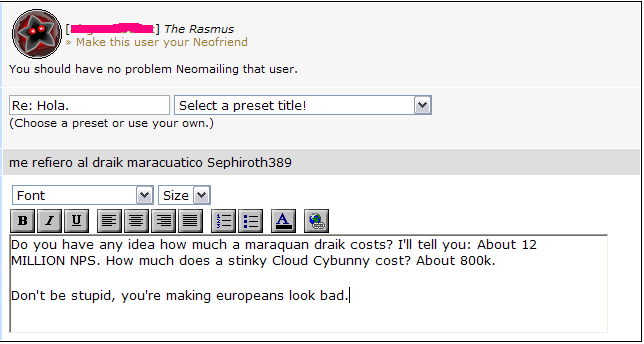 Recently I've come across a different tipe of begging:
See what she did there? She wasn't asking for Kashindra (NOT KASHI dumb Bruce!!) directly.
Kashindra has a banner on her petlookup that says she's not UFT. On my side account userlooup it says none of my pets are UFT AND on my main account which she has to pass by to neomail me it says none of my pets are UFT.

Darling, sweetie, lovely Pey, none of my pets are UFT, especially the UC ones.
Are we clear sweety pie? And it's begging to ask for someones pet in ANY way.
Just saying.
I really like your pet's petlookups'. Did you make them?

Yes, I used that guide, it's in portuguese and the best I've seen, although the owner has take it down.
The graphics were made by me as I love to make them.
Can I invite you to my guild?
No.
Can I ask you for a Premium referral?
Yes, but only if you're seriously considering it.
Here's a petpage with all of the Premium info.
Do you recommend Premium?
Yes, I can't imagine my neolife without it.
Someone has contacted me from one of your side accounts.
Be careful! I only contact people from my Main Account - Kissamus.
My only side accounts are: Liakiss, Tuliakissa, Tuliakissa2 and Kissapets.
Don't be scammed.
I was browsing through your Neocash Album and...
Let me stop you right there.
I ONLY TRADE NEOCASH ITEMS LOCATED HERE!!
Also, the amount of items I own, and the money I've spend is my business, not yours.
Just to make things clear.




You seem cool, can I add you as a Neofriend?
I only accept Neofriends invites from people I actually know or have spoken with at some point.
RANDOM ONES WILL BE REJECTED AND BLOCKED.
You're so mean!
Yes. And if I seem nice to a stranger, like on a board or something, it's not real.
Neopets has a lot of great people. But most of them must be hidden because I haven't found them. I only come across jealousy, cheating, and whining, so my defence mechanisms are up. I don't spend time on the board rubbing elbows with all the popular bruces, because I don't need to. I'm happy having a couple of friends, who won't ask me for stuff, nor take part in the jealousy party.

How much money do you have?
Enough.
May I attemp to scam you?
You may try, but you won't succeed.
Example below: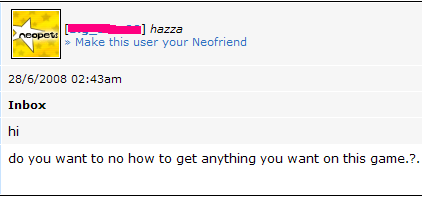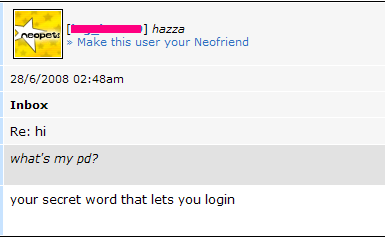 (again, screenied and ridiculed)
Haha! We were playing Key Quest and you were gonna win, so I quit and you wasted time, and you didn't get your prize! Haha
1. If you're on a virtual pet site, you HAVE time to waste.
2. Sometimes I save the username of the person I'm playing against, so if my internet crashes, I can write to say I'm sorry. Therefore, I can give the benefict of the doubt.
3. BUT if you quit on purpose:
Good old TNT says it's okay to report! Yipeee!
AND LOOK I CAUGHT ME A CHEATER!

OMG!!!!1111 I couldn't believe it. HE ACTUALLY ADMITED IT!
Easy Lia, calm down. We don't want to get reported for harassment now do we?

I just loved his honesty. Honest people are really hard to come by nowadays. Such a shame really.
I was done here. Had all my proof, was in another KQ game, but he continued. XD Poor fellow, probably contemplating the fact he was going to lose such hard to get avatars, like that active one. *IRONY ALERT*

Bruce please! I should feel bad for reporting a user who thinks he's better than everyone just because he can control the outcome of a game?

Do not think so.
Wait, there's more.

Yes, thank you! Now I feel appreciated. He finally got it!


At this point, I replied with: 'Right' and didn't say anything for a couple of hours, so I honoured his honesty by adding him to my very well attended blocked list.
*plays trumpets*
Bye Matt! Well done! Well done indeed.
May I borrow your pets/items/etc?
No.
I DO NOT LEND ANYTHING!
I don't care who you are.
How did you get that many avatars?
By training and winning them.
How did you get the 'MSPP' avatar?

With full collat.
OMG!!111 You have trophies and scores on your side !!!
How come you don't have a 'screenies' or 'about me' petpage?
Those tools can be used by cheaters to get information about you and your account. Let me give you a free advice here. In case you're frozen, the person with most knowledge about your account gets it back. Either it's you, or not.
Can I send you a nice Neomail?
Yes you can. It's always open.
I like having nice chats and getting to know more people,
I think that's a great part of this game. Example below: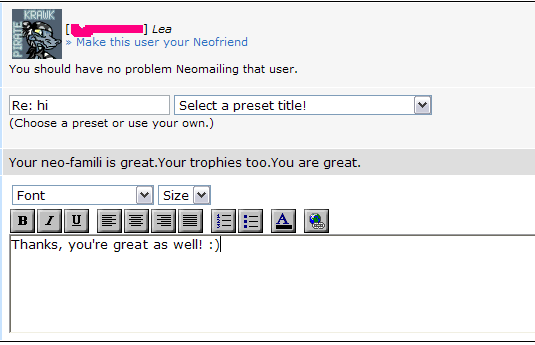 Indeed.
See? I can be nice too.

What will you do when all your goals are accomplished?
That will never happen.
Neopets is somewhere you always have something to achieve and work for.
What was your biggest accomplishment?

All my avatars. I have never begged on the boards with low collat.
Always full up to MSPP, so that's my biggest act to be proud appon.

I've been told my account is the best Portuguese one,
and that I was the first portuguese player to get the SUAP avatar.
So I'm proud of that too.
You bought something at my shop at a low price!
That's called sniping.
And if you contact me asking for your money back you'll be reported.

I didn't reply.

Don't think I replied either.
What was I gonna say? Thank you for not being a beggar?

This one is self explanatory.

You have typos!
English is not my first language and I didn't bother correcting the text.
Next!
Your pets are ugly, you're ugly, your account smells like a chia!
Then why take the time to neomail me? Why did you feel you needed to take the time to try and make me feel bad? I have many nps, many avatars, great pets, many trophies and even a FAQ which you're reading, so I'm definitely cool. Wait, what was the question?
---
by kissamus © 2013
theft is silently reported