Updates & Credits
Original layout by Sunnyneo
Last Updated
10/25/12
About Me

Name: Gitahno
Owner:
Kristin
Gender:
Male
Species:
Lupe
Color:
Green
Birthday:
April 2008
Personality:
Gentle, relaxed, calm, and optimistic.
Occupation:
I am a wolf that travels the Amazon seeking rear metals and minerals to create jewelry. My friend,
Wave or the Red Sea
helps painting the beads I create. She is very good at doing what she does. On occasion Sacred Fire will bring rare gems from his homeland for us to work on. Here is some of our finished work: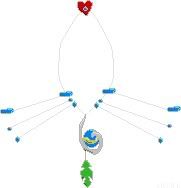 [image made by
Yellow_hello_yo
]
Family:
Sacred
likes sleeping in volcano craters. He is loaded with brilliance and energy. Him and I (along with Paradise) have a long history with each other. The island (he lives in Hawaii) he takes refuge in the most is loaded with igneous rocks and crystalized lava. He will sometimes send some to me for jewelry making. Poor thing gets so down in the dumps during the winter.
Love lives with River. She loves to play in reefs and other warm parts of the ocean. During the summer I like to come up and visit her.
Friends:
Paradise is a quite person. He doesn't have many friends due to that fact. I like him though, he's kind and will lay his life down anyone. In no means is he selfish.
Wave is a Hissi and she is "very sweet, scary, loves ink, acts like she is from back then, loves giving presents, and loves baking cookies". We joined up to make jewelry together. She is a very good bead painter.
Whiterforest. He is like a brother to me. If you head southwest of the Amazon you'll run into the Andes Mountains (no, not the delious chocolate candy brand) where my brother, White Forest and his pet, Buu, lives.
Gitahno is looking for some canine friends whether it be a gelert to lupe he'd like some. I expect the owner to post on their neopet's page that Gitahno is their friend too... it is not a one way deal. Neomail Littledragon1800 (owner) if you are interested.



Customs
Thank you!
Thanks a whole bunch,
blindastrum
!
Lupe Adopts

Do Not Steal anything of anyone's on any site in any country of the world. I mean it. I will not tolerate it! (I have caught many thieves!!!)
Please do not edit the adoptables/customs or enter them in any type of gallery or contest.
Makeables by Littledragon1800 are found here: Click Here
Customs can be found at: Lacie007
The easiest rule of all: Have a lovely day and enjoy the adoptables! Good day! Thanks for dropping by! Bye!



Lupe set 1




Blue
Green
Red
Yellow
White
Adoptable Directory!
Quick Links

Pet Central

Edit Petpage

Inventory

Neoboards

News
Lupe set 3
Blue
Green
Red
Yellow
White
Reference
Awards
Fan Art
Artist: Yellow_hello_yo Me and my family, plus Howler, my sister-in-law.
Drag-and-Drop the desired image to the bottom of your browser to see full view
Link Out





Arma_mcdillio
Laybri
Merseille
Qunik
Relineh
Tawdri
Toy Box