and into the winds. bells and footfalls
and soldiers and dolls.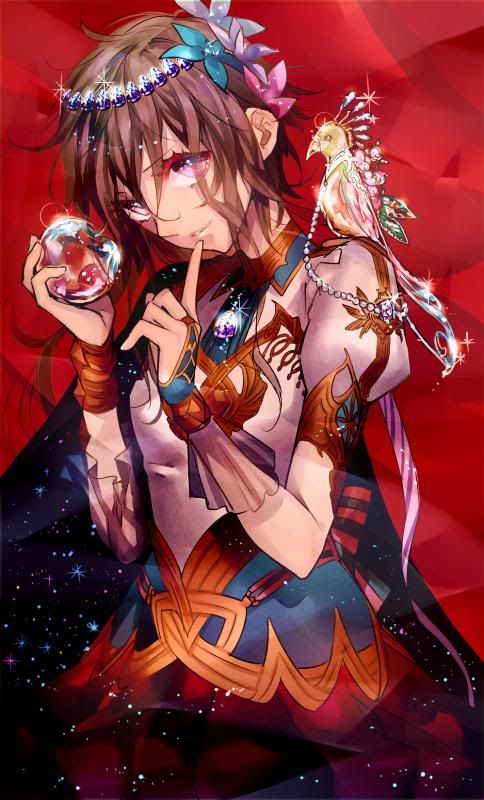 Gietsu's pet page is under construction! I'm trying to do up my own layout for her, but it's failing terribly so I may have to go back to editing premades again :(


UNDER CONSTRUCTION! (12/02/16)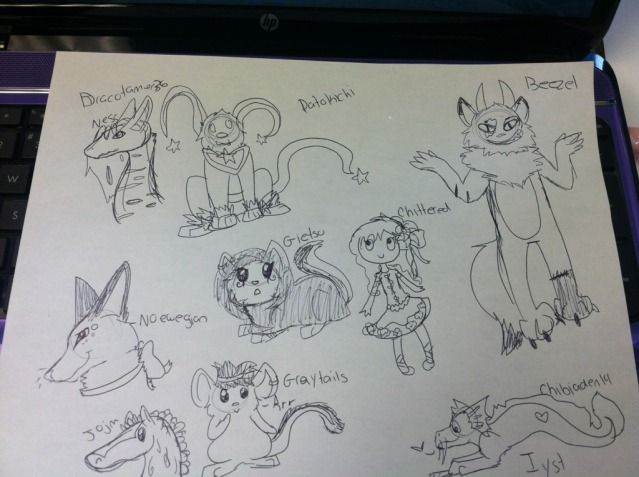 Gietsu's in the middle! Lovely sketch by creamsick :3 Will crop this soon~
Gietsu by
Panda
! She's so sweet and cute here, thank you so much dear!! xD
the oken
and the mysterious girl.
Thirst. That was the only word that seemed to register in your mind as you trudged on wearily through the sands. What were you thinking? Chasing after a mere rumour, that might very well have been the bone of some forgotten folks' lore. The villagers were right - to seek the unknown is to throw oneself into the very embody of danger itself.

Yet there was scarcely anything you could do now, trapped within the seemingly malevolent sands of this notorious desert. You had asked the villagers for directions, for you were on a lone journey seeking the elusive Magister of The Sands, or so they named her. It has long been a well known rumour that the Magister sets up her base in the Shamo, which roughly translated to desert in one of the native languages. To outsiders such as yourself, this region was merely known as The Öken, for there was no other biome that mirrored neither its beauty, nor the dangers that lurked within.

Your footsteps begin to feel heavier as minutes passed by, and you could feel your throat drying up. Six futile and cheerless days it had been, with little sleep or rest, and your provisions were diminishing. Just as you were beginning to give up all hope and return while you can, something glimmered at the corner of your eye. You turned, and narrowed your eyes.

It was a bottle with the most peculiarly combination of sand you'd seen. Catching the sunlight, it seemed proud to show off its contents - sands with the very same hues of a rainbow itself. You managed a dry laugh. The idea of a merry bottle of rainbow in the middle of this desert seemed ridiculous. You picked it up and gave it a couple of throws in the air, unsure of what to do with it.
Oh! It seems you've found my bottle!
A voice. It rang out to you, clear as the water, like an oasis that this treacherous region so desperately desired. Caught in surprise, you dropped the bottle of rainbow sand, only to find it levitating towards a cloaked figure standing in front of you.
Before you could so much as utter a word, the figure threw off its hood - revealing the young female Xweetok behind it. Her garnet red eyes held yours, and you instantly knew she was who you had made this journey for.
The Magister.
gietsu of farfields, the magister of the sands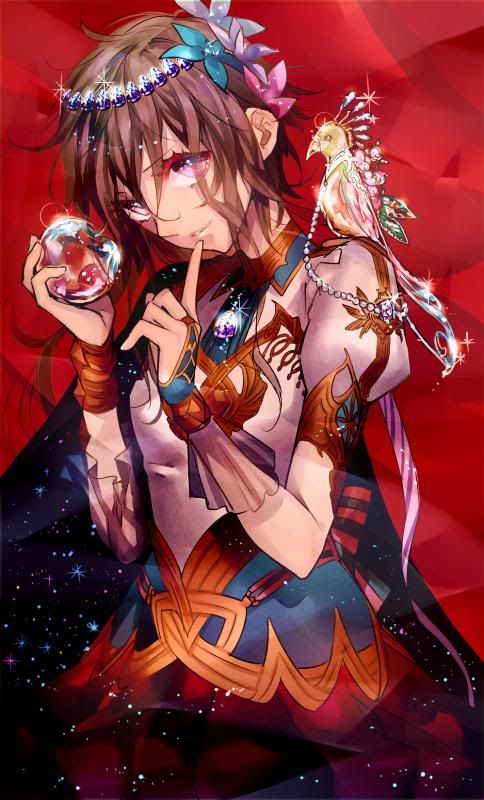 Name: Gietsu
Nicknames: Getsu, Magister
Title: Magister of the Sands
Gender: Female
Age: 16
Species: Desert Xweetok
Magic: Ground (elemental), Foretelling

Heritage: Line of Magicians
Kingdom: Palmarta
Current Location: The Öken (Shamo), Farfields, Palmarta
Family: Undisclosed
namesake and glossary
A mini glossary to some foreign terms.
Getsu: Moon in Japanese
Isil Erume: Translates to Desert's Moon in Elvish
Öken: Desert in Swedish
Shamo: Desert in Chinese
character
With such a mysterious background, nobody would expect the current Magister to be only 16 years of ripe age. Indeed, Gietsu does not really fit into the stern and knowing image most people have of magicians. To put it simply, there isn't a word that would classify her personality.
Traits: Creative, Eccentric, Adventurous
Likes: Sand art, Night the Aroota, other elements of nature, magic
Dislikes: Scorpions (they do get them in the Shamo), crowded civilisations, technology
Wishes: To make more new friends, and learn swimming :)
The most obvious trait that one would notice about Gietsu is her eccentricity. She has a quirky demeanour and an utter lack of self-consciousness, which may be attributed to her isolated upbringing. This leads her to being embarrassingly honest sometimes, and she stands firm in her beliefs and passion for nature.
Prideful. Gietsu exhibits this quality the most when it comes to her abilities. Gifted with a natural, innate ability to control the sands, the ground and its associates, she has become remarkably strong in her magic. Her talents does not stop there - for she has the occasional ability to catch a glimpse into the future of others. For that, she was also known as the Seer, another identity that she assumed while roaming the civilisations.
Lastly, Gietsu can also be noted for her creativity. What does one do when she has complete control over sand? Why, invest in sand sculptures, of course! On occasional days she would roam the Shamo to collect sands of different shades. Upon returning to her cosy little tent, she'd immediately work on her sand sculptures. It's a little hobby and passion of hers that she enjoys.
a trustworthy companion: Night

Gietsu's situation, coupled with her bizarre personality, would have reduced her to being a lonesome magician if not for the companionship of Night. Named for the time of the day in which Gietsu found her, the trustworthy little Aroota has never left her side.
a woven tale of
desert, moon and magic
The setting behind Gietsu's story is one of
high fantasy
(my favourite genre, news flash!) laced with magic and adventure. The idea has loose elements from
Lord of the Rings
and one of my recent favourite reads, Brightly Woven.
For starters, Gietsu comes from a line of powerful magicians - she has rich, potent magic running in her blood. The title Magister of the Sands has been passed down in her branch of the family since at least a hundred years ago. This is a fact that is left mostly unknown to the normal folk, leading them to believe that the Magister is, in fact, immortal, making her a legend. For their part, Gietsu's family always switch locations every couple of years, making them elusive and rather hard to seek.