status
application stuff;
Overnight counts: 5 days
Worked on his application for a month since November.
10/01/13 - Coded his page #2.
31/12/12 - Revamping his page.
28/12/12 - Coded his page.
26/12/12 - Chosen as #807's new owner!
PROJECT 807
I am not a robot.
I have a heart and I bleed.

A few decades ago, operation Virus (V-OP) was launched by a team of scientist led by Dawnheart. V-OP was a secret project that not many knew, including the government. Their main mission was to infiltrate the base of Hood, a clan who specialized in hacking and bring them to end. Various Robot-Pteris bots (RP-bots) were sent out on field duty to transmit a fatal virus that could crash the entire Hood system. Despite the high numbers of RP-bots sent, the mission was always a failure due to Hood's highly advanced firewall. A total of 806 RP-bots was programmed to achieve data and report back, but N.O. 807 did not return.
about garlic
» Codename: Garlic
» Alias: N.O.807
» Date of creation: 1st March
» Horoschope: Pisces
» Ability: Metamorphosis
» Type:Robot Pteri (RP-Bot)
» Height(RP-BOT): 1'1" (34cm)
» Height (Human): 5'7" (175cm)
» positive traits: Imaginative, sensitive, compassionate, kind, selfless, sympathetic
» likes:Solitude to dream in, mystery in all its guises, anything discarded to stay discarded, the ridiculous like to get 'lost
» Negative Traits:Escapist, secretive, easily led
» dislike:Criticized, know-it-alls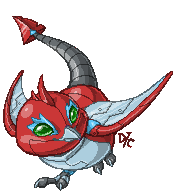 Description: Flexible and lean, there's a few things that stands out from Garlic. He often respond with the utmost sympathy and tact to any suffering others encounter. Due to his generous qualities and ability, Dawnheart, a scientist choose him to be the next N.O.807 for her project, V-OP. In spite of the project being top secret, he overheard a conversation between two scientist in a park one day regarding V-OP. He was well aware of their mission. So much for secrets.
character
Was brainstorming what color he should be in his quad form and decided to go with his casing color - Red! I also planned that he should be an Cardinal, hence the mohawk.

After his upgrade he acquires:
01. Wireless Gred-A Adapter: Purple in colored and attached beside his head, used for transmitting information and receiving them
02. Microprocessor: Attached into his brain, enable him to think more quicker and react more faster.
03. Charging port - Behind his back and covered with his fur.
mode: overheat
color: #FF7070

It has been ten years since he got his components and it is starting to wear out. His battery tend to overheat a lot and is less effective than it was on day one. If he used too much power at once, he would go into this mode, which will cause malfunction for a few minutes.

mode: changing
color: #FFDC9A

He runs on an advance lithium-ion (ALI) battery that works on ion movement between the positive and negative electrodes. In theory such a mechanism should work forever, but cycling, elevated temperature and aging decrease the performance over time so he make sure he doesn't overcharge his batteries. The specify the life of most Li-ion between 300 and 500 discharge/charge cycles, but ALI can last three times more than your advance Li-ion. The performance of his battery is measured in capacity, a leading health indicator. Internal resistance and self-discharge also play a role.

mode: normal
color: #01FFF0

His eyes are common in this form.

mode: power
color: #01FFF0

His eyes glows when he use his powers or being threaten.
story - wip
My name is Garlic, code name Virus, RP-bot number 807.
This is my story and welcome to my life.

Part One
01. Just an average high school student with the ability to metamorph.
02. Got abducted cause of his ability.
03. Attempt to escape failed, project V-OP started.
04. Had a microprocessor attached to his brain and wireless adapter that enhance his decision making and information gathering.
05. Dawnheart assumed that the microprocessor programmed with the virus and the mission - bringing Hood down had taken over him, but she was wrong. His ability to metamorph caused the chip to not function as it should had with the previous 806 RP-bots.
06. Escaped the laboratory.
07. Failed to report back, had Dawnheart sent out some troopers to hunt him down
08. Troopers couldn't catch him no matter how many attempts they made.
09. Met Code Red, another one of Dawnheart's project to gather information instead.
10. Eventually became great friends when they venture out together.
11. Dawnheart was aware of the situation, decided to create a new bot set out to destroy him because she cannot let her experiments set loose.

Part Two
01. Met the hacker in person.
02. Learn about her history and his main reason in becoming a hacker.
03. Became partners with her together with Code Red and found a new mission to seek out and destroy Dawnheart's projects.

To be continued.
artwork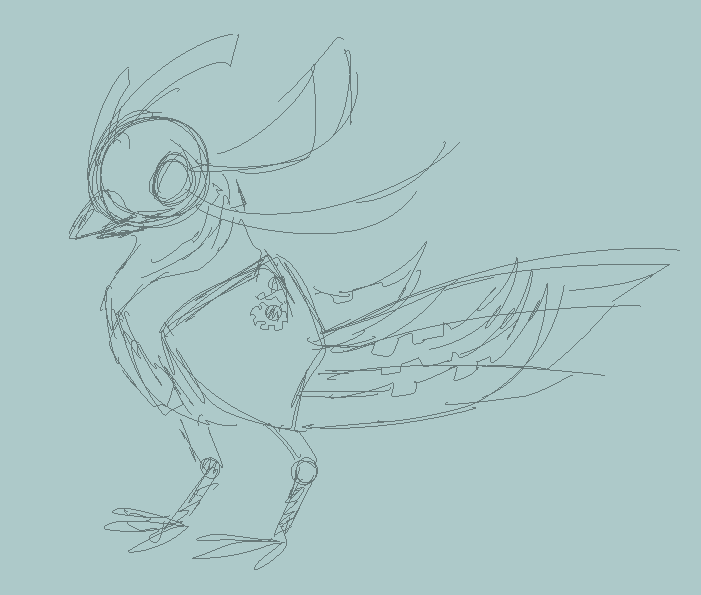 Thank you so much,
» Kishho: For letting me adopt #807
» Roo, steven, sparks:For helping with the grammtical mistakes
» E: For the comments on my application improvements
» artist:For the amazing adoptables!
» Christy:For the recommendation letter