On April the 26th 2007, Neopets launched their newest project: wearable clothes! While this was very exciting and had been wanted by many for a long time, all of the pets had to be redrawn into standard poses so that they could be dressed up.
TNT decided that for certain pets the change was too great, and gave the players who owned them the option to convert or not.
Six lucky lucky robots were given the option to remain unconverted, and can still be seen on the site with old artwork to this day! Rusty Buckets has been created specifically to list these special UC Robots.
~The pets listed on this directory are not UFT / UFA unless otherwise stated by their owners! Please do not pester those listed here!~
News!
28/01/14
* We're now affiliated with
Wings
!
29/11/13
* We're now listed at Smiley Central!
17/11/13
* We're now affiliated with The Reef and Flying Solo!
* We're now listed at Petopia!
16/11/13
* We're now affiliated with Bucket of Bolts, The Toy Box & Tidal Wave!
* Added 1 new pet
14/11/13
* We added 13 new pets today!
* Here we are, we're open for business!! The graphics are by no means perfect, but I'm sure I'll tweak them as I go along.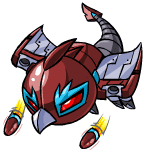 Affiliates
If you would like to be an affiliate with Rusty Buckets, please Neomail Meepit!

Listed At

Link Back
Many thanks to Nienke for the lovely buttons!

FAQ
Q: Can I list my robot with you?
A: If it's an UC robot then absolutely!! I'm afraid we don't list converted robots, but there are several other lovely directories that do!
Q: Why haven't you listed petname?
A: I'll only list robots with the owners permission. If it's not listed here then they're probably not bothered.
Q: How do I list my UC robot?
A: Send me
a Neomail
with your pet's name and I'll do the rest.

Credit
Coding help and layout from
Nienke's Premades
Textures from Details
Dividers from The Lunch Box