body {background: fixed; background-color: #A3DDFA;} body {font-family:verdana; color:#0099FE;} a:link {color: #7DD2F9;} a:hover {color: #7DD2F9;} a:visited {color: #7DD2F9;} /> a {text-decoration: none; } A:hover {text-decoration: underline overline; font-weight: bold} /> h1 {display: block; color: #FFFFFF; font: bold 20px verdana; text-align: center; background: #62B8FE; padding: 3px; margin: 15px 0px 3px 0px;}/>




[Welcome] [Updates] [To-Do List] [Rules] [Lookups]
[Wall of Shame] [FAQ] [Awards] [Link Back] [Affiliates] [Counter]

Welcome


Welcome, to the home of Fiankah's Premades. It is called that because it is on Fiankah's petpage. My username is igoforcollingwood. Feel free to neomail me if you have any questions or problems. Enjoy, and come back again soon!



Sorry, requests are CLOSED!



Updates




26th of January 2009


Today is Australia Day! Yay for Aussie!

I added an AMAZING page for an affie.

If you neomail me, be prepared to not get a speedy answer, because I'm not on as much anymore. Please still feel free to neomail, and I'll do my best to answer but please be aware that I'm not on 24/7 like I used to be.

That's all for now. See ya!

To-Do List

This is just a list of the lookups that are still waiting to be created (in no particular order).

Empty. But trust me, I have other things to do. ;)

Rules

Yes we all hate them, but they must be said!

1) Leave the credit for me on. I provide the lookups, you provide the recognition. It's only fair. You may replace text credit with a button if you like.

2) Don't claim them as your own. If you do, I will report you, I put a lot of time and effort into these lookups, you know.

3) Don't replace, edit or change any part of this lookup without my permission.



4)

I do requests sometimes, but not personalised ones (unless I already know you). Please feel free to request if requests are open (but they're closed at the moment), but know that you're lookup will be on here, available for use by everyone. I also do not do non-neo related lookups.

5) Have fun and enjoy! (Yes, that is a rule!)


Lookups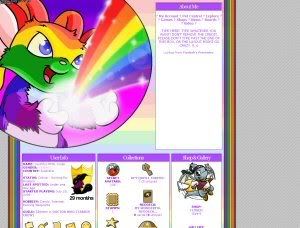 NEOPETS, characters, logos, names and all related indicia
are trademarks of Neopets, Inc., © 1999-2013.
® denotes Reg. US Pat. & TM Office. All rights reserved.
PRIVACY POLICY | Safety Tips | Contact Us | About Us | Press Kit
Use of this site signifies your acceptance of the Terms and Conditions