chapter 1
Future. It was a word that, in the past who knew how long, he had grown familiar with.
He didn't know what it meant. But he heard it a lot, from some vague voices that shared his living space. He couldn't see who they came from, but he knew, somewhere, that they were things like him, instead of just voices. He understood the concept of tactility. He knew that his edges were pressed against some cold, hard barrier, and that he was contained. He didn't know what shape he took, and he didn't know if he could even move.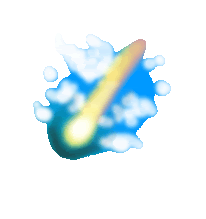 There was movement, too, though not made by him. The voices were outside the barrier, and they moved him around. He could feel himself in the grasp of gravity. He could tell that it was cold- everywhere- and sometimes so much so that he couldn't even think. Thinking was all he had- and some distant memory of the color green. For whatever reason, in his coldest moments, when it seemed like everything in his consciousness was about to slip away, he would think of that color, and find the strength to hold on for just a little while longer. Long enough that he'd be in the sway of between places and then out of that dismal cold place. And the voices would be talking again. He could hear them, despite his lack of ears- or knowing what ears were- and they were fuzzy bouts of kinetic sound outside. They were splashes of pitches and tones and he liked listening to them. Existence did not seem as much of an abyss when they were talking outside. He didn't understand what they were saying, but he heard one word more frequently than the rest. Future. It was clearly an involving topic. He found himself wishing he knew what it was so that he could participate in it too.
Then, one time, before he was put back into the cold place, a surprising sting of heat echoed through his extent. It jolted his thoughts and made every particle inside him tremble. He struggled to understand what was going on, when suddenly, it happened again. The voices were outside, talking as usual, though they seemed to be as surprised as he was. A third time, and the pain seared through him- his mass shuddered, and his thoughts were pushed back into hot blackness. Suddenly, like a magnetic pull, they rushed back to the surface- in colors he'd never seen before- in volumes and waves and shapes- in noises and smells- in a warm shade of green. Then, he could hear himself screaming- despite a lack of a mouth, or knowing what one was- and his mass was ripped in half. Instead of having thoughts in one place, he had them in two. The haze of green focused nd he could smell rain, and for once, he knew what that was. Searing droplets marched across his mass, as if the pain were imitating the feeling of rain on his surface. The pitter patter grew louder and louder, until it was all he could hear, all he could see, all he could think. Except for one thing that he suddenly knew- his name was Felanra.
chapter 2
Her hardened face was shaken with sadness. It was unlike a sorrow the scientist had ever seen before- there was more determination in her face than self pity. Most grief is just that, self pity. But there was nothing but readiness on Emire's square jaw. Nothing but anticipation between her perfectly arched brows. Nothing but purpose in her gleaming green eyes. He rolled the three inch long cylindrical parcel of blue toxin in his palm for a moment, sighing with a heavy resignation. There was a reason they called this lonely fighter unbeatable. Indestructible. He could see just from her persistence the many dangers she'd faced unwavering. She had probably gunned down the most terrifying of creatures- had entered the most ominous of creepy places- had endured the most threatening of deadly injuries. She was so unlike the rest of remaining humanity that it was impossible to say no to her.

The geneticist nodded. If he was caught, then there would insurmountable consequences to face. Assisting conspiracy? Tampering with evidence? Promoting and supporting development of this creature? He would be ruined, and even more than before the war. But whatever Emire had seen on that planet that made her so relentless, it wasn't something he was going to stand in the way of. The government may ruin him but Emire would destroy him. And he almost respected her for that. "Okay," he said at last. "I'll do it." The smile on her face was rewarding enough.
She was losing feeling in her right arm, and shots fired from approximately seven feet back were ricocheting off wall and her armor alike. Each shot her faithful suit deflected shoved her forward and she spent valuble time trying to regain her balance. Emire couldn't wiggle her fingers. Her shooting hand was gone. She would never be able to snipe anything again, feel the excitement of hitting a target some hundred yards away. Wouldn't feel the charge of five consecutive blasts exploding in an alien threat's face. A shot sneaked into the bioplastic between her shoulder plate and bicep plate, sizzled and rendered a painful tremble through her entire left side. She rounded a corner and catapulted down a few steps, around another corner. Temporary relief. Her HUD buzzed, a sign that it too would soon fail. So this was it.
A green light blinked on the remaining few screens on her HUD. Around it, a double-lined square. The map info graphics she'd managed to steal from the planet's database showed that the room was double reinforced. Of course. Locked away thirteen floors underground. She remembered the last time she'd been here. Last time, there hadn't been any concrete walls. There was no durasteel, no electricity. No light. The last time, she relied on an illumination beam from her HUD and a very sturdy pair of boots. This time, she descended stairs; last time, she'd crawled down a canyon opening. It was a split in the planet's surface and very well hidden. It was secret and nearly impossible to get to. She had remembered the fight that happened here then, too.
The symbiote was trailing somewhere behind her, and her feet carried her as fast as she could go. There was a repetitive 'thud, thud' in her wake as she heard and felt the creature's massive feet slam onto the ground in pursuit. She heard a vengeful cry from a few yards back. He was getting closer. She'd blown off one of his facial fins, but that was pretty much it. This guy was resilient. She'd chased him for nearly a month now, and while she couldn't hit him herself, the Red Alco acid was eating away at all of the planet's deformities. And for some reason, this made him weaker. Statistics and research were key. A symbiote like him, he had to have a recharging point. An origin point. A place where he had planted himself and had been born from. Thanks to her careful year long survey and expedition of the planet, she knew now where it was.

Suddenly Emire's helmet made a sickening crash onto the rock of the cavern floor and she felt an immense, crushing weight on top of her. Freeing an arm and swinging her blaster around she pulled the trigger and heard an exasperated shriek. Enough of a distraction to roll over and hop back onto her feet. His face had been struck with the Alco acid and she watched, for a moment, as he thrashed about in sharp, guttural plea. It was a horrible thing to see, his already mutated face melting onto the floor. The glowing blue toxin underneath shining through. A vague shape of a face remained. Eye sockets, nostrils, an open and melting mouth. She took off again as he turned towards her, dodging through the now narrowing cavern walls. There was no longer any sky above her head, just wall. And then, she reached her destination.
The keypad wasn't very difficult to hack through. She connected a wire from her control pad and punched in a few combinations she'd stolen along with the maps. Eventually the disarming program hacked the code. A satisfying shift of gears took place in the door, just in time for another round of blasts to chafe onto the hardware.
She began pressing the close button on the other side as quickly as she could with her remaining arm. The doors took their sweet time in shutting, allowing a few blasts to echo into the room. She winced and dodged onto the ground beneath the inside control pad, sighing with relief whenever the doors finally met. Outside there was a faint pop pop pop of weapons being fired onto resilient durasteel. She reached up and with a fist ripped off the control pad, throwing it across the slick floor. They'd find a way in eventually. Emire had just moments left.
Slowly she rose, finally feeling the weight of her injuries. Had it been a few years ago, she would have brushed them off and kept going. But she was dying now. She wouldn't find a way out, and had no where to go after this. Emire had known what she was getting herself into, and hadn't regretted it since she'd made the decision. Once her galaxy was lonely and quiet. Peaceful when it was just her, sniping down alien threats, exploring planets. Peaceful when the remaining humans hadn't rebounded and formed a government. Now they were everywhere. The galaxy wasn't the same place. She wasn't the same warrior. This planet, though, it would be the same planet once again.
The next few minutes flew by. They were over in a blink of the eye. She entered the main chamber and laid eyes on a circular vault, resting center in the middle of the floor, a rounded pressure handle on top. It looked like a massive submarine opening cut into the ground. Green eyes swept over the chamber, and the metal plated walls and thermometers dissolved into sheer cavern, stalagmites eating the ceiling. The vault disappeared into a well, a pool of dark blue water. She approached and didn't see the vault's locks, but a basin. Inside it, her reflection, a mane of wild red hair and stubborn eyes. Beyond that, glimmering nets and spindles of blue toxin. It was a thickened web, layer upon layer of toxin that had polluted Shayon's water system. Had destroyed its ecosystem, over the process of a hundred years or more. Further down, Emire had guessed the origin point was there. She had been right.
She was opening the locks before she realized it. Everything was automatic now. The sounds and calls of burgeoning forces outside, the codes she was typing in to unlock the vault, the pressure release and sudden humidity in the room as she shoved the top up. The shimmer of water inside. The sound of a door being bludgeoned. The hiss of cables splitting apart. The weight of a ton collapsing to the floor. The snap of her cylindrical vessel opening. The blue glow of the altered specimen inside. The footsteps, the hollering, the "hands in the air!" calls. The feeling of the weight of the specimen being transferred from her hand to the pool. The satisfaction of watching it react and begin to spine under the water's surface. A grin on her mouth. Pressure under her ribcage, shoving against her back. Her legs being swept out from under her. The hardness of the floor under her head. The blurriness of stomping feet nearby. The relief of her last breath exiting her lungs. Everything had been over within a few minutes.
chapter 3
Sound the alarm! Call 1401! Call Resources, call Biotech! There's been a breach! There's something in the water! Get it out, get it- what you mean you can't get past it? What you mean it's stuck? It's goo, Hodgins, pull it- man down! Oh my gosh, he's gone! Man down! That stuff ate him! That stuff-
The geneticist had made a right move in making sure the symbiote would develop as quickly as possible. Last time, it had taken well over six months for it to attach and grow. The water this time was full of durable cyan webs within seconds, splitting in every direction, larger blobs using weight to sink down into the well. They passed foot after foot of ancient rock, down into the darkness of the water, of the river, of the sea. Once they landed, thousands of orange spindles reached up through the well, latching and spreading. They crawled through soaked earth and into other water systems, netting with incredible length and distance. A hand reached down to one of them, and with just a touch it snapped itself around the hand, and with incredible strength snatched it under the water. Thousands of other endings spun around the thrashing victim and dragged it down into the dark depths. Thousands more replaced them. The body was dragged down to the origin, where the blobs had landed. Here four or five massive spherical structures had formed, orange in nature, with white fuzz encompassing them. They looked like spores. Bubbles escaped as the spores moved and the mass that was once the soldier disappeared into the family of spores. Within seconds something else began to happen. A large orange bubble was blown from the spores, and it gained mass. Spindles reached out and wrapped around it, merging with it. It became thick and began rising to the surface, threads snapping as it rose. It stretched and weaved itself around and through the various layers of nets that had formed.
It reached the surface, emerging from the pool with a faint sizzling sound as the raw material reacted with the atmosphere. It united again and continued to rise and lengthen. Then two larger sections separated from the mass, pulling away like melted cheese. These sections separated and lengthened too, into five other sections. And these sections bubbled, sharpened and hardened on the ends, making claws. The main mass grew and formed roundness on the end, and then two eye sockets, two nostrils, and a mouth stretched apart into existence. A throat hallowed and eyes rounded. Spindles crawled up the body of this new, strange beast, and darkened, becoming more elastic, not reacting with the atmosphere. It stretched over the raw blue toxin and pinched in areas, and became skin. Finally, a deep, guttural groan reverberated from the beast's new throat. His eyes opened, and though orange tinted and blurry. He saw panicked little silhouettes rushing throughout the room he was in. Ears were something he forgot- and two tiny holes developed on the sides of his skeletal head. Another blink and the loud, anguished cries of soldiers echoed into his new ear drum. Frustrated with the sound, he slammed his front claws onto the side of the vault, an angry growl coming from him that surprised himself. He began lifting himself up out of the vault, water splashing everywhere, dark skin stretching over raw and developing toxin as he emerged. Two more limbs were made, more massive than the first, with different joints, that were his back legs. A tail was the last to come. Long and stout, for balance.
His head brushed against the ceiling and he heard something pop. A thin fleshed toxin sac on his head had burst, and its acid dripped down his immune face and landed with a sizzle onto the floor. He eyed the gap that was being eaten into the durasteel. That was one of his old defensive mechanisms, he remembered. The toxins on his head and back. Bubbles that had been covered with much thinner stretches of flesh, still glowing and blu
The noises of the soldiers were drowning out his thoughts, so the frustrated beast lashed out. He stepped on and crushed a few, and then rammed into an archway. A dozen or so sacs popped and acid drizzled onto whatever passing creature there may be underneath, and the scene below was rampant with stench and screaming soldiers. He continued on, into the next room, where he found yet again he was far too big to be inside. Then, pinpoint blasts ruptured his flesh along his shoulders and neck, needle sized pain puddling in his torso. Angrier, he focused his still blurry eyes on the beings in front of him. A quick slash of his right limb and they were clawed away. Another archway and then some unusual surface, jagged sideways. He stumbled his way up them, stooping for a lack of room. Another few lines of soldiers disappeared into his mouth. Another room, more ceilings, more archways, more annoying little ant silhouettes.
It was as if this world he was born into was too small for him. Everything was hostile. And hard. His head kept bashing against the durasteel ceilings and his hips barely squeezed through any of the doors. It was a never ending maze of insanity, and he wondered if the rooms ever got any bigger.
And then, he smelled something familiar. As he kept climbing up these crooked floors, the scent of sulfuric atmosphere continued to boggle his sense of smell. It grew stronger and eventually, as he began going in that direction, clouded his nostrils. Soon it was all he could smell. He remembered this scent- what was it- the toxin had been blue?- the color green flashed into his mind. The color green which then warped into smoky grey and blue ash. That's when the rotting eggs smell began. Warped, bare trees appeared in his mind, alongside dying creatures and his facial structure- his own eyes and cheekbones- becoming brown- wider eyes- and then the face of a small alien child, local to that sulfuric planet, that had once held him as a small unattached symbiote. That had once taken him on a field trip to the water. And that child speaking to him- calling him Fellna-
So the little Shyo took its pet Fellna to the well, wanting to share with Fellna true majesty. Several other times it had taken the symbiont out to explore, watching with exploding laughter as the symbiont plopped from one leaf to another, absorbing the essence of what it was around it, and clumsily doing so. The Shyo thought that this time would be like any other - but it wanted to see if Fellna could swim. It waited until the others were turned to look at something else, wrapping its fingers around Cheek and picking him out of his bag, grinning all the while. He dipped the symbiont into the water, letting the goo float for a few minutes - but he had no idea what his actions would result in this time. He had no idea how very much Fellna loved this water.
And then, it all came rushing back to him.