This section is where I will record the achievements I have made so far on the Neopets site. Think of it as a history of me as a Neopian citizen - it will include information about my Neopets, my game trophies and Site Contest wins, my galleries and my Neohomes... all the things I've accomplished on Neopets that I'm proud of.
- Spider (burning_shadows_79)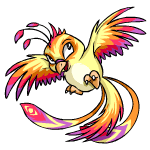 When I first created this account, there was no customisation yet, and unconverted Neopets could still be created. In the long term I wanted to own these Neopets, but they seemed far out of reach, so I set my sights lower.
My first ever Neopets were a green Ruki, a red Tuskaninny, a blue Bori and a yellow Elephante. After a while I started over from scratch, placing my four Neopets in the pound and creating four new ones with better names - and those are the Neopets I have now. But when the conversion occurred, I realised I could no longer obtain my old dreamies, now that their new colours would look so different from their old versions.
So I changed my plans and set my goals differently. Taking advantage of the customisation option, I decided to "double-paint" some of my Neopets, and dress up others in nice outfits that I could buy from shops. By then I had created the first of my side accounts, and was planning to make more as my list of dreamies grew longer. Eventually I raised enough Neopoints to paint one of my pets - RogueFeathers, on my first side account, was morphed into a Mutant Lenny. It was about that time that I decided to try entering the Art Contest, and when my picture made it into the Gallery, I started entering Contests in earnest and selling my prizes as a way of earning Neopoints. After many months of hard work, I finally earned enough NP to paint almost all my pets - except MarineMajesty, who required a very expensive Maraquan paint job. Luckily enough, the Fountain Faerie came to the rescue, enabling me to paint MarineMajesty at a fraction of the usual cost.
I also had my eyes on a few of the unconverted pets, who can now only be obtained by trading. After a lot of effort, I managed to obtain two unconverted Neopets - Scytheran the Darigan Buzz, and Mirquin the Faerie Lenny - but I have decided not to adopt any more, deciding instead to set my sights on some of the fabulous new pet colours. Now, I have four pets on each of my accounts - a complete family of Neopets.
On my five accounts, I've got twenty beautiful painted Neopets, all of whom I am very attached to, and very proud of.
Click on a pet to see his or her lookup.
To learn more about my Neopets and their personalities, check out the page about my accounts and Neopets.

In the olden days of Neopia, the only Neohomes available were the Classic homes, which offered a choice of materials for building separate rooms in which furniture could be placed and viewed from above. This option had no shortage of versatility, but midway through my construction and furnishing of the all-stone structure I had built in the Haunted Woods, along came Version 2.0 which offered a much more pleasing 3D view of the furniture placed inside. After a while, a large range of furniture became available for the new Neohomes and I made my move, tearing down the old Stone Palace in the Haunted Woods and shifting into a Mystery Island beach house.

I also created new Neohomes on each of my side accounts. The Haunted Woods seemed an appropriate place to settle down on my first side account, which is home to those Neopets who best suit the region. On my second side account I built a home in Altador, an area I chose for its beauty as well as the fabulous items available at the shops there. Another of my side accounts owns a dwelling in Maraqua, and my fifth and final Neohome is situated in the Lost Desert.

Once all my homes had been built, my next task was to decorate them. I started with the floor plan, purchasing wall and floor paints and using them to map out where each of my Neopets' bedrooms would be, as well as the bathroom and lounge room in each Neohome. The first of my homes to be furnished was my main one, at Mystery Island. I started with the interior and filled it with comfortable furniture and decorations. Then I turned my attention to the garden, constructing a veggie patch and a garden bed filled with flowers.

I had not yet finished my main Neohome when I decided it was time to start work on another of my Neopian dwellings - the one in the Lost Desert. My fourth side account was not yet home to any Neopets, but I wanted to make it known that any pets I adopted would have a cosy place to live. The pets I wanted were unconverted pets, who have to be adopted from other owners (although I have changed my goals since then). To provide for my future Neopets, I set up four bedrooms, a roomy kitchen and dining area, all with beautiful furniture.

My Neohomes can't be finished until I have achieved my other goals. While I don't yet have five fully furnished Neohomes, you may view my progress so far by clicking the pictures below, which will take you to each of my Neohomes:





As well as having a Neohome on each of my accounts, I wanted to have a gallery on each account. I wanted five galleries - and like my accounts, my galleries would have five different themes. Like my Neohomes, these five galleries are still very much a work-in-progress - and also like my Neohomes, they are constrained by my budget. But while other Neopians often make galleries that encompass one single category of items, such as a Usuki gallery, a Plushie gallery or everything with a rarity of 99, I am much more subjective about what I put on display.

The gallery on my main account is called the Artist's Museum, and it showcases all the items that I think are the prettiest in Neopia. All kinds of items are displayed in this gallery, from foods and plushies to Battledome equipment. While this gallery contains no Petpets, because Petpets are living things and belong in a different kind of display, just about anything else in Neopia with an impressive appearance has the potential to end up on the shelves of the Artist's Museum.



On the first of my side accounts, I have selected a much more typical theme - the spooky items of Neopia, particularly those related to Spyders. The Cobweb Museum holds a collection of such items. I decided on this theme to honour my real-world fascination with spiders, but expanded the theme to allow for the display of many more objects of the Haunted Woods, which was where I built my first Neohome. I would like to thank VernaxEater for donating many of the items on display.



On my second side, I have set up a gallery devoted to the wit of The Neopets Team, in the only way I know how: by displaying items with amusing captions. Contained in the Crazy Caption Collection are several items whose rollover text gives me a chuckle every time I read it. Naturally, the type of item doesn't matter, just as long as the item description makes me laugh. This is probably the best way of showing how much I like the humour that The Neopets Team has included on the site.



On my third side account, I have created a gallery that serves as a dwelling place for the most beautiful Petpets from all around Neopia. Like the Artist's Museum, the Petpet Shelter is devoted to things of beauty - but because Petpets are living creatures, just putting them on a shelf won't do. They need proper care, so the gallery is made up of enclosures that suit the Petpets' habitats. Like the items in the Artist's Museum, the Petpets in here are ones with fabulous looks - but you'd better not pat them, because some of them might bite!



The last of my galleries is simply for the purpose of displaying all the favourite items of each of my Neopets. For My Beloved Neopets has a category for each pet, containing their favourite foods, the books they enjoy the most, plushies and toys that bear their appearance and ones they like to play with, along with items that suit their hobbies and interests. Unlike the Artist's Museum, no attention is given to appearance - only to the personalities of my Neopets and the items that suit them best.


My successes in the Art Contest are the achievement I am most proud of, because I love to create artwork and it brings me a huge amount of enjoyment to know that others enjoy my work. My first winning entry was many months ago now, way back in Art Contest 869, with a picture entitled "One Triumphant Tyrannian" - and from then on, I set myself the goal of having 20 of my pictures displayed in the Art Gallery.
By the time page 1,004 had been added to the Gallery Archives, I was halfway to my goal, with ten wins. But I soon learned that I needed more than just a pretty picture to impress the judges. Through the experience of several failures, I deduced the criteria that would make my entries stand out the most: action, styling and mood. Every successful entry has been strong in one of those three fields - a powerful visual impact, a creative use of artist's license, or a strong sense of emotion. My very first winning entry nailed the first criterion, which has been my greatest strength as an entrant so far. But all three of the winning factors have featured in my work.
Here are my winning entries. Click on an image to see it in the Gallery.


When page 1,395 was uploaded to the Gallery, my goal of achieving twenty wins was finally complete! But I have no intention of stopping now. I will continue to win as many as I can - not only for the valuable prizes, but also for the pride and joy of having other people enjoy my artwork. I also have a goal of making pictures of all my Neopets in order to enter them in the Beauty Contest. So far,
FeatheredFairy
and
XenonWings
have received trophies for victories in their category. Hopefully, I will have many more successes in the Neopian visual arts!

The Caption Contest is a competition I enter just for fun, but it seems that my sense of humour does occasionally catch the eye of The Neopets Team. My entries have been selected several times to enter what I will call the "voting phase", when the best twenty-five entries are narrowed down to fifteen winners by a popularity vote. The best result I have had so far (twice now) is a final ranking of 5th place, but a couple of times I have, disappointingly, been voted out. For those who are interested, here are links to all the Caption Contests which I have had successful entries in:
Contest 762 - Contest 798 - Contest 802 - Contest 817 - Contest 833 - Contest 874
Contest 876 - Contest 878 - Contest 911 - Contest 915 - Contest 951 - Contest 1013
Contest 1109 - Contest 1110 - Contest 1114 - Contest 1115 - Contest 1135

Look for my username in the lists of winners to read my captions!

Recently, most of my successful contest entries have been pieces for the Neopian Times. My first ever entry, a short story, was published a few weeks after it was submitted - short stories and articles were my favourite fields before I moved on to comics, which have brought me quite a lot of success. I have also published an eight-part series entitled The Orbs of Power, and a four-part series called The Initiate Defenders. I am now beginning to establish myself as a regular contributor to the Neopian Times.
I will update this section when my entries are submitted, and when I get the judges' response via Neomail.
I will also post the links to my published entries when they appear in the Neopian Times.
I have very little history in other Contests, apart from the Beauty Contest (which is not covered here). In the past, I had a mild interest in the Random Contest, which increased if the current competition involved a craft I was good at. The contest has now closed, but I did have one successful entry in
Random Contest 89
which earned me a place in the archives and a silver trophy.
I have also had a successful entry in the Poetry Contest. My entry, written for Halloween nearly a year before its display on the site, can be found on page 1,162 of the Poetry Archives.
To date, I have not had any other Site Contest wins. As for game trophies... see below.

Here, I will explain how I earned the various trophies I've received from playing games and participating in plots on the Neopets site. While my trophy cabinet is not packed, it's still something I'm proud of.
I guess we'll start with the plots, because I probably put the most effort into those - although I did not take an interest in plots until a couple of years after I became a Neopian citizen. My first plot was the Altador plot, and my favourite was The Faeries' Ruin.

I have also built up a history with other site events. The Daily Dare is an event I take part in every year, to try and score higher than Games Master AAA in as many games as possible. I am not so good at some of the games and generally fall short of AAA's scores most of the time, but I still enjoy the challenge and have received some nice trophies and prizes for my efforts.

In other games, I excel. Typically I only play games as a way of earning Neopoints, but in rare cases I am able to climb onto the High Score Table and earn a trophy (along with a handful of extra NP). Although in some cases I have won a trophy through good luck rather than good management, others are achievements that I have worked hard for. The one for which I worked hardest is my Attack of the Gummy Dice trophy - after three hours of playing, I had scored enough to reach the High Score Table and I got a silver trophy. I felt so proud that it was worth the effort.

Eventually I introduced myself to NeoQuest II, hoping to complete all three levels of difficulty and earn a rare Insane! prize. After many hours of effort, I finally won the least valuable prize from Insane! mode, but I also earned a beautiful NeoQuest II Champion trophy. And when Attack of the Gummy Dice featured as the challenge game in Better Than You, I seized my chance to earn a second trophy for the game I excel at the most.
Meanwhile, I was putting my efforts into training FeatheredFairy for the Battledome, in case of war - I needed her to be as strong as possible if the Battledome featured in a future plot. With a little help from one of my Neofriends, who donated an Ylanas Blaster to the cause, FeatheredFairy was now strong enough to aid the Defenders of Neopia on several of the early missions. After getting some practise against Punchbag Bob, she rallied against the villains of Neopia and defeated fifteen enemies, adding two new trophies to my collection. FeatheredFairy is still in training, hoping to raise her stats further and help the Defenders of Neopia defeat their stronger opponents.

It is also worth mentioning the Altador Cup, even though I was only a Noise-maker for the first couple of years of my participation. In the fifth year of the tournament, I decided to take up Yooyuball and found to my surprise that I was actually quite good at it. I was able to pull together some impressive stats, as well as putting in extra effort in all three sidegames, to help bring the Lost Desert team to its first tournament victory. Since then, I have moved onto Team Meridell, and I now specialise in Shootout Showdown.

To view my trophy cabinet, go to my user lookup.
I feel that I have a lot to be proud of on the Neopets site. I've spent a lot of spare time aiming to achieve things on the site, and I have got a lot to show for it. But there are still many more things I wish to accomplish on Neopets!
To find out the things that I haven't done yet, but would love to do, take a look at My Goals.