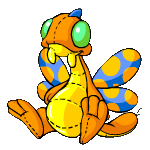 This is a page devoted to the wonderful...
The magnificent...
The marvelous...
Me! Hehehe...

Anyway, I'm Eyye!
I'm a plushie buzz born on January 19th.
Well, born is the wrong word.
You see, I was made.
Sewn to be exact.
There's a wonderful faerie buzz.
She lives in Faerieland.
Her name is Snazzy
She loves to make plushies.
I was the first plushie she ever made.
Then something happened.
I guess after the destruction of Faerieland,
and then the saving and reconstruction of it,
there was still some magic flying around.
No one knows what really happened,
all we can do is guess,
but on the 19th I woke up breathing!
And talking and walking and flying!
Its all pretty exciting in my opinion.
Anyway, enough about my boring past!

I like Jazz, its funky.
I also adore fruit, so yummy!
I spend most of my day hanging around Snazzy.
I'm a loner, but I have to be around her for some reason.
Shes my best friend in the whole world.
I've lived in Faerieland my whole life.
Too bad I never saw it when it was in the air.
I love helping rebuild the town,
even if its on the ground now.
When all is said and none, I hope to teach here.
They just started building the school.
I can't wait.

Sorry I don't have much to say!
It'd be cool if you sent waffle_biologist a message.
Go ahead and ask anything you want about me!
So long and thanks for visiting my page!


Scroll down for art and stories!



http://www.neopets.com/ntimes/index.phtml?section=523566&issue=509
http://www.neopets.com/ntimes/index.phtml?section=528714&issue=518
NEOPETS, characters, logos, names and all related indicia
are trademarks of Neopets, Inc., © 1999-2013.
® denotes Reg. US Pat. & TM Office. All rights reserved.
PRIVACY POLICY | Safety Tips | Contact Us | About Us | Press Kit
Use of this site signifies your acceptance of the Terms and Conditions