1831, Raventown.
It's a grey, gloomy industrial town far outside Altador. It wasn't always as lively and colorful and peaceful in Neopia. There were dark times when creatures and humans co-existed and people went around pretending evil could not hurt them, because they didn't know how to stop it yet.
But the evil did know how to attack. No one was ever truly safe, and chances are, if you cut an empty alley, you would get attacked. It may seem like the streets are the only truly dangerous places but that would be too much to ask for Raventown. Parents would hide their children, prohibit any interaction with those looming in the old houses, always,
always
be there watching their kid, because they could never know when a spirit or a shadow would turn corporeal and scare them. Sometimes more powerful entities could even lead the young and the old into death. It was prohibited by the council to make contact with the shadows in any way, because the more they knew about you, the more vicious their attacks.
The townsmen didn't know everything about the spirits, but they knew enough to know noting good ever came out of them. The Shadows came from Geraptiku. Modern scientists debated there being a portal of sorts in the Field of Dead that came from another world. One was for sure, closing it wasn't an option and shotguns din't scare them very much.
I owe you a scare, kid.
The spirit world from it's side was a very rule-based society, with departments and directives and not a lot of compassion or any human emotion. Although it shouldn't, because no human was a part of it.
There were types of spirits, the most mischievous ones were the Shadows. They would move around houses and the occasional dark corner, clanking dishes, pulling blankets from people's beds, whispering nonsensical stuff. Although, that was only the middle department. In fact, there were several. The first departments were Shadows lurking in the windows. When out of the corner of your eye you think you saw something in the glass - you probably were right. When you looked back the second time, it was gone. The first department were rookies taught agility to be quick and basic. Moving on, were the mild shadows, the Middle department - kitchens, hallways, attic - they were based on cheating states of corporeality on speedy basis and creating all sorts of sounds that you sometimes weren't really sure if was their doing, or just the house setting. Lastly, the grown up individuals that mastered all previous skils could learn on to do absolutely everything, even be able to touch. Although those were rare and someone excelling happened sparse apart, rendering them the leaders of the department.
And every now and then came along a slacker...
How a shadow changed it's ways.
Shadows are scary. They are designed to scare you at night. Then why can't he do it? (or not, because he can.) You thought there's no one in the shadows... (shadows could be the things making dishes clank in the middle of the night and other small things.)
Kitty is a shadow. Chess Rochester the third. (Also, needs lookup top banner change and bottom img change).
He's a delightful shadow. Not that he wouldn't enjoy the occasional scares people would get from him, but he wasn't about to go all: No, don't be afraid, I'm nice./ I won't do anything to you / harm you.
Meh" he says, licking his paw. "Not to brag, but I already have 55 scares." Roger finishes looking carelessly at the door, lips pursed.
Emm... is 55 a lot?" Something flashes in his eyes and he rises up: "55 is more than the number of ice creams you could eat in a whole year", again with that proud careless look.
Well that's still not very much." the boy sticks to his view and crosses his arms. The fire in the chimney delightfully burns. Kitty purses his lips again and.
Whatever." The shadow looks back to the door. Then he yawns, performs a cat-like stretch and lays down on his back. "..." "Kitty, what's out there in the world?" "Creatures, unseen, unheard; dreams. What's here?
The boy seems to be lost in thought, before he gasps and ushers the shadow to get up. "I heard them.. They're coming!" The kougra (snorts?), nosprauslāties un lazily gets up. Footsteps echo and the boy looks away for a second and when his worried glance turns back, the shadow is gone. "Kitty! Kitty!
His parents opened the door to his room. "Shane?
Kitt-... mom! my toy! I lost my toy...
His mother sighed sharing a look with her husband: "You know, one of these days he'll mock us with his cat ideas."
A quiet snicker caresses(?) the air. "What was that?" Shane immediately snickers:" I did it, mommy. I'm a clown, look."
And this is, the answer to the last question on my page with the story script, it's shortage in the company due to economical or unnatural reasons and some are simply let free. therefore- joy.
but i shall note this down before:
conflict: kit's world no longer allows him out either at all or at certain times because they know he's friends with the boy.
He's laid back.
At first ignores boy, doesn't let get close, but later has grown close to him, cares, but wont admit. till the boy is kidnapped & maybe by his kind or another, and he curses about what he's going to do, but runs to save him.
A chapter can be about boy & kit going to a scare. Kit takes him, maybe by teleporting or smth, but kid finds himself in another place.
maybe kids not supposed to interfere, but then he does or saves someone, say, a little girl, and that has consequences.
Kit could be evil at first, frightening whoever, but the boy could show him, that he has to watch who. Like, don't scare orphans, or the the sad, or sick or homeless or smth. at first he wouldn't budge/listen but then his sirdsapziņa would feel it, he had never thought about it before. maybe he's in trouble for it, for choosing tho care, and maybe has to flee.
theres some part where kit is forced not to meet kid anymore and says so, to him, but this has to be solved, or can be owners choice. (what owner's??)
Name:
Evil Cheshire Kat

Alias:
Kitty, Chess, Roch/Rochy
D.O.B:
6th August
Species:
Kougra
Kind:
The Shadows or How?

Colour:
Faded Darigan

Specified as:
How?

Special signs:
Majestic and Graceful. Short compared to other Kougras. Messy fur. Round and oval spots, mostly on his back. Slim. Wears a golden tail ring. Can be seen in dark and dirty alleys or corners. Prefers living in cobweb and smoke filled basments.

Family:
Lost; been living with Drum's family ever since.

Friends:
Evil Drumstick, Wicked, Kastraliss(seriously) and a random stranger that lives in the block.

Specialties:
Round table poker.

Something he'd never part with:
His old, worn out Orange Evil Mastermind Chair and an old Genie-lamp toy.

Characteristics:
How?
Spoiled rotten:
-Gourmet stuff, status, goal, etc-

Currently I have eaten 36 gourmet shadow. *BURP*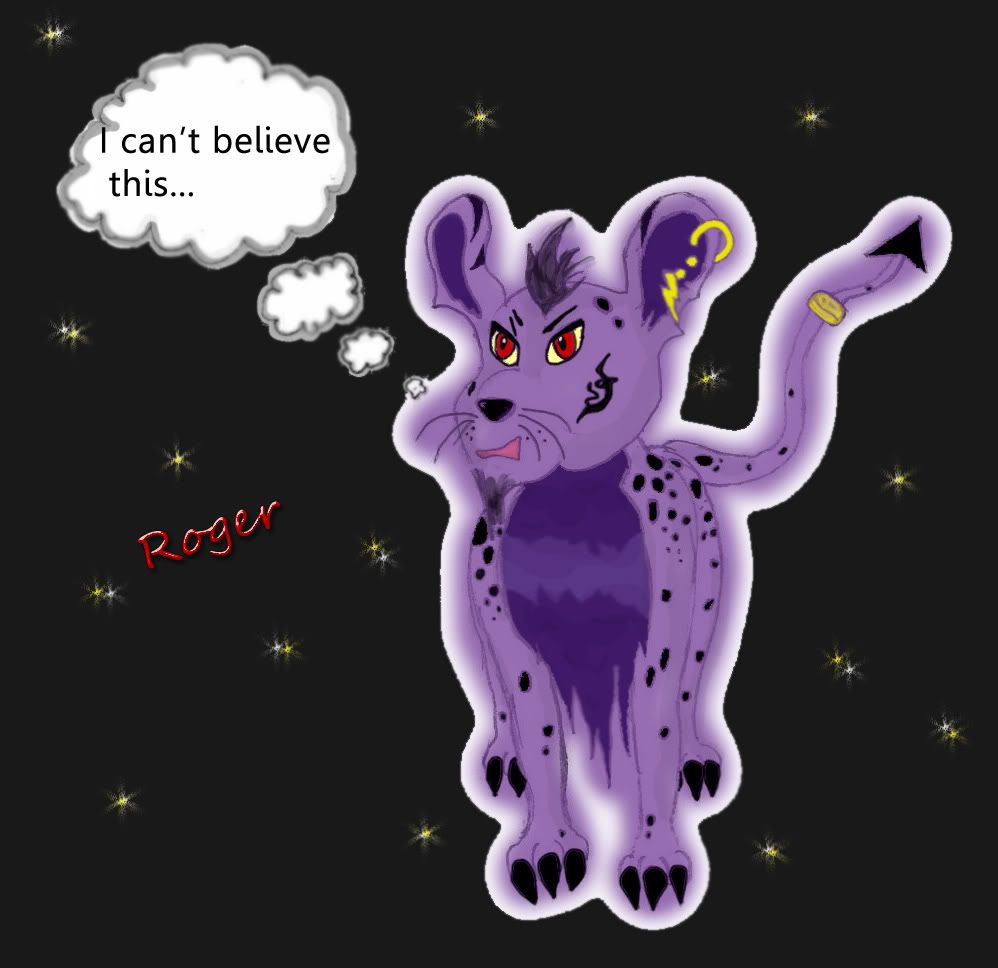 Times up! You must leave!