STATISTICS

Name | Eumaios Laertystides
Alias | Eu
Pronunciation | Yoo - MAI - Oes
..Name meaning? | Eumaios is the loyal swineherd from The Odyssey. He is the first human Odysseus meets upon returning from his twenty years away from Ithacus. (Just read the poem)
Gender | Male
Species | Plushie & Royal Boy Aisha (Cross-Paint)
D.O.B. (Neopian) | 21st Day of Collecting, Year Ten
Star + Zodiac | Libra + Pig
Age (Appearance) | 20s
Age (Physical) | 50s
Age (Actual) | 2059
Blood Relations | Possibly Laertys if Telemakhos bothers his owner Mini enough about the idea lol
Love | None

Build | Average in most respects, a bit short, even for an Aisha. His fur is very thick and rich.
Eyes | Happily black
Fur | Pleasantly tan; rather like a sheaf of slightly burnt corn

Appearance | Eumaios is a fairly average looking Aisha, whose only remarkable physical features are:
His lush lavender fur, splotched in parts with yellow and purple
His tendency to garb himself in robes, even after the Healer and him were sent to the New World.
His attachment to a wide violet hat, brimmed with gold.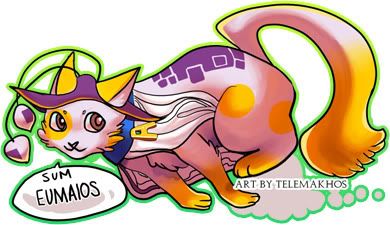 Personality | Eumaios is the type of person that is instantly likable; he is humble, he is altruistic, he is empathetic. However, while his soft qualities make him impossible to hate or admonish, he is rather like a doormat, and will let virtually anyone walk all over him.

This does not mean that he lacks self-confidence; he is not jarred by insults or jibes. He is, actually, quite secure in himself; while not possessive of beauty or strength, he does not allow these things to encroach upon his conduct.

He holds himself high and outwardly condones all acts of criminality. In truth, he seeks to "inwardly modify," so to speak, the vagabonds of modern civilization by behaving in the kindest, most pious way possible. This doesn't always work, but Eumaios sure tries.

If, however, pushed far enough, Eumaios will go berserk and quite violent (but only for his causes of upholding morality). This has not been witnessed by anyone other than Nani.

In summary, Eumaios is rather similar to a certain historical figure. ;)

PORCUS

Porcus the Snorkle is Eu's friendly compatriot. While Eumaios raises a herd of Snorkles, Porcus is an Altachuck, and assists Eumaios in raising the pigs.

Porcus is a loud fellow, unlike his owner. He is always causing grief for Eumaios and anyone associated with his devilish self. Porcus has a voracious appetite and will eat anything that moves and does not object to being ingested.

Fortunately, he is still a steadfast companion. Porcus has a very keen sense of smell, which is very useful sometimes (like sniffing out the kidnapper of a member of the herd), but can be destructive (like being distracted by the scent of brewing stew.)

His name means "Pig" in Latin.

LINK IN & LINK OUT

If you would like to link back to me, use these spiffy buttons.

Links Out!