Welcome

You are walking down Neopia Central. The parade is here! Many booths are set up to tell you about the wonderful lands of Neopia! There's Maraqua, the water land. You see many Maraquan warrior weapons. There's Darigan, with their evil looking toys. And then there's Krawk Island...
You become a little uneasy. The pirate land. What stolen goods did they have now? You walk up to a lupe who is dressed in the pirate fashion. His back is facing you.
Uh, hello there...
He turns to look at you. His fur is gray and brown. Two blue, orange, and brown eyes dart from you to his booth.
Yes ma'am?
So, I'm going to be on Glue's side for a while. She put my page back up though. Yay! PIRATES ARE STILL NOT ALLOWED!
Story!

Now it is time for the fun part! For this, I decided to doodle some events out! By doodle, I mean...very
bad
doodles.
You tilt your head to the side. He did not have the type of pirate voice you would hear on television. It sounds like he has more of a British accent to you. Light one though, you note. You decide to talk like a pirate though. He'll understand you!
Where did you steal these good items from?
That is what you hoped you told him. He lifted his brows.
Excuse me? Is this supposed to be some sick joke...
No. Are you supposed to be a sick joke? Why aren't you talking like a pirate?
He looks offended.
I'm not a pirate at all! I help run the petpet store in the island, and I'm here to sell these toys and vases!
He steps away from you.
Not all citizans are pirates. In fact...
See? Now, you can easily look on a article of Krawk Island on the Neopedia. They list the population there. But anyway, I lived there all my life. I haven't gotten robbed more than five times!
More than five times...
Yeah, it's a funny story. The first time, some chia came in the shop before it was closing time. He grabbed a few little guys, and headed back to the storage room. Well, I was there stacking boxes up. I saw him, and well...
...
Okay! I lied. Here's the truth,
You're weak. I mean, really?
Thank you. Now, since you are here...
He points to his booth.
Buy some food, toys, and a nice little petpet?
Oh, sure. What else do you do though?
I-well...I eat and sleep. Look though, my life isn't that wonderful. Stick along fore some food and music though? The fair is always nice here.
Stats

Name- Erodoth Reiro
Pronounciation- Ear-oh-dowth
Alias- Ero
Species- Lupe
Color- Pirate
Gender- Male
Age- 22
Fur- Gray and brown.~
Hair- Usually cut short; black.
Eye color- Orange, blue, and brown. Yeah...
Accesories- None
Extra- Looks very skinny. Also weak..
Fan Art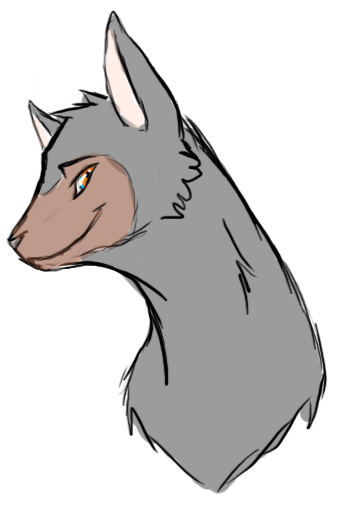 Basic Ref
Family!
Well...I'll sum this up.
Jack was my brother. He was this really rude lupe that would eat all of my food. Then he went to Terror Mountain and never came back.
Sabrina was my mom. Who knows where she is...
Eric was my dad. He's somewhere too...


Adoptables
So, you know the rules! No entering them in contests, selling them, etc. Designs only!
Finished
Replicas
Bye
Replace the "()" with
(a href="/~erodoth") (img src="http://i39.tinypic.com/2vvoms5.jpg")(/a)
Link trade? o: