This small furry creature may or may not be lying on his back or belly, apparently snoozing peacefully with a blue faellie perched on top of him, clinging to his fur.
Upon closer examination, however, one may find--most of the times, at least--that the baby lupe is not, in fact, asleep, but instead reading a book or, simply, daydreaming. In case of the latter--you're out of luck. You better turn back on your heels and go back from where you came from, once you've finished taking in the view, for you have little to no chance of getting a word out of him. If it's the former, though, the following conversation may ensue as soon as he notices you're standing over there:
Errm, hello? My name is Epf. What are you doing standing over there?
Oh! Well, then, I guess you're welcome here. Feel free to stay as long as you want to, as long as you don't disturb me. I'm reading, see?
And here, you may decide this little baby lupe is too odd for your liking and leave immediately. Chances are, however, you will stay awkwardly standing there.
...That is, unless you want to hear a story. It's not a wonderful story, though...and...well...you'll see...

Epf was born into a litter of cubs, much like every other lupe. In fact, he was just another average lupe for almost the first month of his life or so. That's the most that can be said about the first month of his life, however, as the following months have been completely erased from his memory.
Not on purpose, at least...Or so we think.
Anyway. Several months later, and many lost memories later, Epf woke up in this precise same spot, down the apple road, third tree to the left, up to the strange flower after removing the branches.
But he was not alone. From that moment on, Epf and Minnu, the little blue faellie, became a close pair, clinging to one another for love and support, as, after all, they were only two very small creatures lost in a world so big.
Yet, that was not all life had in store for Epf. Once the little tyke found his way into a new home, starting a fresh new life, he met the other love of his life: books.
He could lie devouring book after book in the place he had adopted as his shelter, with the small faellie sleeping soundly on top of his fur. Books of adventurous knights, charming princes, pirate ships, spooky ghosts, and everything one could possibly imagine.
Sometimes, though, he could get carried away with the words he so eagerly read, and his mind would start drifting away like the wind with thoughts of mysterious lands. What he didn't notice, though, was that as he imagined and envisioned those things in his mind, the world around him would start slowly shifting.
The patch of grass underneath him would suddenly become soft and fleecy, as if it was made instead of fabric. Brightly coloured mushrooms would sprout in random places, flowers the size of a grarrl would bloom for no reason. Clouds would settle just above Epf's head, soft not like a cloud but like a blanket instead. Strangely, nonetheless, all the new things seem rather plain and two-dimmensional, as if they were merely stickers placed with no order on a beautiful picture.
As soon as Epf opened his eyes, everything would instantly go back to normal, flowers and mushrooms and clouds shrinking into themselves again.
With the time, Epf realized just what exactly he could create, and with more reading, he soon started gaining control over his abilities.

It all started more than two years ago, after a short hiatus from Neopets with this account. I fell in love with baby lupes (yep, they were my 'dreamie' [yep, I went there]) and planned to morph one of my pets into one. However, I could not afford the nps (I still can't XD). I learned about adopting pets and applied for one through a very much unsuccesful NM app (:. Right now he's a red scorchio D:. Anyway, I decided I was no good for apps XD.

Then I found Epf o3o. I immediately fell in love with him as a whole, name, paint, and all (:. I decided to try my hand at petpage apps, and spent several days lurking other people's apps and reading guides to learn how to do one XD. Eventually, I was forced to learn coding and drawing digitally because of him :3.

Laura adopted him out to me on June 11th, 2009, probably the best day of my NeoLife XD. Since then, we've been together, despite my NeoFamily changing here and there. He's my favourite pet and will remain so forever.

Drag and drop to address bar to see or copy link (: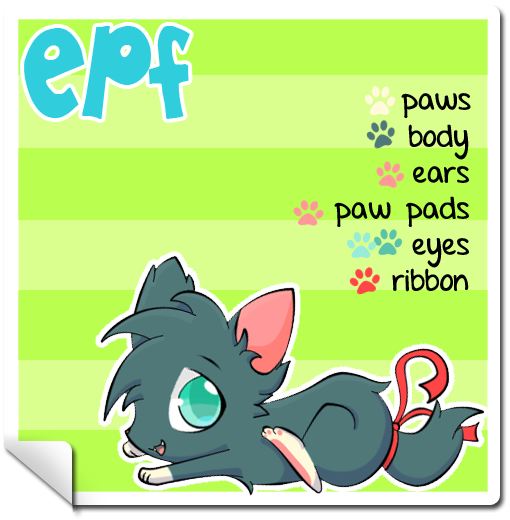 Minnu is a tiny blue faellie. Being an expensive petpet, and very rarely seen in the wild, one could say Epf's and Minnu's encounter was more than a coincidence.

Exactly where Minnu comes from is unknown. Perhaps she is a runaway faellie, or just a weird occurance in the wild. Epf woke up one day to the small petpet floating in front of him, holding an apple in her tiny hands. She took a bite out of the appled and then tossed the rest towards him, landing on the ground to push it towards him with her muzzle. From that moment on, she latched herself onto him and they have remained best friends.
All adoptables, customs, and the like will go here (:. For now, though, it's mostly empty ):. Note: Most of the adoptables are shadow-coloured lupes, as I think they fit more with Epf's design.
Art:

Are you leaving already? Okay then, but maybe you wish to come back later? If it's so, here, you should take this sticker with you. That way you'll always remember where to head.




Here are also some other stickers I have collected, in case you want to check them out (:.
Images and code by me (:. Please refrain from stealing. Texture resources from dA.