Welcome
Welcome to my little family page! This is my neopian family! :) All of my permanent pets are listed here along with a basic outline of their story. I prefer to have them all on one petpage since a lot of my petpages are used for other things and I don't want to have stories for some petpages and not for others. I plan to write full stories for all of them for the neopian times. :o In the mean time... here are some little previews. Pretty much all my pets are still works in progress! I may end up moving some of these pets around!
Main - kaylaftw

Zrauto
Zz-rah-toe
Clumsy • High Strung • Charming
A student of the arts, Zrauto takes his acting career VERY seriously. He has a short temper, and is wound pretty tight. To Zrauto perfection is everything, and will practice his lines and blocking over, and over, and over until he get's it right. He's boastful of his acomplishments but is not especially arrogant, and is always open to critisism. When Zrauto isn't running his lines or attending rehearsals for shows at his school or the local community theatre, he can be found bagging groceries at the food shop. He will cut out anything from his life if it interferes with his dreams. That is until he met Kesryn, now he has a second dream. To win her love.
Kesryn
Kess-rin
Naive • Classy • Sheltered
Kesryn is the well-mannered daughter of a very wealthy krawk. Her father brought her up with good values, and has kept her sheltered from the outside world. All she knows is high-society life, and private prestigous schools. She knows nothing about the dangers or hardships in the world, or any of the terrible people in it. She's not stupid, nor stuck up, just naive. She's very caring and loves nature. She longs to see the world outside of her gated community. That's why she joined the local community theatre, so many interesting people there!
Rhiannon
Ree-ann-on
Mysterious • Daydreamer • Unconventional
Not much is known about Rhiannon. She just rode into town on a white horse one day and took up acting lessons at the community theatre.
Notes: Work in progress. Rhiannon is a RN, a character in Welsh mythology, and a song by Fleetwood Mac!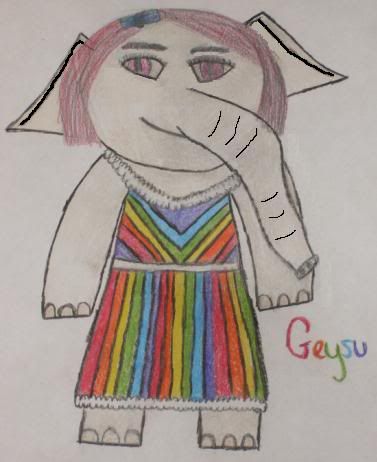 Geysu
Gee-sue
Flamboyant • Cheerful • Comic
Geysu is part of the same community theatre that Zrauto, Kesryn, and Rhiannon go to. He isn't exactly friends with any of them, but since they have done many shows together they do have a bit of a camaraderie amongst them. Geysu is a very happy fellow and is always the life of the party. He loves telling jokes and has a very recognizable laugh. You always know when Geysu is around!
Notes: Geysu is my BD pet! The image above recently earned Geysu a 2nd place trophy in the beauty contest! :) Thanks to all who voted.
Spare #1 - heydoll
Keighton
Kate-in
Nurturing • Pushover • Kind
Keighton is a big softy. She cares about everyone, and is always out and about helping the downtrodden or giving to charity. She's always been refered to as being "motherly" and if someone is sick she's the first to go to their home with some homemade chicken noodle soup and medicine. The downfall is that she is far too trusting, and can never say no to anybody! Her kindness is often taken advantage of and she ends up heartbroken.
Keighton had a bad run in with the lab ray on 9/9/11! She will be plushie again some day. :(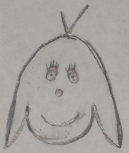 Caslera
Cass-leer-ah
Gorgeous • Vain • Scornful
Caslera is an absolutely gorgeous kacheek. Much of her day is spent trying on the latest trends from the NC mall, grooming herself, and staring at herself in the mirror. Cas is a manipulative queen bee type who almost enjoys making people unhappy. Her one redeeming quality is loyalty. Those who she does truly care about she would do anything for. Of course there aren't many people she truly cares for (aside herself of course) and most of her "friends" are merely pawns to help her get what she wants. She aspires to be a model for a top neopian fashion designer.

Qandies
Can-dees
Ambitious • Studious • Homebody
Qandies is a chocolate kacheek, as such she loves all kinds of sweets! She is described as being the perfect middle between her two sisters, Keighton and Caslera. She's kind but not easily fooled, helpful but knows her limits, and ambitious but not cut throat. Qandies loves to travel on occasion, but is just as happy curling up at home with a good book. She is an amazing baker and is striving to open her own bakery one day!
Notes: Sadly Qandies isn't a chocolate kacheek yet, she will be one day though! Once the lab or FFQ cooperates. :)
Spare #2 - sheisbrighter

Obliette
Oh-blee-et
idk • idk • idk
Obliette is Gicra's mother. More on these two will be coming soon!
Gicra
G(Like you'd say the letter)- crah
Playful • Innocent • Obedient
Gicra is Obliette's daughter. More on these two will be coming soon! Gicra did have a little headshot but it seems to have gotten lost somewhere between my camera and my computer. :P One will be up soon! :P
Abenies
Abe - nees
Idk • Idk • Idk

Honestly I have no idea about his character yet. I just know pepper chias are rad and I'm glad to have him as part of the family hehe!



Spare #3 - x_disaster
Oiaku
Oy-ah-koo
Intelligent • Laid Back • Patient
My first pet when I started using this account as my main, she's probably secretly my favorite. Shhh. Oiaku is one to go with the flow. She doesn't get upset easily or often and has the patience of a saint. She is incredibly wise beyond her years and is often called an old soul. She has been a very close family friend and confidant of Flower's and does her best to help her out of her shell.
Flower (flowergurl87)
Really? You need a pronounciation for this? :P
Intuitive • Gifted • Withdrawn
Flower is a very gifted faerie wocky. She is incredibly intuitive... it's almost like she can read minds! She's very smart, that along with her special gift makes it hard for her to get close to anyone, but she loves people. She has few close friends but tries her best to be kind and to help as many people as she can. She loves to spend time on her own, reading and learning, or just staring up at the stars thinking.

Emupo
Ee - moo - po
idk • idk • idk
Emupo is a WIP. I know that he is a friend or Oiaku's and by association, Flower. And that he is a very laid back adventurer type of character. But that's about all I've got right now!
Spare #4 - sirens
Acrasia
Ack - ray - sha
Indecisive • Idk • Idk
WIP! Will be a maracitite draik. :) Acrasia is the state of going against ones better judgement so that will def be part of her character.
Trath
Tra-th
Idk • Idk • Idk
WIP! Very new addition to the family, as of October 2011!
Mozhart
Moe-zart
Musically inclined • Idk • Idk
WIP Very new addition to the family, as of October 2011. Named after the composer, also very musically gifted.
Tyffanie
Tiff-ah-nee
Idk • Idk • Idk
WIP, somehow involved with Trath. To be painted faerie! :)