Tasks completed
JAN•1 Earn 250k & contact team leader.
JAN•2 After locating Clue #1 at Spite, read 20 books to pet to complete task & ask question (Malice & Vanity).
JAN•11 Spend 3 hours working on goals & then nm team leader for clue.
JAN•12 Restock/snipe 15 items to put together a fake package to leave at the Forgotten Shore. Neomail your team leader when completed to receive further instructions.
JAN•13 Prove your worthiness by submitting scores in 10 different games before trying to press one of them for information. When you're finished, neomail one faerie only to press her for information.
JAN•21 Try for any avatar (game, random, etc.) 30 times to help them get over their distraction. When you're finished, neomail one faerie to ask her the question designated for her below.
JAN•22 If you stock your shop with 10 new items, you can probably draw her out of hiding to ask her about the vandalism. When you're finished stocking your shop, click the link below to ask her where she was last night at midnight NST.
JAN•23 Add 5 items to any collection (gallery, stamp album, Neodeck, etc.)
JAN•25 Earn 100k any way(s).
Clues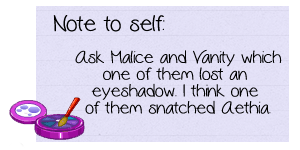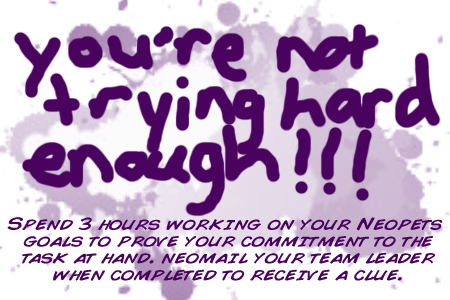 Interviews
Interview #1
Interviewed : Malice/Vanity ( Do you happen to be missing your Dark Faerie Eye Shadow?)
Malice: Is my dark faerie eyeshadow missing? Do you really think I'd lose something like that? It obviously belongs to Vanity.
Vanity: While I do love my beauty products, that's not one of them. It's not even my color!.
Interview #2
Interviewed : Vanity I know you're hiding something! I demand you tell me what you know!
Learned : I was really in the restroom when Aethia was snatched, and I can prove it. It must have been Spite who snatched Aethia! I saw her arguing with Aethia before the party started.
Interview #3
Interview #4
page coding by Anna (coco_bella) for Aethia members only