Avatar:

Score 100 points to get the avatar shown above.

Ultimate Bullseye II takes place in Meridell. It's a pretty hard game. You have to time, aim, and shoot. It's not much harder than Ultimate Bullseye I, but your going to need to use a guide to help you out, so I made this guide to help you!
Short Version: Don't move your crossbow, use the amount of power you think you need, shoot the bolt, and get +0, +1, +2, +3, +5, or +10 (bullseye). Keep repeating.
For Beginners: First, go to the game page. Click on the "Click to Play" button. Wait for the game to load, and then click instructions. Read ALL the instructions and click the "Go back". Click "Start Game" when you are ready.
Don't press any keys. Just press the space bar, and fill in the power meter (the big bullseye board with a bolt on it in the bottom left corner) to about half or so, and let go. Keep on repeating this (not the paragraph before this one), and you should at least get 10-20 Points.
For Experienced Players: Now you can move the catapult. Fill in the power meter until it's filled below or above half, depending how far the bullseye painted wood is. Release the space bar and you should be getting a +2, a +3, a +5, or a +10 if lucky. The points you get is affected by how good your aim is.
Power-Ups
Power-Ups are great in the game, and they give you an advantage in the game too. There are 5 different power-ups:
Growing Target, Fire Loop, Moving Target, Triple Shot, and Inverted Target.

Growing Target: The bullseye board grows larger, then grows smaller and repeats over and over again until your done the turn.
Fire Loop: A fire loop appears and when you hit the bullseye board, you gain x2 points (this only works when the bolt goes through the fire loop).
Moving Target: The bullseye board moves up, down, left, and right.
Triple Shot: You can shoot 3 bolts at one time with your catapult.
Inverted Target: The board turns blue and every thing is switched around. The bullseye gives 0 points, the +5 area is the now +1 area, the +3 area is now the +2 area, the +2 area is now the +3 area, the +1 area is now the +5 area, and the wood is a bullseye.
NOTE: THIS ONLY HAPPENS WHEN YOU HAVE THE INVERTED TARGET POWER-UP!
Da Balloons
You're wondering what this thing is eh? It's a Meridellian balloon. When you pop it (without hitting board) it gives you 5-10 points. When you pop it AND hit the board, you get 30 points plus the amount you would have gotten.
For example, I pop the balloon and hit the board. I hit the 3's area. I would get 33 points. Note: You usually get this or the King Hagan balloon after a bullseye. This balloon appears random during your 10 turns.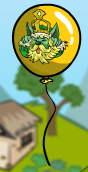 Funny face eh? Well don't laugh yet! It gives 10-15 points when you pop it and miss the board, but if you hit the board while popping it, you get 35 points and the amount you would've gotten.
For example, I pop it and hit the board, and the bolt is in the 5's area. I would get +35 with +5, and that makes +40! Note: You usually get this after a bullseye, but other than that, it's random during your game.

Punch Bag Bob
Yay, punch bag bob is here! Anyways, lets get to the point. Every single part of his body is worth 5 points. The apple on his head is as usual, worth 20 points. Try to hit the apple with your bolt!
A combo is great to use, especially because they give you extra points.
I'll tell you an example of a combo. If my bolt went through a fire loop, hits a king hagan balloon, and hits a ten, you would get a extra 95 points to boot! That 95 points is enough for the avatar if you have 5 points before you got the 95 points!
Go on out there and try your best! That's all I have to say for now. Please correct me if I missed something please.
Guide by Nova022. Anyone claiming this guide is going to be reported to TNT.