August 1st, 2014
Hey everyone! I hope you are all having a fabulous summer and enjoying the sunshine!! (or cold weather if you live on the other side of the planet XD) There are some changes within the guild: the portal has had a total revamp (thanks to our very own Scatty!), we got rid of some pages that weren't being utilized such as the Committees, Employment Agency, and Board Games.
What's New?
There is a NEW activity hosted by Rosa (lamesville) called 'Scribble Me This.' It can be found on the activities page (left hand side).
We have added a Donation Shop to help with things around the guild. If you are able to contribute, please do! This is 100% optional and not required in any way.
The Compliments Page has received a makeover!! Stop by to check it out and why not leave a compliment for a well-deserved Whimsian?!
August Events
August 3rd - Whimsy Social Hour (12pm NST)
August 14th - dundea's birthday
August 19th - lamesville's birthday
August 24th - Fashion Corner entries due!
August 27th - andypandysandy's birthday
August 31st - Team's Challenges comes to an end!
Art Work
Do you like to draw? Whimsy would love to share your artwork with its other members! Simply submit your beautiful masterpieces to me and I will add it to the page. Your username will be listed with the artwork you submit. All entries will receive 10 points for their team!!
Submitted by: Scathachs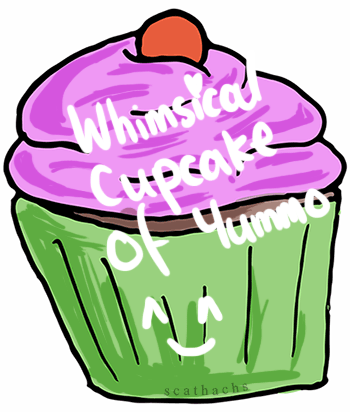 Recipe Corner
Homemade Starbucks Caramel Frappuccino (Submitted by: Lauren | lalalapanicc)
Ingredients(Makes 2 servings):
2 cups ice
1 cup strong brewed coffee, cooled
1 cup low-fat milk
1/3 cup caramel sauce
3 tablespoons white sugar
Directions:
1. Blend ice, coffee, milk, caramel sauce, and sugar together in a blender on high until smooth.
2. Pour into two 16-ounce glasses
3. If you're feeling fancy you can top it off with whipped cream and a caramel sauce drizzle!

Indian Bean Salad (Submitted by: Matt & Jamie | kaiserm24 & eimaj20)
(Served Cold - Yields 8 - Prep time- 10 minutes)
Ingedients:
1/2 large Organic Cucumber Cut into quarters
1 can organic Garbanzo Bean drained and rinsed
1 can organic Black Beans drained and rinsed
1 can organic Pinto Beans drained and rinsed
1 can organic Dark Red Kidney Beans drained and rinsed
1/4 Cup Organic Cilantro finely chopped, free of stems
1/2 Organic lemon, juiced
2 TBSP Garlic Powder, Salt & Pepper
4 TBSP Ground Cummin
Directions:
Combine all beans into mixing bowl. Add cilantro and Cucumber next. Add seasonings and stir in the lemon juice thouroughly. Chill in the refridgerator for an hour and serve!
Mexican Style Corn Dip Served (Submitted by: Matt & Jamie | kaiserm24 & eimaj20)
(Cold - Yields 8 Prep time- 10 minutes)
Ingedients:
2 Cans of Mexicorn (Sweet corn with Red and green diced peppers added to it) drained
1 7oz can of diced green chilis, drained
1 Jalapeno, deseeded and and finely chopped
1/2 Cup of Sour Cream
1/3 Cup of Mayo
4 oz of Mexican Style Cheese (usually jack, cheddar and quesadilla cheese mixed together)
***1 oz (2TBSP) of Texas Pete Hot Sauce
*** 1 TSP Salt and Pepper
Directions:
Drain corn and chilis add into a large mixing bowl. Add diced jalepenos and mix. Add sour cream and mayo to the bowl of ingredients. Add salt and pepper and hotsauce. Lastly add the cheese. Mix together thouroughly. Chill in the refridgerator and serve! *** indicates as desired***
Buffalo Chicken Style Pizza (Submitted by: Matt & Jamie | kaiserm24 & eimaj20)
(Served Hot - Yeilds 4 - Prep Time: 10 minuets Cook time: 20 minutes)
Ingedients:
1 pound of precooked Chicken Tenders
6 oz of favorite buffalo sauce
8 oz of Mozzerella Cheese
8 oz of Blue Cheese Crumbles
1 Prebaked Pizza Crust
2 TBSP Butter
2 TBSP Garlic Powder
Directions:
In a bowl, microwave butter and garlic powder until butter is completely liquid.
Brush butter mixture all over the prebaked crust.
Marinate chicken in buffalo sauce.
Slice chicken thinly. Layer on the chicken and then the Blue Cheese crumbles first.
Then sprinkle the Mozzerella Cheese on top.
Bake at 350* F for 20 minutes or until cheese browns on top.
After baking, drizzle buffalo sauce on the top. Let sit out and cool for 5 minutes. Then cut and serve!
Member of the Month
We would like to extend a huge congratulations to our current MOTM! Whimsy is so lucky to have members that show such dedication and passion.
Thanks for choosing me as MOTM for August! It's definitely an honor to be picked. I love chatting with all the friend's I've made in Whimsy! and hope the guild lasts for a long time!
Fashion Corner
Whimsy loves to see the creativity it's members possess, so get those pets dressed and show them off!!
August's theme is "A Day in the Garden", all submissions are due August 24th. Voting will begin the very next day. Remember that the winner will receive 20 points for their team, all other participants will receive 5 points for their team.

CLICK HERE TO VISIT THE FASHION CORNER PAGE

July's winner: sweetpea20031219

User: sweetpea20031219
Scatty's Story
The final part to Scatty's story!!
Notice Board
Have something you would like to advertise? Looking to trade a pet/nc? Have items in your trades you would like to get rid of/sell? Anything you would like to advertise can be done so here! (Neo related and approved). Send Brittany your image or text advertising/explaining what you are seeking/selling/trading/ect.

Have a question about neopets?? Send it to our very own Jamie and she will answer it!! All responses will be listed here!

Hi there, I had a question and couldn't find the answer anywhere so I thought I would "Ask Sophie" from the guild newspaper. I wasn't sure where those kinds of questions went so I just thought I would mail it here and you could forward it on, or tell me where I should send it. The question I have is: Can you battle with someone's side account pets in the battledome? I know 1 player battles aren't allowed on side account because you win money and items from the battles, but wasn't sure if PvP on sides was allowed. Thanks so much! ~Ash
Dear Ash, That is a great question! You are not allowed to battle certain on a side account that count possibly give you neopoints or prizes... However if the outcome of the battle does not give you neopoints or items you are allowed to battle them from a side account. You are allowed to battle for avatars on your side account, like a Darigan Tonu, or a jetsam. The key is if it is free and doesn't give you any prizes (neopoints or items) it is allowed on your side account! Love, Jamie
Credit
CSS from Sugary Premades
Background from Bedazzled
Envelope/Texture from Details