November 1st, 2014
I cannot believe it is officially FALL! I hope everyone is enjoying this cooler weather I'm glad TNT has fixed a lot of the bugs and life on neo is 'pretty much' back to normal. There's still quite a bit that has to be fixed, but all we can do it be patient.

Guild News
- The guild front CANNOT be updated. Please check the guild message boards for any special announcements.
- The Avatar Lending Page has been revamped, check it out.
- The Team's Challenges have STARTED! Good luck to both teams: Relentless & Aspire!!

What's New?
There is a NEW theme up for Scribble Me This, Fashion Corner & Account Improvement
Thank you to everyone who has made a donation to the guild shop!! We have restocked our 1np auction items This is 100% optional and not required in any way.
We are currently recruiting until we reach *roughly* 65 members! Please click here to bump our board!
November Events
November 16th - blackroseofwisdom's birthday (Aisling)
November 17th - sweetpea20031219's birthday (Harmony)

Art Work
Do you like to draw? Whimsy would love to share your artwork with its other members! Simply submit your beautiful masterpieces to me and I will add it to the page. Your username will be listed with the artwork you submit. All entries will receive 10 points for their team!!
Submitted by: Scathachs
Recipe Corner
Pumpkin Chocolate Chip Cookies (Submitted by: Brittany | missxblonde7x)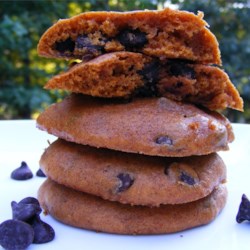 Ingredients:
1 cup canned pumpkin
1 cup white sugar
1/2 cup vegetable oil
1 egg
2 cups all-purpose flour
2 teaspoons baking powder
2 teaspoons ground cinnamon
1/2 teaspoon salt
1 teaspoon baking soda
1 teaspoon milk
1 tablespoon vanilla extract
2 cups semisweet chocolate chips
1/2 cup chopped walnuts (optional)

Directions:
- Combine pumpkin, sugar, vegetable oil, and egg. In a separate bowl, stir together flour, baking powder, ground cinnamon, and salt. Dissolve the baking soda with the milk and stir in. Add flour mixture to pumpkin mixture and mix well.
- Add vanilla, chocolate chips and nuts.
- Drop by spoonful on greased cookie sheet and bake at 350 degrees F (175 degrees C) for approximately 10 minutes or until lightly brown and firm.
Member of the Month
We would like to extend a huge congratulations to our current MOTM! Whimsy is so lucky to have members that show such dedication and passion.
I consider myself incredibly lucky to have found such an amazing guild. It is the best guild I've ever joined due to the friendly, helpful, and supportive council and members. I was honestly surprised when I was even in the running for MOTM. There are so many amazing members here. Much love to everyone who voted for me I know this month was close! Whimsy is the greatest, and I can't wait to see what the future has in store for us.
Fashion Corner
Whimsy loves to see the creativity it's members possess, so get those pets dressed and show them off!!
November's theme is "Autumn", all submissions are due September 23rd. Voting will begin the very next day. Remember that the winner will receive 20 points for their team, all other participants will receive 5 points for their team.

CLICK HERE TO VISIT THE FASHION CORNER PAGE

October's winner: pinkpuppies

User: pinkpuppies
Earn an Easy 6k+ Per Day!
This is a REPEAT article - written by Ayme (hisprincess)
A few years ago, I was getting so tired of playing endless flash games on Neopets. It was pretty much my sole way of earning NPs, but I was getting burned out. So I started looking at each game to see how long it would take me to play the game versus how much I was earning. I was surprised at the results! Eventually, I started earning more in other ways (i.e., Stock Market, Key Quest, and Food Club), but I kept a handful of games that were really easy and earned a decent amount in a very short time. Even now that I've achieved my NP goal, I still make these games a part of my dailies.
Kass Basher: Earn 3,000 NPs by sending 3 scores of 850 or more. If you're not very good at the game, check out a game guide, such as this one at