Welcome
Here you will find a list of everyone who has won one of my awards and information on how to receive one for your own. These awards are for screenshot petpages I believe are truly unique and funny! Even though the awards themselves have no real value, I still felt like handing some out :)
Updates
As of 06/20/11
- I'm back on Neopets (it's good to be back)! I'm handing out awards again so start applying or recommend a friend's petpage!
As of 7/20/05 - All my previous screenshot awards will be offline. New awards will now hold the winner's name.
New Award Winners
Xdriftingdreamx - Gold
Nadira_Cute - Silver
Age109 - Silver
Dmeme1238 - Silver
Dewchic - Bronze
Sunnymoonfire - Bronze
Prior Award Winners
Gold
Lilspoigurl [AD]
Frozen_whit [AD]
Toasterbob [DQ]
Fierychili [LA]
James_Prongs [LA]
Kougrakat [LA]
Toda_Estrella [LA]
DirrtaybabyLxL [NS]
Dustiixx_ [NS]
Evilxnova [NS]
Hottgurlbynature [NS]
Kristina200212 [NS]
Videogamer_Respawned [NS]
Silver
Oostar_shineoo [AD]
Daze14 [DQ]
Lilykene12 [DQ]
Mallypet1 [LA]
Zestyfaerie [LA]
Sweetz8290 [NS]
__Thelegendofzelda__ [NS]
Bronze
Inktomi [DQ]
Ribbon
Luv_dogs3333 [AD]
Rosanne_k04 [AD]
Sebring_Sovereign [AD]
Agentmisty45 [DQ]
Greeneyedchick_324 [DQ]
Honolulu3462 [DQ]
Japanese__Koi [DQ]
Neon743 [DQ]
Ozzyroxx [DQ]
Shadowdragon5217 [DQ]
Insanity_205 [NS]
FAQ
1) How do I qualify for your award?
Simply neomail me with a link to your screenshot petpage or catch me on the boards.
2) How do I report someone stealing your award?
I don't think it's going to be an issue now, considering all new awards are customized to the recipient. However, someone may have saved my old awards to their own servers so just neomail me ;)
3) What do you use to make your screenshots and trophies?
I used to have Paintshop Pro 8, but I switched over to Photoshop CS5 (sigh) It's not the same!
4) Do you make all your own graphics and layouts?
Yes. Also, all the image editing & coding for this page was done by me, Animefreak869, so please don't take and claim as your own.
5) I've seen many different awards from you, how many have you made?
Three versions, newest one is prettier or more personal!
6) What do the letters next to my name on the old winners list mean?
These are to explain why you didn't receive the new custom award.
AD: Account disabled
DQ: Doesn't qualify (misc. reasons)
NS: No longer has a screenshot petpage
LA: Long absence from Neopets
7) Are you listed anywhere?
This petpage is listed at Elle's Help Guide, Soroptimist Directory, The Guide, Smiley Central, Spark, Plethora, Beneath the Waves, Barcode, HOTL Directory, A Small List, Ellie's Directory, The Faerie Compass, Angel's Directory, Lemon vs. Lime, LPD and Silver Directory.
8) Can I see a sample of your award?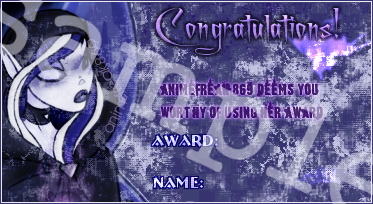 Link Back Buttons

Other Petpages