The Quiggle´s Pond
Welcome to the Quiggle´s Pond, a place with all teh Quiggle´s facts and a lovely directory.I wanted to do this since Quiggles are one of the most unnpopular species around Neopia.
Meet your host, the precious Dokuika.
To start with this page Dokuika will show you the evolution of Quiggles across the years:
Also know as Frogstomp, appeared on the 18th day of Eating, Year Two.
Later that year, the Frogstomp was redrawn and renamed Quiggle
The quiggle didnt have that many changes...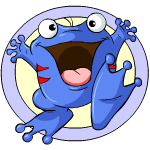 ...until the convertion:
As you might suposse not all the Qiggles were converted.the ones that remained unconverted should look like this:
| | | |
| --- | --- | --- |
| | | |
| UC Plushie | UC QuigukiBoy | UC QuigukiGirl |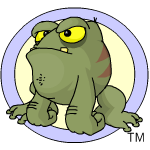 UC Tyrannian
Rules to apply
1.Your pet must be a Quiggle, pretty ovious, but...
2.Please, no: Red, Blue, Yellow, Green or Invisible Quiggles.
3.I won´t accept pets that are not taken care of. So no sad pets (I understand illness).
4.I won´t accept lab rats, since I won´t be checking if you have zapped your pet or not.
5.Neomailme this form to vanesita900:


Pet´s name:
Colour:
Gender:
Roleplay: open or closed?
Do you want to apply for any diamond? Which one?Why?(Send me stats, links or whatever you need.)


6.Please link back, either in you lookup or in your Quiggle´s lookup.This is a MUST since in this way I know iy your pet doesnt belong to you anymore.
Ways to make me delete your Quiggle from here
Who forewarned is forearmed
I will be checking your accounts to see if you are unactive, and if there is no notification of beeing on hiatus and you have been at least 2 (two) months inactive I will delete you and send you a message.If you warned me that you will be on a hiatus I will wait up to 4 (four) months.
Other way of making me kick you out of here is keeping your pet sad. You will have 3 (three) warnings and then you will be deleted.
Im soooo sorry of adding this section, but I won´t stress myself.
Here they are
This pets are not UFT/UFA.Do not bother they owners
| | |
| --- | --- |
| | If you recive this icon means that your pet has +30 in all his/her stats |
| | You will recieve this icon if your pet has a custom petpage or lookup.It can´t be a premade!! |
| | You will recieve this if your pet is a UC one. |
| | |
| --- | --- |
| Males | Females |
| namehere | namehere |
| namehere | namehere |
| namehere | namehere |
| namehere | namehere |
| | |
| --- | --- |
| Males | Females |
| namehere | namehere |
| namehere | namehere |
| namehere | namehere |
| namehere | namehere |
| | |
| --- | --- |
| Males | Females |
| namehere | namehere |
| namehere | namehere |
| namehere | namehere |
| namehere | namehere |
| | |
| --- | --- |
| Males | Females |
| namehere | namehere |
| namehere | namehere |
| namehere | namehere |
| namehere | namehere |
| | |
| --- | --- |
| Males | Females |
| namehere | namehere |
| namehere | namehere |
| namehere | namehere |
| namehere | namehere |
| | |
| --- | --- |
| Males | Females |
| namehere | namehere |
| namehere | namehere |
| namehere | namehere |
| namehere | namehere |
| | |
| --- | --- |
| Males | Females |
| namehere | namehere |
| namehere | namehere |
| namehere | namehere |
| namehere | namehere |
| | |
| --- | --- |
| Males | Females |
| namehere | namehere |
| namehere | namehere |
| namehere | namehere |
| namehere | namehere |
| | |
| --- | --- |
| Males | Females |
| namehere | namehere |
| namehere | namehere |
| namehere | namehere |
| namehere | namehere |
| | |
| --- | --- |
| Males | Females |
| namehere | namehere |
| namehere | namehere |
| namehere | namehere |
| namehere | namehere |
| | |
| --- | --- |
| Males | Females |
| namehere | namehere |
| namehere | namehere |
| namehere | namehere |
| namehere | namehere |
| | |
| --- | --- |
| Males | Females |
| namehere | namehere |
| namehere | namehere |
| namehere | namehere |
| namehere | namehere |
| | |
| --- | --- |
| Males | Females |
| namehere | namehere |
| namehere | namehere |
| namehere | namehere |
| namehere | namehere |
| | |
| --- | --- |
| Males | Females |
| namehere | namehere |
| namehere | namehere |
| namehere | namehere |
| namehere | namehere |
| | |
| --- | --- |
| Males | Females |
| namehere | namehere |
| namehere | namehere |
| namehere | namehere |
| namehere | namehere |
| | |
| --- | --- |
| Males | Females |
| namehere | namehere |
| namehere | namehere |
| namehere | namehere |
| namehere | namehere |
| | |
| --- | --- |
| Males | Females |
| namehere | namehere |
| namehere | namehere |
| namehere | namehere |
| namehere | namehere |
| | |
| --- | --- |
| Males | Females |
| namehere | namehere |
| namehere | namehere |
| namehere | namehere |
| namehere | namehere |
| | |
| --- | --- |
| Males | Females |
| namehere | namehere |
| namehere | namehere |
| namehere | namehere |
| namehere | namehere |
| | |
| --- | --- |
| Males | Females |
| namehere | namehere |
| namehere | namehere |
| namehere | namehere |
| namehere | namehere |
| | |
| --- | --- |
| Males | Females |
| namehere | namehere |
| namehere | namehere |
| namehere | namehere |
| namehere | namehere |
| | |
| --- | --- |
| Males | Females |
| namehere | namehere |
| namehere | namehere |
| namehere | namehere |
| namehere | namehere |
| | |
| --- | --- |
| Males | Females |
| namehere | namehere |
| namehere | namehere |
| namehere | namehere |
| namehere | namehere |
| | |
| --- | --- |
| Males | Females |
| namehere | namehere |
| namehere | namehere |
| namehere | namehere |
| namehere | namehere |
| | |
| --- | --- |
| Males | Females |
| namehere | namehere |
| namehere | namehere |
| namehere | namehere |
| namehere | namehere |
| | |
| --- | --- |
| Males | Females |
| namehere | namehere |
| namehere | namehere |
| namehere | namehere |
| namehere | namehere |
| | |
| --- | --- |
| Males | Females |
| namehere | namehere |
| namehere | namehere |
| namehere | namehere |
| namehere | namehere |
| | |
| --- | --- |
| Males | Females |
| namehere | namehere |
| namehere | namehere |
| namehere | namehere |
| namehere | namehere |
| | |
| --- | --- |
| Males | Females |
| namehere | namehere |
| namehere | namehere |
| namehere | namehere |
| namehere | namehere |
| | |
| --- | --- |
| Males | Females |
| namehere | namehere |
| namehere | namehere |
| namehere | namehere |
| namehere | namehere |
| | |
| --- | --- |
| Males | Females |
| namehere | namehere |
| namehere | namehere |
| namehere | namehere |
| namehere | namehere |
| | |
| --- | --- |
| Males | Females |
| namehere | namehere |
| namehere | namehere |
| namehere | namehere |
| namehere | namehere |
| | |
| --- | --- |
| Males | Females |
| namehere | namehere |
| namehere | namehere |
| namehere | namehere |
| namehere | namehere |
| | |
| --- | --- |
| Males | Females |
| namehere | namehere |
| namehere | namehere |
| namehere | namehere |
| namehere | namehere |
Males
Females
namehere
Dokuika
Rp:Closed
namehere
namehere
namehere
namehere
namehere
namehere
| | |
| --- | --- |
| Males | Females |
| namehere | namehere |
| namehere | namehere |
| namehere | namehere |
| namehere | namehere |
| | |
| --- | --- |
| Males | Females |
| namehere | namehere |
| namehere | namehere |
| namehere | namehere |
| namehere | namehere |
| | |
| --- | --- |
| Males | Females |
| namehere | namehere |
| namehere | namehere |
| namehere | namehere |
| namehere | namehere |
| | |
| --- | --- |
| Males | Females |
| namehere | namehere |
| namehere | namehere |
| namehere | namehere |
| namehere | namehere |
| | |
| --- | --- |
| Males | Females |
| namehere | namehere |
| namehere | namehere |
| namehere | namehere |
| namehere | namehere |