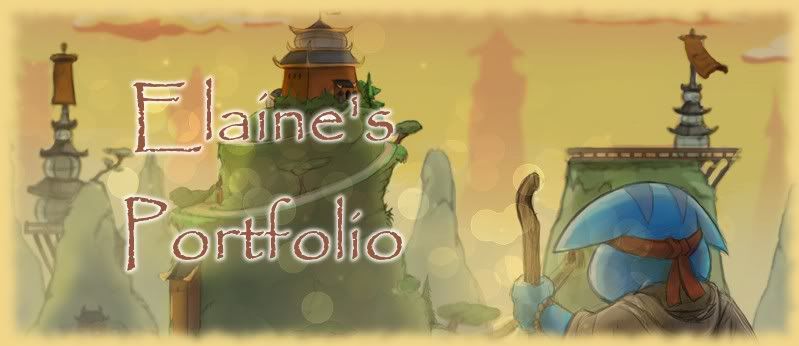 Introduction
Why, hello there, I see you've discovered my portfolio. Welcome! My name's Elaine and this a compilation of almost everything I've designed, created, or coded on Neopets. I dabble in arts of making screenies, banners, and buttons. Well, enough jibber-jabber. Here they are!
---
Updates
04/08/2014
- 5 buttons and 1 icon request done so far! I'm even getting better.
03/05/2014
- 4 requests done! Keep them coming! :D
23/04/2014
- To recap, I made a button for Wu, a picnic button for this page, just today finished a scroll button for my wishlist, and am now working on a new request. Woo hoo!
06/04/2014
- No way, here I am exactly TWO YEARS since my last update, a very long button hiatus indeed. Check it out, I even made a new button!
---
08/04/2012
- My spring break ends today, yet I've been so busy with college business for the fall! I'll close requests temporarily so I can focus on the ones I have to do now. Thanks!
24/03/2012
- Finished 2 requests and my entry for
Pandemonium's button collage
! I am slot # 17, "Friendly Mushroom." Props to anyone who gets the reference without looking it up!
22/03/2012
- Did a NOT UFT/UFA banner for Kiers, I'm actually quite proud!
20/03/2012
- Finished a request and did buttons for my guild and Genericizing's BOTM! However, I am not eligible for the next cycle of the competition, seeing as I won first in the last. Good thing I got practice!
19/3/2012
- My entry for Genericizing's BOTM won first place and owner's pick! Thanks to all who voted.
17/03/2012
- Finished 3 more requests and broke up my buttons to more manageable chunks!
16/03/2012
- Look to the left! It's a gif from one of my favorite games! Please forgive me if you're waiting on me for a request, I haven't forgotten you!
14/03/2012
- I'm back from a silencing and a boatload of schoolwork! Unfortunately, I'm still swamped. 4 buttons on my list to do! In other news, please vote for my button at
Genericizing's
BOTM! Just don't forget to read her rules.
06/03/2012
- More and more buttons!
02/03/2012
- Finished 5 more requests? It's hard for me to believe!
27/02/2012
- Finished 5 requests! All in two days, too.
24/02/2012
- I tried a new glow scan technique while making another credit button. I think I really like it!
23/02/2012
- Did a couple buttons for Jessica. I'm really excited about the "Premade fonts" one as I've begun to use some new text techniques. Added a new "Favorites" section under the buttons!
22/02/2012
- I've sorted out some problems and am officially reopening button requests! Also posted the ones I did for friends since the 15th, to keep in practice.
15/02/2012
- I've been feeling so busy, so I've closed requests temporarily. Thanks for understanding, guys!
08/02/2012
- Did 5 buttons today! Good thing senior "finals" means I have tons of time!
05/02/2012
- Four banners for 3 friends!
29/01/2012
- A banner for a close friend whose birthday is today, and a button.
28/01/2012
- Three more buttons.
26/01/2012
- Two buttons today! I placed second in Genericizing's IOTM to a very worthy winner.
24/01/2012
- Two banners and two buttons more! I've also started playing around with div boxes. Snazzy, eh?
20/01/2012
- Just got my power back after a horrible snow storm! But it didn't stop me from making a new button for my portfolio.
18/01/2012
- I made a "I think you're a Star" banner and posted it on my lookup while secretly giving away 50 candy stars to the HC! It was fun. Also a banner for Wu.
17/01/2012
- Did two gift banners! I'm actually proud of them.
16/01/2012
- Finished another button and an icon to enter in Genericizing's IOTM! You can go vote NOW by clicking the button a few entries below. Read her rules! Note that only the IOTM is currently open for voting, but feel free to enter against me for the BOTM!
15/01/2012
- Did a banner and several more buttons, including one for Abbie and another for this page!
31/12/2011
- Finished 3 more button requests! Happy New Year's everyone.
29/12/2011
- Entering in Genericizing's BOTM. You can see the button "Bright Shine" in my buttons section.
Vote for me soon (but not yet) here:
And be sure to read the rules!
28/12/2011
- Made a new button for my screenies and a name banner for my userlookup.
27/12/2011
- Updated layout to include anchoring!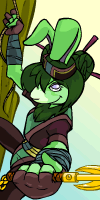 ---
Buttons
These are arranged from newest to oldest, both across then down, separated every 5 rows for your viewing convenience.
---
My favorites
In order from most to least, here are my favorite buttons! I'm very proud of these.
---
Pet Art
This drawing won Djev second place in the Beauty Contest!
Let's see how Wockaholic does in the BC this week!
---
Banners
One example is the banner at the top of this very page! Drag and drop each banner to the address bar to see it full-size.

My very first banner. I'm sure you can tell.

A holiday present for a close friend!

This looks much better on my lookup.

This is for my screenies!

This is a gift for the same friend ♥

A gift for Kit!

Muahahaha!

For Wendi

For Wu

For Dylly-pop

For Eleanor

For Timmy

For the Spence-machine

For the Spence-machine's site

For Kiers

For Shay

For my lookup on V-day

For Ki's new draik!

For Wubo's stamp guide
---
Miscellaneous
These don't really fit in other sections!

My icon entry for genericizing. Second place!

A button for a friend!

Good luck getting Beiki!

For Duane's gallery

For Flame
---
Requests
Rules? Of course you have to read them!
Yes, I do button requests, but this is my portfolio, not a button request site. Please don't list me as such! It's also the reason why I don't take affies. I usually take an hour to do a single button, but I can only give you a guarantee of three weekdays. I will ONLY use neopets.com images. Thanks for understanding! Just neomail me the form and you are on your way. Include the word mercury so I know you read this! You MUST use my past buttons as a reference so I can be certain what you want me to do. For example: "I want the shine from the INKED button and the border from the GENTLE TOUCH button." Also, please be very specific about which one, some are duplicates. If you don't use my past ones and give me vague descriptors, your button may not end up looking like you expected.

Of course, you always have the option to tell me to do whatever I want on the border, image, animation, or all of them. I'll only try to make your button the best it can be. Sound good? Here's my form!
---
Pick Up
Here are my finished requests! I'll move them to my buttons section after they've been picked up. If I don't know the page link, I will link them back here. If you someday decide not to use your button anymore, it's completely fine!
Just don't forget to leave credit if you keep it! This is customarily done by linking your button directly to this page, especially if you have multiple buttons, or you can display one of my buttons.
I will hunt you down and send my guards after you if you don't credit. Thanks!
---
FAQ
Who are you?
Basically, my name's Elaine! If you want more detail, visit my lookup.
What do you do on Neo?
My, aren't you prying! I spend most of my time on the HC or in my guild. I'm not very rich at all, as you might be able to tell.
What programs/resources do you use?
I use GIMP and MS Paint in Windows 7. I also use Nienke's resources. I work on a HP laptop, either with the mousepad or a wireless mouse.
What are the TEAM buttons for?
They're for my guildies! I'm a part of Team Neutral, whose button was my very first (which is why it's not quite aesthetically pleasing).
Really, that's your first button?
Okay okay, it's true, I've attempted buttons before, but I really like to pretend they never existed because that's just how horrible they are! It was doing my screenies page that first inspired me!
So can I request a button from you?
Sure! Just check out my Request section.
What about a banner or icon?
I haven't had much practice with those to be honest. I'll let you know if I ever feel comfortable doing banner or icon requests. Honestly, it's for your own sake! I don't want anyone to feel obligated to use a stinky custom graphic made by me.
You say you edited this layout? So you code, too?
I'm learning to code, simply put. I can mess around with premades and attempt to make a nice layout, but I'll never be able to do it without a premade. So yes, I code, but not without heavy help.
Well, thanks for the information, I think I'll check out your screenies now.
*gasp* Oh how kind of you!
---
Treasure Box
This is my little section for all the gift art or awards I've received! Thank you guys so MUCH! Please note that anything in this section was NOT made by me. Drag and drop to the address bar to see them in full view!
---
Sitely
(AKA Button Bombardment)
Thanks to elaine1071994 for taking the time to read this page!
Please feel free to neomail me with any feedback you have. You rule!
Link me? Take your pick!



Visit my screenies?

Layout edited by me from a mix of coding from:

Resources:

---
Look, you're a number now!


Counter set December 8, 2011
NEOPETS, characters, logos, names and all related indicia are trademarks of
Neopets, Inc.
, © 1999-2014.® denotes Reg. US Pat. & TM Office. All rights reserved.
Privacy Policy
Safety Tips
|
Contact Us
|
About Us
|
Press Kit
|
Terms and Conditions