Heey (:
Welcome to my Gallery Wishlist ! I alredy have a Wishlist, but that one is for wereables and PBs, and stuff like that. Here I'll put the itens I want/need for my plushie gallery ! They're in alphabetical order (:
I collect plushies; puppets; special plushies (magical; ripped..) and Fuzzles !
I'd love if you could help me ! If you want to, send me a plushie ! It can be here or not. It can be a basic one, every help counts (:
You can send anything or contact me at babyli_98
Visit also my Gallery and my Shop ! :3
If you want to search for a specific plushie in here, just use 'Ctrl + F' and type the name of the plushie you're looking for.
Thanks to all that have donated me or helped me to get plushies ! (:
PS: Ignore this image below (the one full of plushies). I made it, and it's terrible, but I can't find a cute image full of plushies, so it'll be like this.
---
The Wishlist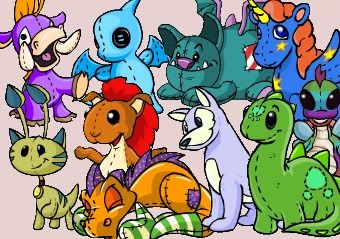 12th Birthday Celebration Kougra Plushie
12th Birthday Celebration Xweetok Plushie
Abominable Bori Plushie
Acara Acrobat Plushie
Ace Zafara Plushie
Adorable Hex Doll
Adorable Wraith Plushie
Agate Dervish Plushie
Aisha Birthday Plushie
Aisha Lawyer Plushie
Alien Aisha Plushie
Altador Cup Referee Plushie
Angel Chia Plushie
Angry Techo Plushie
Angry Vira Plushie
Anshu Plushie
Antwerph Plushie
Anubis Plushie
Apis Plushie
Apple Bobbing Bart Plushie
Archmagus of Roo Plushie
Arkmite Plushie
Armin Plushie
Asparagus Chia Plushie
Aubergine Chia Plushie
Autumnnal Kacheek Plushie
Avabot Plushie
Average Nerkmid Plushie
Baby Aisha Plushie
Baby Blumaroo Plushie
Baby Bori Plushie
Baby Bruce Plushie
Baby Brush Plushie
Baby Buzz Plushie
Baby Chomby Plushie
Baby Cybunny Plushie
Baby Eyrie Plushie
Baby Grarrl Plushie
Baby Grundo Plushie
Baby JubJub Plushie
Baby Korbat Plushie
Baby Kougra Plushie
Baby Lenny Plushie
Baby Lupe Plushie
Baby Moehog Plushie
Baby Mynci Plushie
Baby Ogrin Plushie
Baby Peophin Plushie
Baby Pteri Plushie
Baby Quiggle Plushie
Baby Scorchio Plushie
Baby Skeith Plushie
Baby Space Fungus Plushie
Baby Techo Plushie
Baby Tonu Plushie
Baby Tuskaninny Plushie
Baby Uni Plushie
Baby Usul Plushie
Baby Wocky Plushie
Baby Xweetook Plushie
Baby Zafara Plushie
Bacheek Plushie
Bagatelle Plushie
Balthazar Plushie
Banana Plushie
Bank Manager Plushie
Basic Paint Blob Plushies
Bat Thing Plushie
Beekadoodle Plushie
Biscuit Yurble Plushie
Black Bearog Plushie
Black Doglefox Plushie
Black Evil Fuzzle
Black Fuzzle
Black Market Grundo Plushie
Black Slorg Plushie
Black Wadjet Plushie
Blizzard Kougra Plushie
Blue Acara Plushie
Blue Aisha Plushie
Blue and Gold Tube Shell Plushie
Blue Blumaroo Plushie
Blue Bori Plushie
Blue Brain Tree Plushie
Blue Buzz Plushie
Blue Chia Plushie
Blue Chomby Plushie
Blue Cybunny Plushie
Blue Doglefox Plushie
Blue Doughnut Plushie
Blue Draik Plushie
Blue Evil Fuzzle
Blue Eyrie Plushie
Blue Fan Flowers Plushie
Blue Gelert Plushie
Blue Gnorbu Plushie
Blue Grarrl Plushie
Blue Grundo Plushie
Blue Harris Plushie
Blue Hissi Plushie
Blue Jetsam Plushie
Blue Jubjub Plushie
Blue Koi Plushie
Blue Korbat Plushie
Blue Kougra Plushie
Blue Krawk Plushie
Blue Kyrii Plushie
Blue Lenny Plushie
Blue Lupe Chia Plushie
Blue Lupe Plushie
Blue Lutari Plushie
Blue Marbleman Plushie
Blue Meerca Gnome Plushie
Blue Meerca Plushie
Blue Moehog Plushie
Blue Mynci Plushie
Blue Negg Plushie
Blue Nimmo Plushie
Blue Ogrin Plushie
Blue Peophin Plushie
Blue Peophin Squishy Plushie
Blue Polarchuck Plushie
Blue Poogle Plushie
Blue Pteri Plushie
Blue Quiggle Plushie
Blue Ruki Plushie
Blue Scorchio Plushie
Blue Shoyru Plushie
Blue Skeith Plushie
Blue Techo Plushie
Blue Tonu Plushie
Blue Tropical Mystery Island Flowers Plushie
Blue Tuskaninny Plushie
Blue Uni Plushie
Blue Usul Plushie
Blue Usul Suspects Plushie
Blue Wocky Plushie
Blue Xweetook Plushie
Blue Yurble Plushie
Blue Zafaras Plushie
Blugthak Plushie
Boatswain Plushie
Bonju Plushie
Boraxis Plushie
Borovan Time Asparagus Chia Plushie
Borovan Time Bori Plushie
Bowe Plushie
Bowes Riverboard Plushie
Bri Codestone Plushie
Brightvale Glaziers Plushie
Brightvale Guard Plushie
Broken Angel Chia Plushie
Broken Blue Chia Plushie
Broken Green Chia Plushie
Broken Heart Plushie
Broken Limited Edition Evil Chia Plushie
Broken Red Chia Plushie
Broken Yellow Chia Plushie
Brown Aisha Plushie
Brown Draik Plushie
Brown Evil Fuzzle
Brown Lenny Plushie
Brown Pteri Plushie
Brown Uni Plushie
Brown Wadjet Plushie
Bowes Riverboard Plushie
Bruce Smuggler Plushie
Bruce with Twirly Fruit Plushie
Bruno Plushie
Brussel Sprout Plushie
Bumbluz Plushie
Burgundy Grundo Plushie
Cabin Boy Plushie
Cadro Plushie
Camouflage Elephante Plushie
Camouflage Ruki Plushie
Camouflage Tuskaninny Plushie
Camouflage Wocky Plushie
Candychan Plushie
Cannonmaster Plushie
Captain Threelegs Plushie
Captain Limebeard Plushie
Bowe Plushie
Captain Rourke Plushie
Captain Tuan Plushie
Carassa Plushie
Carrot Plushie
Cassile Plushie
Cassiles Riverboard Plushie
Cave Lupe Neoquest Plushie
Caylis Plushie
Chaos Giant Plushie
Checkered Kiko Plushie
Checkered Peophin Plushie
Checkered Ruki Plushie
Cheery Tomato Plushie
Cheeseburger Plushie
Cherub Acara Plushie
Cherub Xweetok Plushie
Chia Bomber Attack Plushie
Chia Bomber Plushie
Chocolate Brown Kyrii Plushie
Chocolate Draik Plushie
Chokato Plushie
Christmas Acara Plushie
Christmas Bruce Plushie
Christmas Buzz Plushie
Christmas Chomby Plushie
Christmas Gnorbu Plushie
Christmas Grundo Plushie
Christmas JubJub Plushie
Christmas Kacheek Plushie
Christmas Kiko Plushie
Christmas Kookith Plushie
Christmas Korbat Plushie
Christmas Kougra Plushie
Christmas Kyrii Plushie
Christmas Ona Handheld Plushie
Christmas Shoyru Plushie
Christmas Uni Plushie
Christmas Vira Plushie
Christmas Von Roo Plushie
Christmas Wocky Plushie
Christmas Zafara Plushie
Chrysolite Dervish Plushie
Clamade Plushie
Clawed Kadoatie Plushie
Clone #177 Plushie

---
Newest Items Added
| | |
| --- | --- |
| 22 Feb 2011 | Name of item here. |
| 22 Feb 2011 | Name of item here. |
| 22 Feb 2011 | Name of item here. |
| 22 Feb 2011 | 1.2m |
| 22 Feb 2011 | Name of item here. |
| 22 Feb 2011 | Name of item here. |
| 22 Feb 2011 | Name of item here. |
| 22 Feb 2011 | Name of item here. |
| 22 Feb 2011 | Name of item here. |
NEOPETS, characters, logos, names and all related indicia
are trademarks of Neopets, Inc., © 1999-2013.
® denotes Reg. US Pat. & TM Office. All rights reserved.
PRIVACY POLICY | Safety Tips | Contact Us | About Us | Press Kit
Use of this site signifies your acceptance of the Terms and Conditions